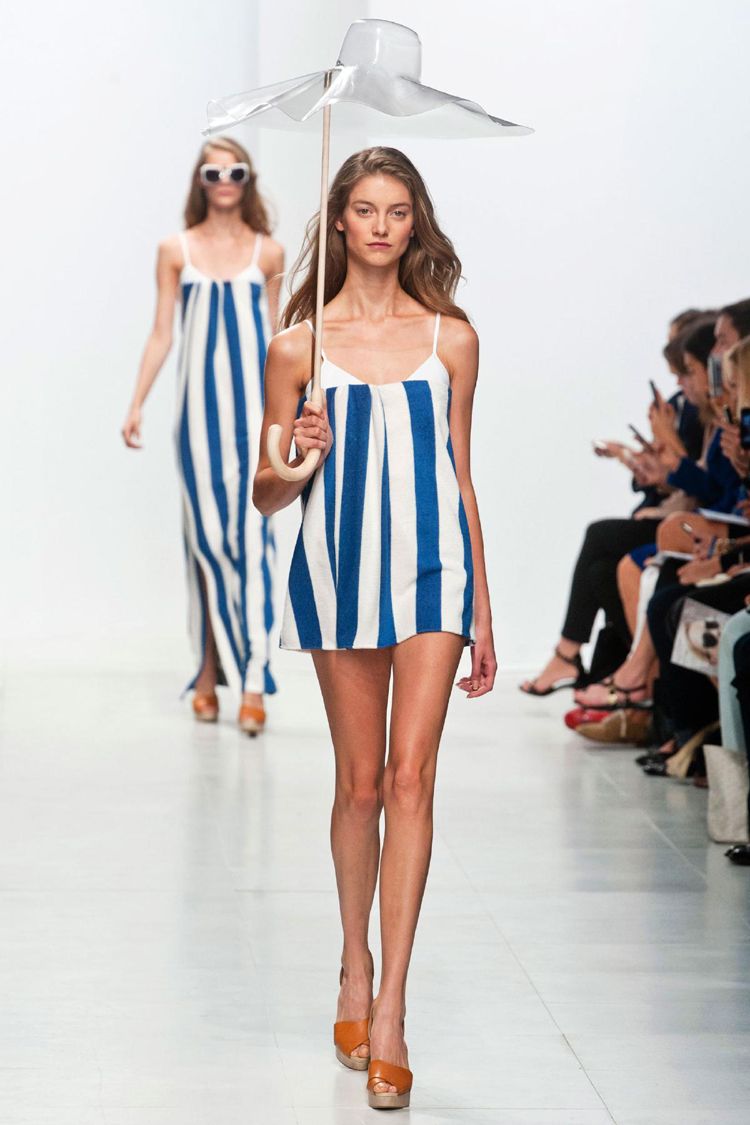 Photos Courtesy of Chalayan
Are you heading to the beach next spring? Yes? Then about half of the
Chalayan
Spring 2014 collection shown at Paris Fashion Week today will pertain to you. But if you don't live in a place where the sun remotely hits (or you don't plan to take a vacation) then this line may be of little interest. Towel sun dresses, oversized separates and extremely pointless (but kind of cool-looking) clear umbrella-hats make this collection perfect for lovers of summer. Oh, and there are a few suited separates thrown in for good measure.
Remember the last time you were enjoying the sand and surf and thought a beach towel would make a great sundress? Me neither. But surprisingly it doesn't look bad. The open cuts and loose fabrics are perfect for summer and the layered blurred print dresses are casual enough to wear throughout the warm seasons. Plus that seaside print will still scream summer without looking like you're sporting an
actual
towel.
Is it a hat or is it an umbrella? It's both! Fashion can be a little pointless sometimes, especially on the runway, but these hat things are just ridiculous. The clear acrylic won't block the sun and it allows everyone to see your terrible hat-hair underneath. But hey, stick a pole to that bad boy and you have yourself a small and very unstable umbrella. Sweet.
I can appreciate oversized clothing. Big tees, loose fitting dress and billowing skirts can hide flaws and have that casual I'm-too-cool to care look to them—but large suits? Vests two sizes too big, loose skirts and sweaters that figures get lost in aren't very flattering in any respect. They're too boxy and straight to be paired together and make the model look more like a blob than a fashionable woman.
That being said the loose draping in this collection actually looks quite beautiful. It moves well, still accents the body and is gathered in the right places so as not to overpower the figure. And as much as I love fun casual summer wear, these draped dressed were probably the most beautiful pieces on the runway.