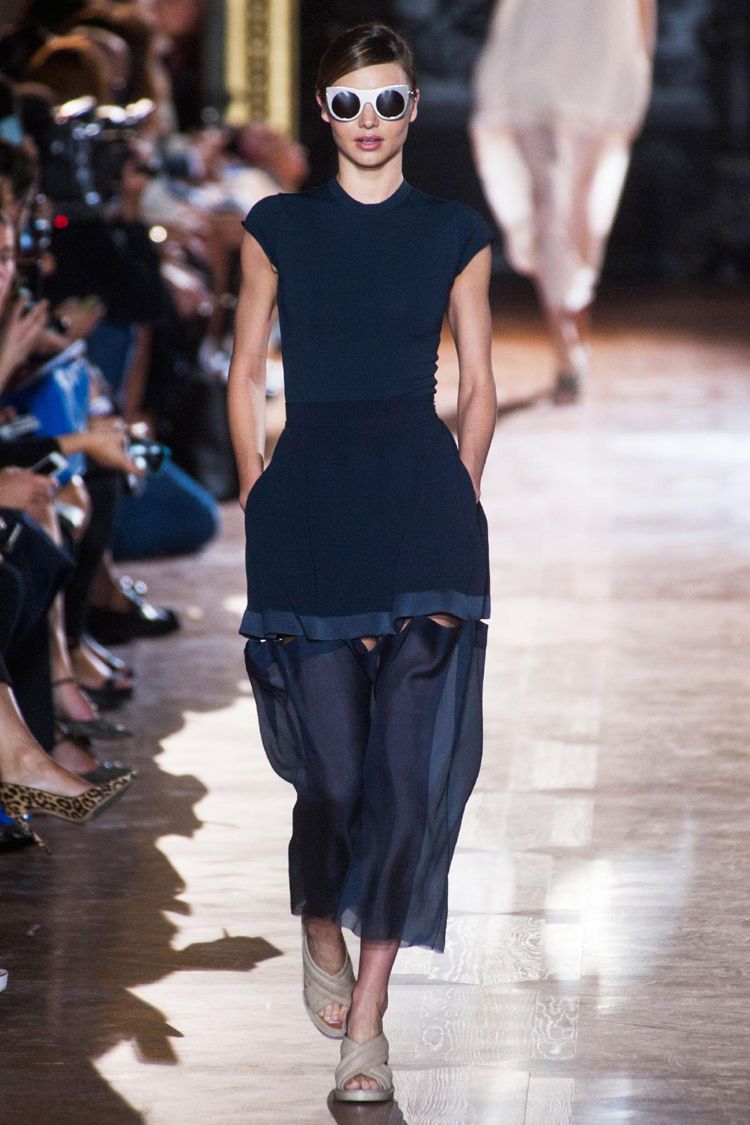 Photos Courtesy of Stella McCartney
Stella McCartney
almost always has perfect designs. Her casual Spring 2014 collection during Paris Fashion Week was fantastic evidence of her unique style of ease and bravado. Pieces that seem like tailored staples have something that makes them pop, making the models look chic, simple and comfortable. The show started off with easy sportswear and built on that idea of subtle sensuality until the collection was an even balance of modesty and beauty.
Separates are basic, but well cut and effortless with loose fitting pants and casual open jackets. The dresses focus on accenting the figure with material that balloons at the hip and then separates mid-thigh to give a glimpse at the skin underneath. Sheer material down to the ankle allows the legs to be seen in a way that feels as if you are privy to them. It is an excellent way to make maxi dresses sexy.
Despite the numerous zipper pulls and '90s floral patterns, the modest cuts of these dresses actually work in favor of the collection—making it seem pulled together with an almost nonchalant sexuality. The pieces instead use sheer fabrics and small hints of skin to provoke feelings of sensual femininity.
The slip dresses and large lacy cover-ups feel very reminiscent of the '90's styles that we've seen all over the New York and London Fashion Week runways, but have yet to really see in Paris. And while I don't mind listening to nostalgic jam sessions with The Cranberries, I'd rather not start wearing daisy patterned dresses again.
Trends are played down in this collection, which allows the pieces to seem more wearable than other brands where a metallic, mini, crop-top dress with cutouts and glitter is the main attraction. Even though the evening dresses have shoulder cutouts or deeper necklines, it is the hemline that your eye seems drawn to—ending at a mini length with lace falling past the knee, it whispers instead of screams for your attention. And it is this subtle beauty that makes the entire collection so amazing.