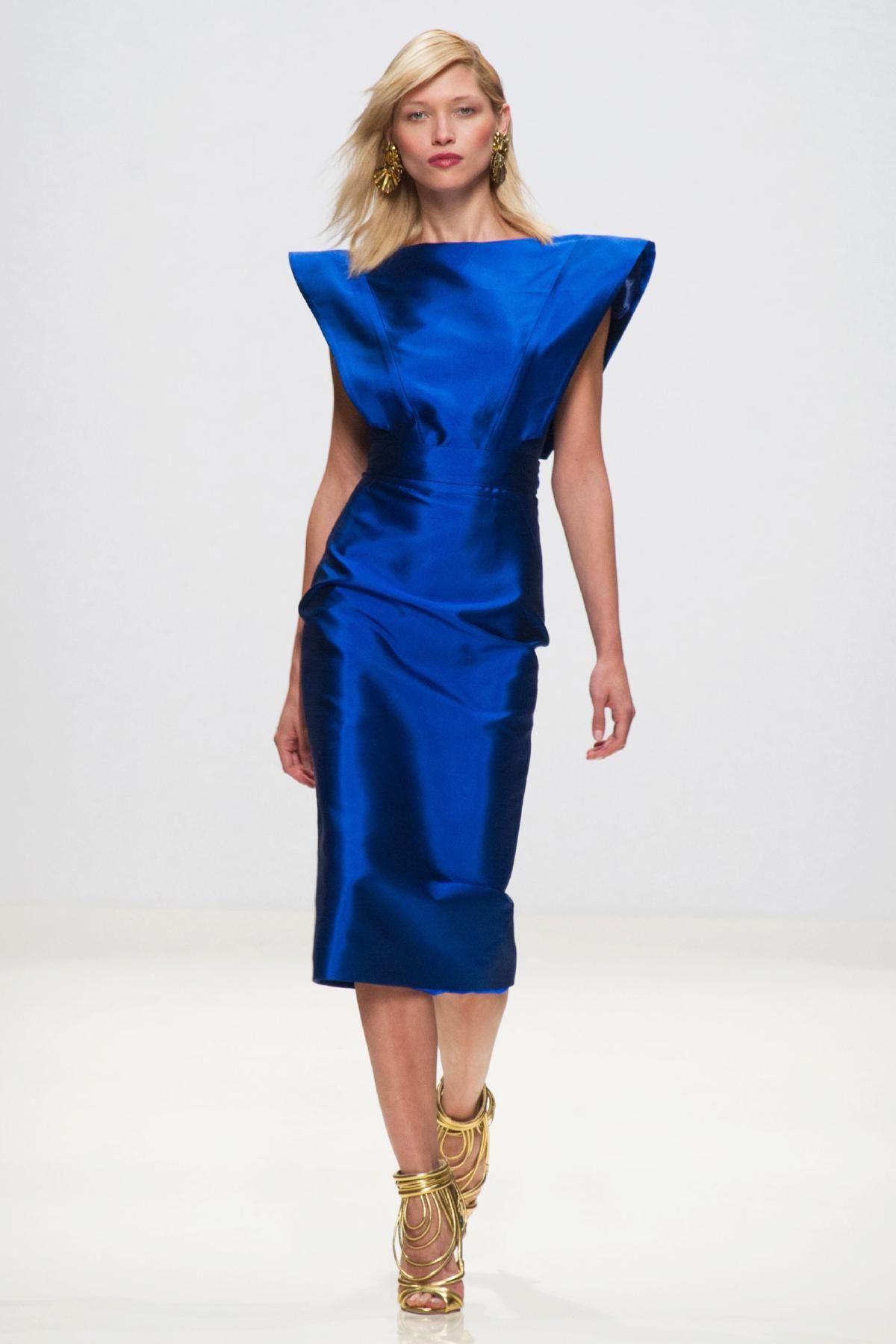 Photos Courtesy of Valentin Yudashkin
You know the woman that's in every group of friends—the one who thinks she's the most fashionable, the most hip, the most trendy, when really she just looks ridiculous? Basically, she tries too hard. That was pretty much the
Valentin Yudashkin
Spring 2014 collection yesterday during Paris Fashion Week.
I get that you want to show off your knowledge of trends, believe me, I get it. But the big '80s shoulder is so played out at this point that we're happy to get back to normal feminine silhouettes. And yes, a structured shoulder can do wonders for defining your shape, but the linebacker padding in these bad boys is just that—bad.
And while we're on the subject of the '80s let's address the collection as a whole. Metallics are fresh and fun for spring, but on a cap sleeve lame dress it just looks heavy and tired. And don't even get me started on the big shoulder gold suit. Just—no.
A few of these pieces have some real potential, but unfortunately, were styled with oddly shaped separates which sort of killed the cool factor. The cerulean blues and golden yellows are quite beautiful on their own and every few looks there is a fantastic dress that I would love to wear. The draping and tailoring on some of these pieces are gorgeous and single-handedly add to the beauty of the collection. But when the last few dresses came down the runway with their shoulder pads, metals and bum-baring cuts, I lost faith that the collection could be salvaged.
Honestly, if the pieces were scaled down, if not so trend-heavy with proportions, it could be a very beautiful collection. There are definitely glimpses of modern and sophisticated forms between those big shoulder pads. But with the hot cuts and fresh separates that we saw from his Spring 2013 collection last year, I really expected more from the designer. All-in-all, a few wins, but a lot of losses—at least in my opinion.