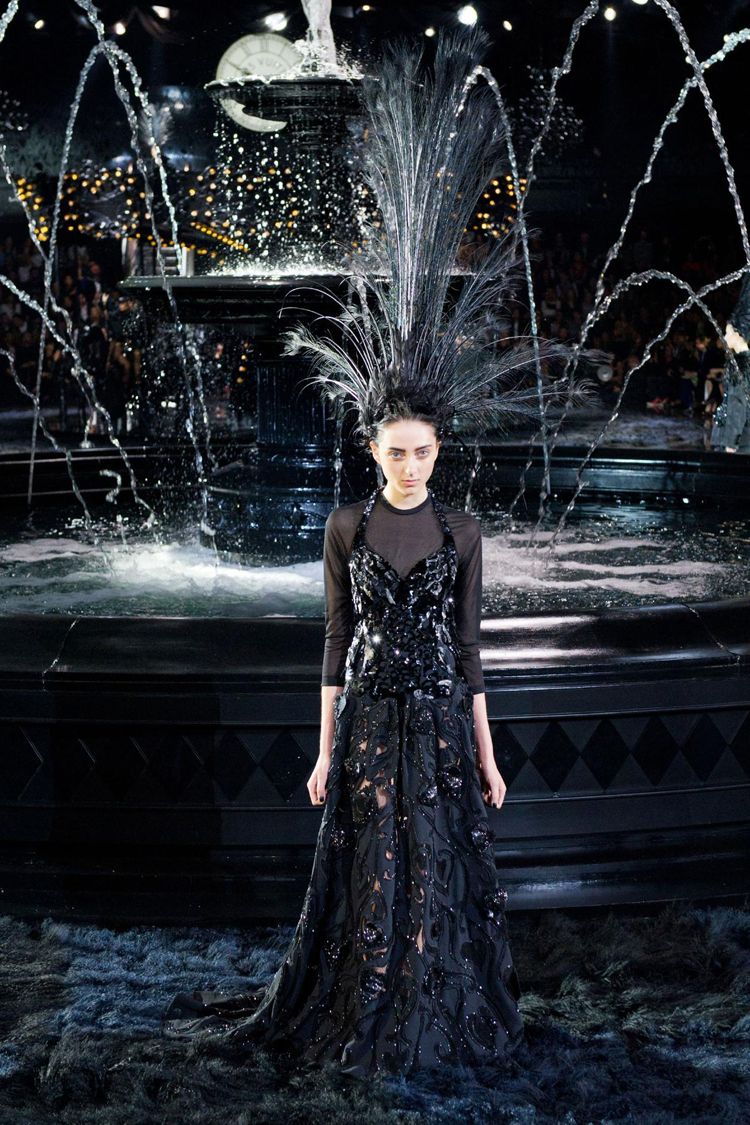 Photos Courtesy of Louis Vuitton
Louis Vuitton
knows how to put on a show. Never mind that the collection was beautiful or the models wore teetering giant peacock feathers on their head. The runway show today during Paris Fashion Week was nothing short of spectacular. Elevators, escalators, a fully functioning fountain and merry-go-round were the catwalk for the Spring 2014 collection. The pieces themselves didn't take a backseat to the spectacle either. Dark and moody drama was the spirit of Marc Jacobs' final Louis Vuitton show.
The entire collection drew to mind the feeling of a dark French jubilee, a celebration of sorts brought to life through textures, metals, embroidery and jewels (the merry-go-round didn't hurt either). Jacobs told
WWD
that it was inspired not only by "the showgirl in all of us," but also the city of Paris itself. That the collection is "decorative — superficial in a sense," Jacobs said. "Because it's perfectly honest and normal to have deep feelings about something that just takes your eye. And new is what you do next, it's not anything else."
While pieces are overdone, excessive in luxury and abundance, it's that fact that it was fearlessly done that made it such a successful collection. Piled textures that should have looked garish and harsh, came across as daring and bold with the help of a monochromatic black palette. It was opulent, over-the-top luxury filled with jewels, velvet, feathers, tulle and ostrich leather.
And there is absolutely no where you can wear a Louis Vuitton body suit. Not a single place. But that doesn't stop me from wanting one desperately. They're just the right mix of trash and fashion that makes me wonder if maybe I missed my true calling as a Louis Vuitton Las Vegas showgirl. Sure, only models can pull this look off, but that doesn't make me want one any less.
I will say that for all the dark drama of the show, the light blue boyfriend jeans were a little boring for me. While the models looks comfortable rocking them on the runway, I'm really hoping light denim wash jeans don't become a trend, they're probably the most
unflattering
pants.
Stonewash jeans aside, this collection was a beautiful way for Jacobs to say goodbye; the announcement made shortly after the show made the entire exposition that much more dazzling. A collection of luxurious excess was the perfect way for him to end his 16-year run as creative director of Louis Vuitton. With the magnificence and brilliance of this show—he's going out with quite the bang.