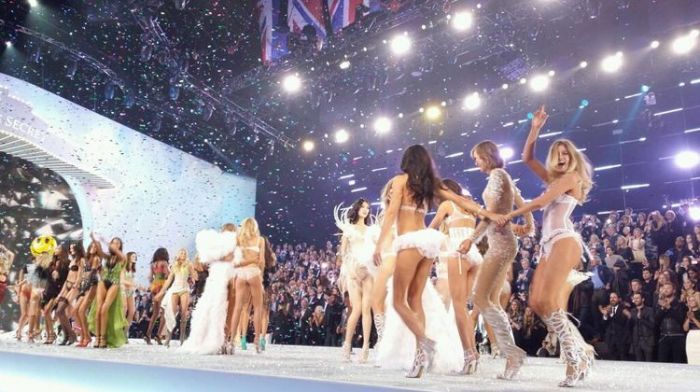 Photo Credit: @EvaChen212 via Twitter
If you were on any kind of social media platform or even the internet yesterday (and how could you not be?), then there were four little words that likely made your heart beat with a glittery, hot-pink frenzy. Victoria's Secret Fashion Show. Suddenly images of wings, confetti and $10 million bras came to mind, and you were instantly building mental images of your lingerie wardrobe for next year—we know that wasn't just us. Some of our favorite models like Cara Delevingne, Behati Prinsloo, Jourdan Dunn, Adriana Lima, Candice Swanepoel, Karlie Kloss and Doutzen Kroes walked the runway with the biggest and baddest angel wings we've ever seen. Even the night's main performer, Taylor Swift, got in on the action donning a mini glittery number that almost put her on par with even the most bedazzled of angels.
Photo Credit: @TaylorSwift13 via Twitter
The themes of the evening (aside from glitz, sparkle and shine) were British Invasion (which had Swift running around in a Union Jack mini), Birds of Paradise, Parisian Nights, Shipwrecked, Snow Angles and Pink Network. Some were easy to spot like Kasia Struss gussied up in a glittery British bobby uniform and Joan Smalls wearing what could only be described as a peacock attached to her back, but a few were a little harder to pinpoint. Alessandra Ambrosio with Medusa-esque wings, a baby blue lingerie set and bondage straps going around her neck and down to her waist was gorgeous, but a little confusing—maybe that's how they spend their nights in Paris?
Photo Credit: @VictoriasSecret via Twitter
While the show doesn't officially air until December 10 (right in time for holiday shopping), Twitter and Instagram were alight with images from backstage, the runway and the afterparty. Snapshots of models getting ready, prepping with costumes and sharing selfies made the night seem less like a runway show and more like a dazzling spectacle.