Home > Fashion > Womens Style >

Million Dollar Shoppers: Amy Salinger Chats About the Best & Worst Clients and the Hottest Fashion Finds
Marissa Stempien View Profile

Fashion Editor | JustLuxe.com
Million Dollar Shoppers: Amy Salinger Chats About the Best & Worst Clients and the Hottest Fashion Finds
Dec. 19th, 2013 | Comments 0 | Make a Comment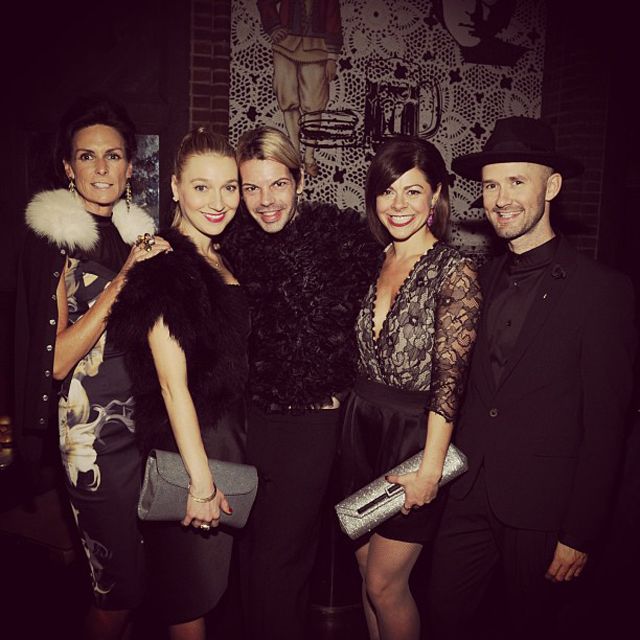 Photo Credit: Gregg Asher via Twitter
Furthering our talks with the personal shoppers from Lifetime's Million Dollar Shoppers, JustLuxe spent some time chatting with Amy Salinger, and got a little taste of what it's like to work for all those crazy clients. Starting with no fashion experience Salinger worked her way through the ranks with nothing but taste, class and a spunky personality. Easily a show favorite, she didn't choose this career for the money, the fame or even the clothes (of which she has many), but rather to give each client a whole new outlook on themselves, something she knows she's achieved when they do "the model walk."
Photo Courtesy of Amy Salinger
Going to school at Northeastern University in Boston, Salinger opted to participate in the co-op program, where she switched between work and school in six month intervals. After trying several jobs she quickly realized a life in a cubicle was not for her, and decided to try her hand at the one thing she knew she loved—shopping. "I had no experience, no education, it was kind of a shot in the dark," she explains, noting that she took to the internet as a way to find something, anything that would give her experience in the field. "I literally just started googling stylist jobs or opportunities. I ended up with an agent—I have no idea how, I will be honest," she laughs. For a while she did what came naturally to her and said yes to everything. "When you're 21 you're like 'whatever, I can do whatever!' It was shopping for a living; I figured I'd be good at it." But it turned out to be her lucky break. The agent found her a few gigs, but was soon transferred to Harpo, and took Salinger with her over to The Oprah Show.
Photo Courtesy of Lifetime
After doing backstage makeovers for a few years, Salinger broke off on her own, shopping for everyone from modest to limitless budgets, and styling fashion editorials and celebrities. When Lifetime approached her to be a part of the show, she was thrilled. "I look at it more like, I like to help people, it's not so much about, you know, being a celebrity, it's about teaching people how to look and feel their best and I thought this was a good vehicle," she explains. Since the "audition" process for the show was basically a meet and greet, Salinger was anxious to get started. "I am a fashion expert that goes on camera; I've been doing it for years. It goes kind of hand in hand with the personal shopping business because I work with real women, and men for that matter, every day. Unlike a fashion stylist that usually works with perfect, beautiful people, I work with all different types of people. I really like to help the general public as far as body shapes, body sizes [and] what looks good," she said.
Photo Courtesy of Lifetime
But sometimes, not always, that pleasure can be short lived. With all the crazy shenanigans we've seen on the show, it's hard not to imagine that her real world clients aren't just as terrible. She assures it's not as bad as television drama, but every now and then, she does get a client that tries her patience. "The worst type of clients that I get are the ones who are not open to change; it's kind of like 'why did you hire me?'" she asks. Before she even begins to shop or brainstorm, she will ask numerous questions to be sure she's creating a look for them, not just grabbing that purple dress they saw at Neiman's last week. "It's part of my job to ask leading questions to understand their personality, their lifestyle, what they're comfortable in. I could dress you up for a black tie event every day, but if you're running around with your kids, why would we put you in that?"
Photo Courtesy of Lifetime
After hours of shopping she will edit down the clothes based on what seems to interest the client, trying to find the best cuts, shapes and colors to flatter their body. "Eventually we get to a point where I've honed it down to exactly what it is that they've described that they want and then I bring that exact item and they're like 'I don't like that' so I'm like, 'that's what you just told me!'" she laughs. But her least favorite client is the one who either can't decide, or doesn't know, what they want. She'll shop and in the week or so between purchasing the clothes and styling, the client has combed through it all and returned half the merchandise. "I always tell them: DO NOT RETURN ANYTHING before I come back, because you're thinking, 'what the hell is this' and I already know 50 things I'm going to do with it," she explains. But they don't listen. Sometimes they'll decide they love it, and call her later asking her to return it."People are inside their heads too much and then they have a husband or a friend that's like 'I don't get it,' and it's like, 'of course you don't, because you dress badly!" she adds jokingly.
Photo Courtesy of Lifetime
Most of her clients, however, are fantastic. "By the time someone gets to hiring me they want me to tell them what to do. I'm the expert, I'm the one that knows what's going on, they're paying me top dollar to be the expert," she explains. Which makes total sense; you call in a personal shopper when you need help finding a new style, not when you want to stick with the same LBD you've been wearing to every holiday party. But even the best clients need to be taken with a grain of salt. "It's part shrink, part stylist. You are dealing with people's idiosyncrasies, insecurities, issues with getting rid of things […] you have to be ready for anything at any moment," she says.
Photo Courtesy of Lifetime
Despite the little bit of crazy, there are moments that make it all worth it. Her favorite part of styling? "I call it the model walk," she notes. "It means I've put them in some fabulous outfit after this whole process has gone on—and they literally change the way they stand. They change the way they walk because they're seeing themselves in a whole new light." And that moment is what drives her passion; whether it's on modest housewives or the swankiest millionaires, helping people grasp that feeling is what she loves most about her job. "It doesn't matter what the budget is," she explains. "It's the end result."
Photo Courtesy of Lifetime
Even the saleswomen know she has the best clients. "My girls at Bloomingdale's the other day were like 'How is it that all your clients are nice? You're in here all the time with nice people.' And I was like, 'because I'm not going to work with pains in the asses,'" she laughs. It's this relationship with department store staff that allows her to shop seamlessly not only for her clients, but herself as well. "On my own I'm a great vintage, flea market, consignment, designer-discount girl. I do not pay full price for things—it has to be the greatest thing ever for me to pay full price," she explains. She mentions a fur jacket she saw once that she was tempted to get—until the one of her salesgirls told her to come back in a few days for a pre-sale. But even before the sale hit she found it at Loehmann's—in her size. "I literally saw it from across the room and it was like the freaking clouds parted and the sun came out and I was literally talking to myself. I was like 'Oh my God. Oh my God. Oh my God' running after this coat," she says excitedly. And she snagged the jacket at almost 60% off. "This is all that I do," she explains. "How can I pay full price?"
Photo Courtesy of Lifetime
For the holidays, Salinger suggests a mix of comfort and style, not sacrificing one for the other. "Wear. Stretchy. Clothing.—no I'm just kidding!" she laughs. "I'm half-kidding. At the end of the day the worst thing in the world is having to undo your top button, and I don't want to be reminded that I just ate too much." But while some are planning on going all out, others might want to take a leaner approach to holiday meals. "If you want to stop yourself from eating—wear a high-waisted belt," she suggests. Sounds like a good idea, and it might stop us from grabbing that second helping of pie. Extravagant, carb-laden meals or not, she suggests one fail-proof outfit for any body shape, no matter how much you plan on indulging. "The greatest style on any size woman during the holiday season is always some sort of tights, a high boot, some sort of jersey dress that has ruching across the front so it's a little flattering on your stomach and a long sweater with some sort of tie."
Photo Courtesy of Lifetime
And in case you're out of ideas for gift-giving this year? Salinger and her pro-team of shoppers can revamp your closet and help style you into a whole new wardrobe. She even suggests hiring one just for the man in your life—because we know how much guys love to shop. "I have wives who I've worked with passing me along to their husbands who are like 'wait, this girl will buy me all this stuff and have me looking good and I barely have to be available for it? This is amazing.'" Every client that received it as a gift loved it. She laughs, "I've never had a woman be like 'well that was a crappy idea, sweetheart.'"
Finding the best in luxury can be a daunting task, which is why we've taken it on for you.