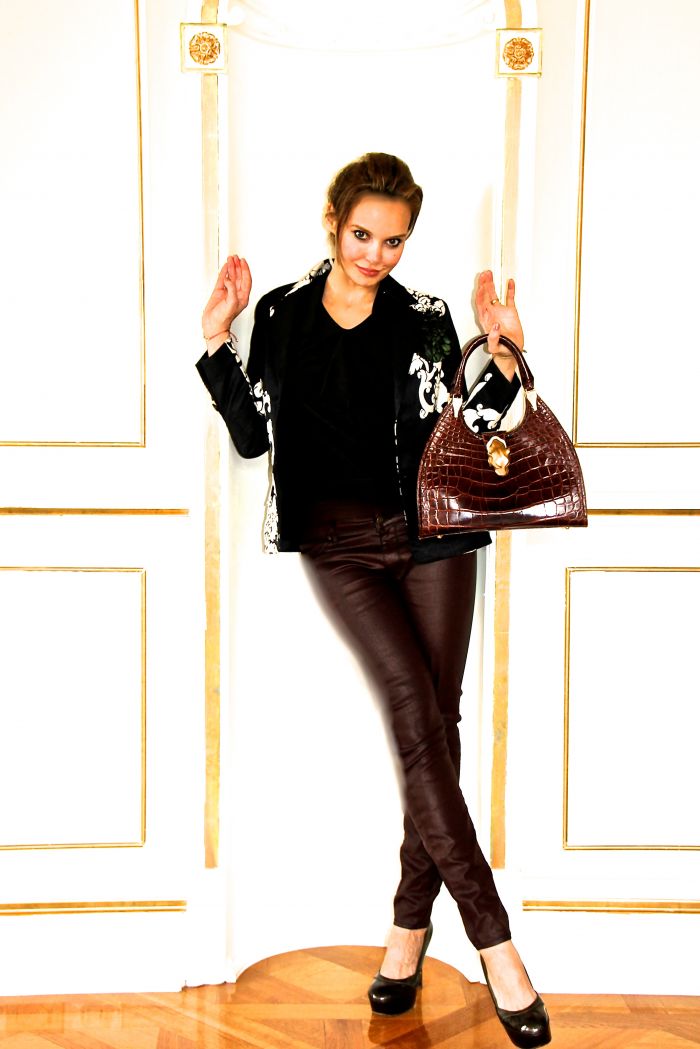 Photo Courtesy of Eliann
It is not often that a phrase originating from the lexicon of sports is also perfectly suited for the world of high fashion as well. However, there are exceptions. When a nascent luxury label comes out of left field and is heralded as a coveted "it" item of the A-list community, such as the handbags and purses made by Eliann, it is an instant classic. The word-of-mouth popularity of these women's custom-made bags has also created a new celebrity in haute couture circles.
Anzhelika Steen-Olsen is the creative force and the founder of Eliann. Having previously spoken with her, I was impressed by her benevolence; her graciousness was overwhelming. In our second conversation, it was obvious that she also was a savvy businesswoman balanced by professionalism and passion for her enterprise. The benevolent, brainy and beautiful Steen-Olsen was kind enough to take time from her busy day and chat about her past, her present status as the "it" designer of high fashion, and the future of Eliann.
JustLuxe: Tell us a little bit about the purses and handbags that are rapidly vaulting into a prestigious luxury label to be reckoned with?
Anzhelika Steen-Olsen: Thank you. Since early childhood it was my mother who had a strong influence on my passion for fashion and style. Growing up I remember a ritual we had where I assisted in choosing her outfits and added a finishing touch to her look by adding a handbag or other accessory to complete her. In addition I would create little bags for my dolls by using, paper, shoelaces even seashells.
JL: When did you know that this is what you wanted to do?
ASO: Some time after giving birth to my daughter, I found myself craving to do something creative. I simply started with a sketch. A friend commissioned the second bag I ever made. So, I began designing one-of-a-kind handbags for friends and family. Then when others started approaching me, I thought of making the leap to developing my own line. After being so well received at the Open See [show] at Henri Bendel, I designed a fall line and debuted it at the Accessories Show in 2012.
JL: You have a celebrity clientele … who was the first celebrity "on your block"?
ASO: This all began through word of mouth, and friends of friends; I had a few women ask if I would be interested in designing a bag for them. Since by then I was naming my designs after strong, inspirational women in my life, it was a natural progression. One of the first celebrities I met in New York was Katheryn Winnick.
JL: Without naming names just to name names … please drop a few, would you?
ASO: Of course, since it will make you happy. I have been fortunate to share my creations with Katheryn Winnick, Halle Berry, Kerry Washington, Kelly Ripa, and a few others I greatly admire.
JL: Which came first … the celebrities or the designs?
ASO: For me … the biggest celebrities in my business are the people who support me; family, of course, but also the craftspeople who enable me to find what I love within a deep desire for the exotic shapes, fine materials, and custom hardware developed in a small specs and found by combining rare elements in new compositions.
JL: You are looking into the mirror, mindfully. Do you see a creative type or a businessperson?
ASO: The business people I admire are fascinatingly creative, so I am blessed to see a creative type nightly, and a business type daily. I am rather flexible, philosophically.
JL: If you had to pick being one or the other … which would it be … a businessperson or an artist?
ASO: One validates the other, so it's like picking communication or silence, sometimes it's both, and neither. I do what I do for pleasure, not commerce.
JL: You named your company Eliann, which is after your daughter. How does she influence your work?
ASO: Having Eliann, my precious daughter, redirected my energies in such a creative boost, having overcome difficulties and sadness that we all experience. I was in such joy and clarity, as I used my time to create designs. I left my previous job in the finance industry, seeking a journey of discovery. My daughter inspires me every day … just seeing her.
JL: If you had had a little boy instead of a little girl, is it possible that we would be here today talking about your men's leather bag collection?
ASO: Yes, it is possible. If you and I were to talk again next year, we just may be at that point. We'll see.
JL: Let's get serious for a moment. Tell me a little bit more about what goes into making an Eliann handbag or purse?
ASO: It definitely has a made-in-New-York concoction, just like my daughter. We have interpreted the styles of the last century, taken the best materials we could acquire, and hand built the parts we couldn't find, to make each piece a unique work. I like to think of each piece as being wearable artwork.
JL: Which came first … the businesswoman or the creative force?
ASO: Definitely, it was the creative force.
JL: You mentioned that you are a musician. What instrument do you play? Does music influence your designs?
ASO: I've played piano since I was 6 years old. Music has been and usually is in the background during all the things I love to do. It enhances our senses, touches our emotions and creates memories … I could go on and on with this.
JL: It is one thing to be creative, it is another to harness that drive or energy and transform it into a purposeful direction. Tell me how you did that?
ASO: Like most things, being free to make mistakes, lots of them, is what gets the focus on what ultimately transforms the merely good into something great.
JL: Well that gives me hope, I think? Is this your first entrepreneurial business endeavor?
ASO: I worked in finance for years. So, yes. this is my first creative endeavor.
JL: How large is your firm, personnel-wise?
ASO: We are under 20 people at the moment, but exploring a down-line expansion in the new year.
JL: We spoke earlier about the quality craftsmanship that goes into your bags and purses … please tell me a little more about that. What distinguishes an Eliann bag from other deluxe handbag and purse makers? What makes yours different?
ASO: There are designers I admire greatly, but I can't speak to their methods in producing their goods. We make each piece by hand in New York City. We use the finest skins and linings and 18k hand-carved gold plated hardware. I assure you that there is a level of attachment to each bag we make that is not present in even the best mass-made high fashion products.
JL: The first time we spoke, you said that there are four styles of handbags that are must-haves for all women. Which styles comprise that "fab four"?
ASO: Every women should have a clutch, a tote, a satchel and a hobo purse and handbag.
JL: Where do you see Eliann being five years from now?
ASO: My expansion will come from global platforms, that is, Western and Eastern Europe, and Asia. We also want to evolve to a down-line for value-department retail and online/network.
JL: Is there anyone in the fashion industry that you would like to work with or do a collaborative effort of sorts?
ASO: I have been and continue to be inspired to work with couture fabric and jewelry designers. Several come to mind, but I would prefer not to mention one or two for the fear of excluding so many others.
JL: Speaking on behalf of many men, I carry more accessories than I could ever jam into my wallet and pockets. I am ready for a men's purse line right now. So, is it just me, or is it possible that you …. sooner than later … could be designing bags for men too?
ASO: It is more than a possibility; Eliann would love to offer a keen eye for all the fashion-forward guys. You touched on a very sensitive subject in the fashion industry. Overall, but especially in accessories, the industry could perhaps be friendlier to men.
JL: We discussed on how you feel it is important to give back … or to pay it forward ... if you would. Let's talk a little about some of the other activities you are involved in … and how that ties in with your high fashion firm.
ASO: I have always been involved in charitable work. And since autism has touched my family, we have the intention to thread good works into our company philosophy, and this will extend and build with our brand.
JL: What is your firm's mission statement? What are you seeking to accomplish?
ASO: Unlimited by corporate oversight and not bound by trends or types, we seek to create products that are unique, timeless, and made to last. Our genuine attention to detail and quality of expression aims to pierce the mundane commoditization of fashion as utility and bring useful, wearable art to the few.
JL: Are there any questions that you would have liked me to ask you?
ASO: James, I am appreciative that you asked me so many different types of questions. This has been an excellent experience for me.
JL: Okay—this has been way too easy! You have not squirmed an inch throughout our two chats. Let me toss one last eclectic, frivolous question your way, if I may: Aside from chatting with me all day, what makes Anzhelika Steen-Olsen happy?
ASO: What makes me happy is hearing someone play piano as I walk by their window, especially on a nice, crisp autumn day. The sound of children's laughter, nature's beauty and seeing my sister's smiling face. What is it that makes me feel the happiest is my daughter; anything and everything that has to do with her. How is that?
JL: That is beautiful, Anzhelika. Thank you very much for providing the readers of JustLuxe the opportunity to get to know you better. It was a pleasure chatting with you.
ASO: Thank you, James. It was my pleasure as well.