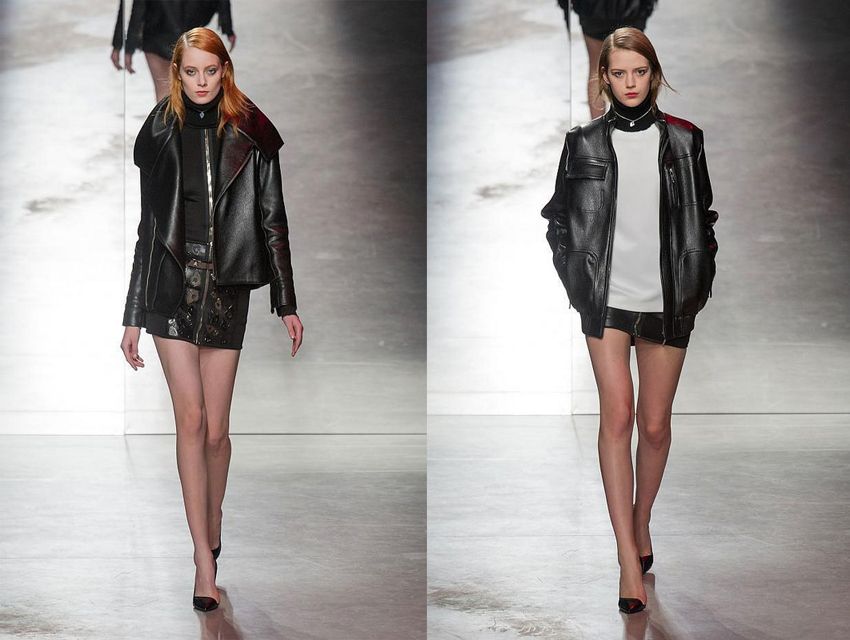 Photos Courtesy of Anthony Vaccarello
Yesterday during the first day of Paris Fashion Week, Anthony Vaccarello showcased his Fall 2014 collection—a lineup filled with miniskirts, tiny dresses and more leather jackets than a rock show. The designer, known for showing skin and making slits and cutouts work to his advantage, seems to be fine tuning his iconic aesthetic rather than changing it up. This collection drew heavily on a triangular silhouette with large shoulders and lapels, nipped waists, and legs for miles. As awesome as it was, it leaves us concerned that women less than six feet tall and over a size two may be unable pull any of these styles off.
A collection consisting entirely of black with small red and grey accents feels as if it would be extremely limited, especially when working almost exclusively with leather, but surprisingly there are enough variances within the line to keep looks from melding into one another. Some designs are done in patent leather, which add sheen to the material and gives it another element of depth. The use of leather also adds a rougher sex appeal to each garment that wouldn't have been conveyed through the use of any other fabric.
With such a top heavy silhouette the focus of the collection is clearly jackets and mini everything; even longer skirts have slits that go higher than most women would dare to wear. We love the skirts and the sex appeal only expertly cut leather can give, but these cutouts—these cutouts. The triangular sternum slits, half-shoulder cuts and the dreaded triangular cuts with half shoulders—disastrous is kind of an understatement. Does anyone besides Paris Hilton need a mini leather dress complete with cutouts, collar and ruffle trim? No—and we're pretty sure even Paris has better taste than that.
Most of the leather skirts are well done and paired beautifully with jackets, which are the real breakouts of the collection. Bomber and motorcycle styles are lined in red satin and cream shearling and add a sexy, bad-girl appeal without looking trashy. If you're in the market for a new leather jacket you could pretty much choose anything off this runway and find your new favorite piece.
Basically, as long as we disregard anything with cutouts in this collection, it's a total winner. The slim cuts and choice of material give pieces effortless sensuality even in the dead of winter. A particular favorite was a blood red, patent leather jacket paired with a turtleneck and black miniskirt. We're excited to see what Vaccarello will continue to produce in the future, but for now we're thinking those leather dresses could really use some work.