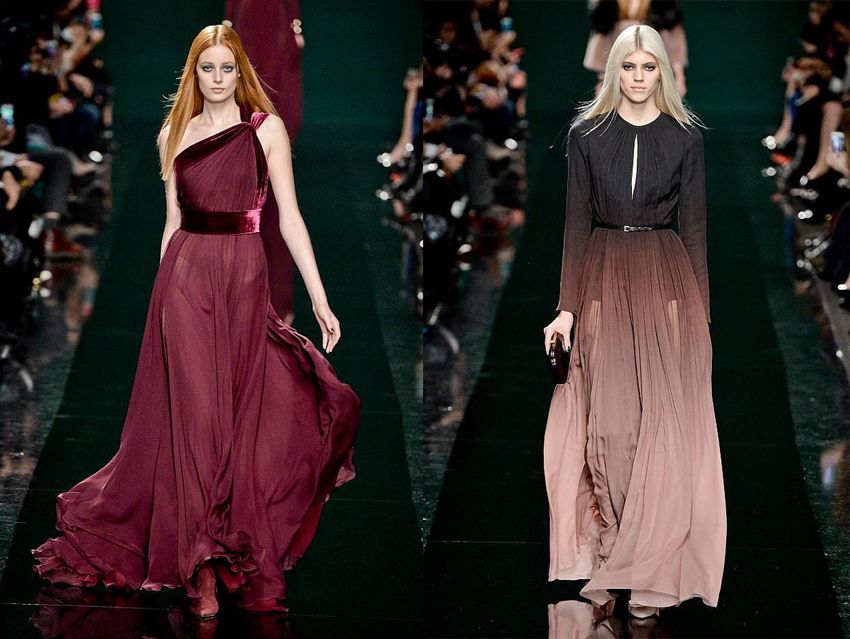 Photos Courtesy of Elie Saab
The Elie Saab Fall 2014 collection at Paris Fashion Week was a gorgeous lineup of berry and jewel tones, soft pinks and the perfect amount of black to make it dark and sensual. Fur, lace, satin and velvet made the collection seem ultra-rich and dreamy—perfect for a show titled Dark Opulence. Without going overboard with glitter, jewels and prints, the collection was subdued and displayed its luxuriousness not through excess, but through the use of rich fabrics, detailing and color.
Colors moved in monochromatic waves through the collection starting with a rich burgundy; models sauntered down the runway wearing the striking hue from head to toe. Though every piece was dyed the same deep shade, it felt far from redundant; each look was unique in both cut and style. The berry tone soon gave way to lighter pinks and turned into a rose hue that dazzled on both sheer gowns and chunky furs. Prints followed, incorporating the two previous shades on a black background, before the collection moved into jewel-toned teal and finally faded into black. Each color set transitioned flawlessly with the help of ombré pieces and the ingenious use of lace as a way to transition prints before moving back to solids.
This collection showcased some of the most beautiful uses of fabric we've seen during Paris Fashion Week. Fur coats were cropped, long, bulky and sleek, while velvets were used sparingly with just a few evening dresses and coats where the weight of the fabric and lush sheen made it perfect for winter parties. Silk and organza dresses flowed around models with their every movement making them look like red-carpet-worthy angels.
And it's easy to see why so many celebrities choose Saab for the red carpet. His cuts are slim and feminine, with more than a few pieces that flatter any body type. Colors, fabrics, styling and detailing may change from season to season but his designs are consistently cut to complement a woman's silhouette—and even if we don't have the figure of these runway beauties, Saab's dresses can make us look like we do—almost. Both long and short slits elongate the legs, sheer panels give glimpses of skin without being too revealing and belted waists bring definition to the midsection.
On color alone this collection is pure gold, but add in some of the luxurious fabrics and those iconic flattering cuts and we're basically sold. With the twenty-odd floor-length dresses in the collection, we can't think of enough events to wear all these beauties to, but we're pretty sure we can find something. Saturday movie night calls for a gown, right?