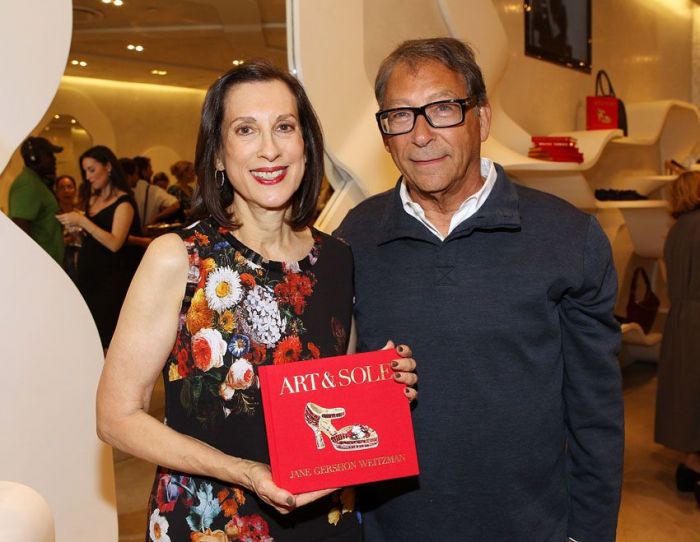 Photos Courtesy of Jane Weitzman
We're basically shoe fanatics. Do you know any women that aren't? From flip flops to trainers we pretty much fawn over footwear like it's the end-all, be-all of style—which it is. So when we had the opportunity to speak with Jane Gershon Weitzman—Stuart Weitzman's leading lady—we couldn't pass up it up (besides can you just imagine what her closet must look like?). Chatting with the first lady of footwear we talked about her book, her influences on her husband and her giant shoe collection that would put Rihanna's to shame.
A noted philanthropist, Weitzman is known for dedicating time and money to worthy causes spanning the breadth from ovarian cancer to inner-city schools. The idea for her book Art & Sole was inspired by her early acts of charity which started in the shop windows of the first Stuart Weitzman stores. "I was executive vice president at Stuart Weitzman, you know, I helped Stuart start the company. I opened our first company retail store," she recalls. "When we opened the first retail store I thought it would be important to do a breast cancer window. I had this window on Madison Avenue, actually two windows, and that's how I really got involved." Dying several bridal shoes various shades of pink and decking out the window dressings with a rose-hued, artistic flair, she soon realized that these creative displays were capturing the attention of women walking by. "It drew people in the store. Most people are afraid not to put their product in the window because after all—that's what they're selling."
After such a positive response on her store windows Weitzman began to seek out creative outlets and artists with interesting abstract materials with which to dress the windows. Over the years she collected shoes that have been rendered from numerous materials—some that had once been wearable heels and others that were designed specifically as eyecandy. "Most of them are not real, they're made out of things like paper, cardboard, ceramic—some of them were once wearable shoes but you couldn't wear them now," she says. Photographing a selection of them for her first book, she claims that she doesn't have a favorite. "You know they're like my children, I don't have favorites," she explains. "I think they're all wonderful, really. Each is different in its own way and wonderful in its own way. We really chose these out of a thousand shoes that we had." We totally understand not having a favorite—we couldn't choose between our heels or flats either.
Coming full circle, Weitzman's book tour is allowing her to raise even more money for philanthropic causes. "We've worked with kids from inner city schools who made art for our windows at one time. And when we did the art shoes it was the same time period," she explains. "We tried to tie it in whenever we could." Starting with breast cancer windows, she's worked with multiple organizations, finding what is important for her and Stuart and then dedicating, time, money, energy and even raising funds from her book tour to donate to charities. "I really try to help every worthwhile charity that I can, it's important to me to give back, and I've been on a book tour for many different organizations, I've done breast cancer, I did the Philadelphia Aids Fund this last week." But of all the causes, women's diseases rate of the highest importance for the couple. She recalls a client they had that was diagnosed with ovarian cancer—she hadn't known the symptoms and Weitzman immediately saw the need for awareness. "Our business comes from women and it's just logical both to Stuart and myself that we should help them," she adds gently. "They're our customers."
But even with all of her free time spent authoring a book and carrying on her charity work, Weitzman still finds time to give her input on her husband's shoe collections. "Well I have nothing to do with designing the shoes but I do give my opinion," she laughs. "And sometimes he listens and sometimes he doesn't." But he seems to be paying attention as so many of his designs reflect his wife's personality. "I usually like simple things, I wear a lot of plain pumps, but I think Stuart's flats are so beautiful. Usually if there's something going on on a dress I'll wear a simple shoe, but if I wear a plain dress sometimes I'll wear an exciting shoe. And I love the 5050 boot—which Stuart is going to be doing quilted for fall," she confides. "I've seen the sample, they're gorgeous; I've already put my order in."
And while her husband may not change his designs entirely to suit his wife, she knows that she and their children have a huge influence on him. "We have two daughters so Stuart's surrounded by women," she laughs. "He's been surrounded by women for many years so I think that just living with women he sees what's important. And Stuart designs for every age. We sell a lot of bat mitzvah shoes and a lot of wedding shoes, for every single age, it's unbelievable. The 5050, a boot, is worn by so many people. He just cuts across all that, everyone wears him."
So what about that shoe closet that is literally littered with Weitzman? We had to keep from getting too excited when she started to list her most-glamous shoes, but it wasn't easy. "I have some wonderful pavé shoes and I love to wear them. I don't really go to as many evening things as I used to, a lot of times they change black tie to cocktail," she explains. "So I don't wear those shoes as often as I used to, but I love looking at them, they're like works of art." With her creativity in the shop windows and her photo book on artistic renderings of heels, it's pretty clear that shoes are more than just a wardrobe necessity to Weitzman.
When it comes to wearing them, however, Weitzman goes for chic and simple with a crazy collection to select from. "I love metallic. I'm wearing a lot of metallic sandals for summer, they go with everything," she says of her summer style. "I have a lot of shoes but you know fads change. So you can't really wear—after a certain point though you have to put them away and hope they'll come back. But usually they come back differently—once in a while something comes back the same way it was." She talks about pointed toes and rounded toes, and different pumps in her closet that cycle in and out of fashion over the years. When we ask if she has any brands in that closet she laughs. "I have not worn any shoe other than a shoe made by Stuart since we've been married which is 47 years—except for athletic sneakers because he doesn't make those," she adds. "But Stuart makes shoes for every occasion and I wouldn't even think of wearing anyone else's shoes. I don't even look anywhere else; it wouldn't occur to me." Wow. Married to the designer or not we doubt we could wear only one brand for 47 years—luckily for her Stuart Weitzman's designs are pretty fantastic.
And her most beloved pair in her entire collection? The wedding shoes Stuart Weitzman gave her when he asked her to marry him. "Stuart proposed to me with a pair of shoes. Inside it said 'Made for Jane Weitzman' and I knew that was going to be my name," she pauses for a moment. "They were a beautiful white lace pair of shoes that I wore for my wedding." Wondering why no boyfriend we ever had was that romantic (or knew us well enough to know that the way to a girl's heart is through shoes), she stops at the end of the interview. "Actually I changed the story a little bit," she admits. "In those days women went by their husband's name so the real shoes said 'Mrs. Stuart Weitzman', but I feel ridiculous saying that now because it's so sexist, but that's how the world was." While we assure her the story is still one of the most romantic proposals we've ever heard (mostly because there were shoes involved) she laughs, "I don't know, it sounds ridiculous to me so I did change [the story]. I think it sounds better. Young people can't even believe—our thank you notes from our wedding said 'Mrs. Stuart Weitzman' on them!"