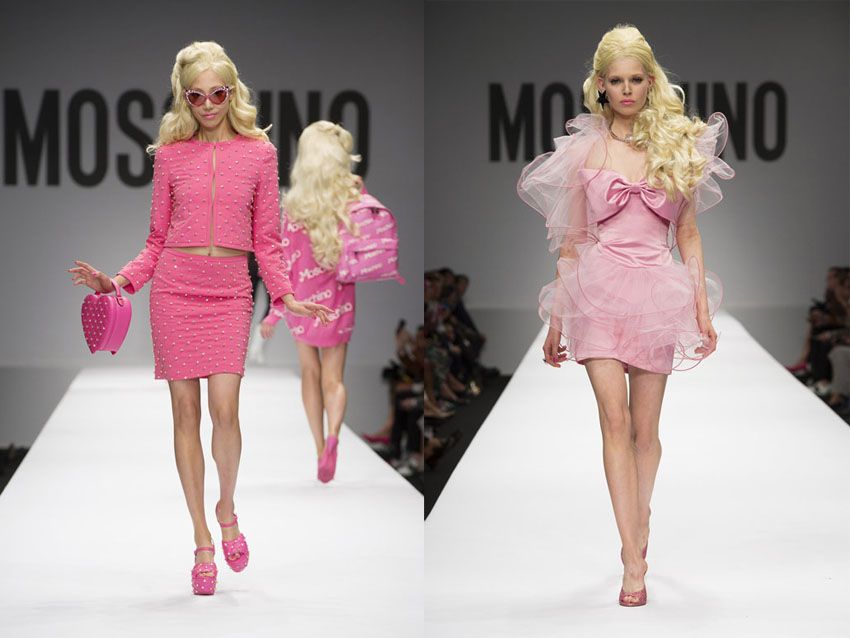 Photos Courtesy of Moschino
I'm a Barbie girl, in a Barbie world—or at least Jeremy Scott is. The designer showed off a brightly colored collection of blonde hair, hot pink and adorable accessories that channeled the look of our favorite doll. For Moschino's SS15 runway at Milan Fashion Week, Scott sent a variation of looks down the runway—Workout Barbie, Skater Barbie, Beach Barbie, Flight Attendant Barbie?— that were a serious throwback to our childhood. This collection is all about classic Barbie from the print to the silhouettes, and we have never wanted a Moschino collection more.
While last season we were treaded to SpongeBob and McDonald's (because everyone in the industry eats McD's, no?) this season was nothing but bold color, shortened hemlines and pink heels as far as the eye could see. The silhouette was nothing less that we would expect of the blonde icon with body-hugging pieces, tiny skirts and crop tops. There were a few pieces that we're sure Barbie herself wouldn't be caught wearing including a pair of golden booty shorts, but for the most part everything was dead-on. In fact I'm pretty sure my Barbie owned a few of these pieces in the early'90s.
As Scott doesn't like to put a limitation on his pieces, his fabrics were no exception and included tulle, lame, silk, latex, fishnet, terrycloth and more sequins and spandex than a strip club—but somehow it worked. Anchoring the would-be call-girl outfits were big accessories and even bigger jewelry. The Moschino name hung off of bags and earring in bold multi-colored lettering while Barbie's iconic cat-eye sunglasses were worn both on the face, in the hair as an accessory and off the bag as an oversized charm.
It's a totally impractical collection, something that Scott is both known and loved for, and you can bet the fashion kids (and notorious Scott fan Anna Dello Russo) will own these pieces by tomorrow. While Dello Russo will likely have pieces off the runway handed to her, all other Moschino lovers can get their Barbie fix via a capsule collection that includes some of the highlight pieces from the show. Luxury online retailers will have the small curated collection available for a limited time so grab your Barbie bag before it's gone for the season.