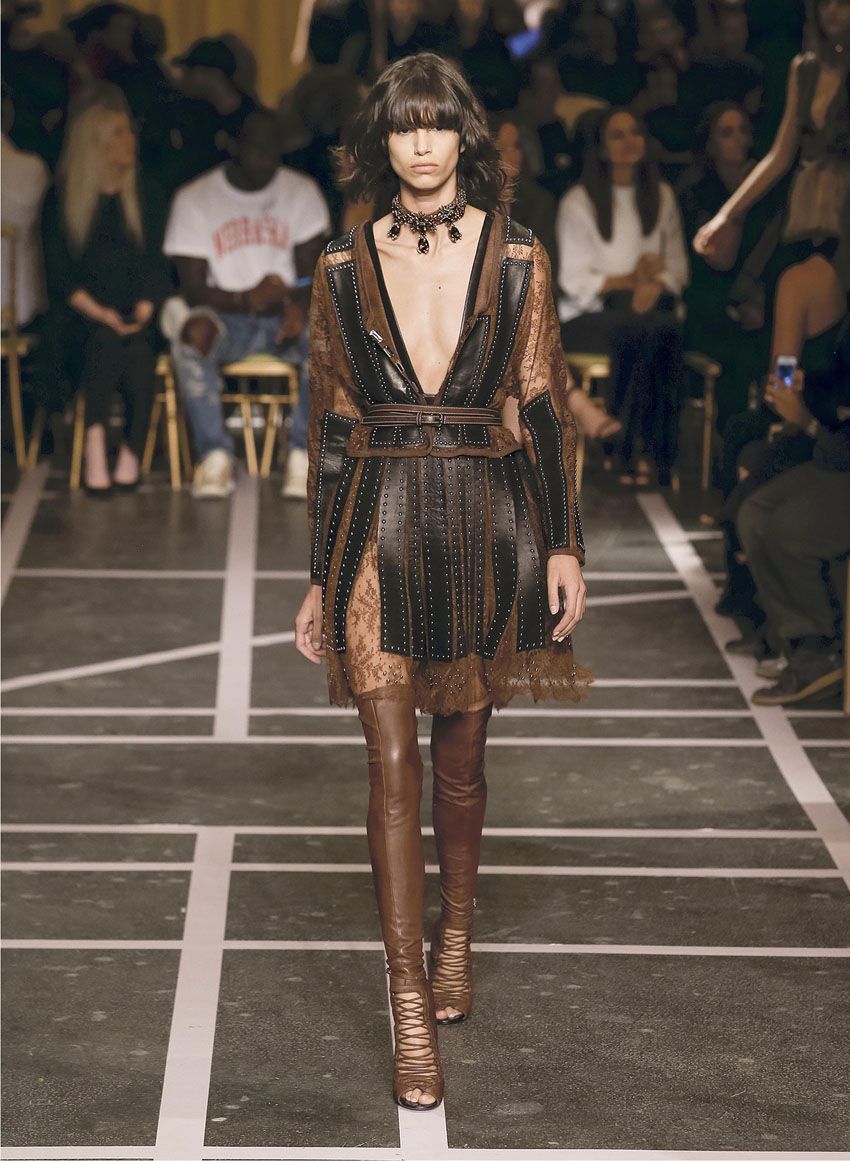 Photos Courtesy of Givenchy
A glance at Riccardo Tisci's Givenchy SS15 runway at Paris Fashion Week would throw seasoned fashion lovers into #ThrowbackThursday mode. The designer sent models down the runway in modern takes inspired by his first designs as creative director of the brand. A heavy rock 'n' roll element was tossed on every look from boho-chic pieces of the '60s to u-shaped corseted shirts that mirrored the styles from centuries ago. Leather, lace and structure played a big part in the collection—it was sexy, edgy and a 180-degree turn from his lady-like butterfly pieces of last season.
The color palette for spring was the familiar muted hues of black and brown that we're used to seeing from Tisci, with a little white and cognac thrown in for good measure. Using different materials, accoutrements and structure on the few shades he did use allowed him a full spectrum of looks that blended together beautifully. Gothic, '60s and medieval styles were thrown together into a hodgepodge of a collection that actually worked well due to their overlapping details. Ultra tight corseting was found on everything from bustiers to thigh-high heels, studded grommets lined jackets, dresses and structured vests (usually found on '60s rockers or 13th century peasants—at least according to Hollywood), while heavy lace was found as the base and trimming for dresses, tops and coats.
While the collection sounds a little rough around the edges and far from feminine, the opposite was true since everything was either sheer or tight—exceptionally tight. Leather pants clung to models, thigh-high heels fit like a second skin and laced-up tops barely kept the girls' assets in. Anything loose fitting or draping was done in a sheer chiffon or lace, while pieces of dresses or tops were cut out and replaced with lace to give just a glimpse of the skin underneath.
The collection was a welcome update to Tisci's early work and followed a lot of the throwback collections we've been seeing throughout fashion month. Most of the striped pieces we could have done without, as they almost came off pirate-y with the lace-ups and thigh-highs, but we appreciate that he took the collection to the limit. While not easily wearable or functional (take a look at those heels!) it is a very "fashion" collection that celebrities (including Tisci's favorite, the Kardashian-West clan) will be wearing with fervor. Who cares if you can't walk or move in the designs without something falling out of place? You're in Givenchy, baby.