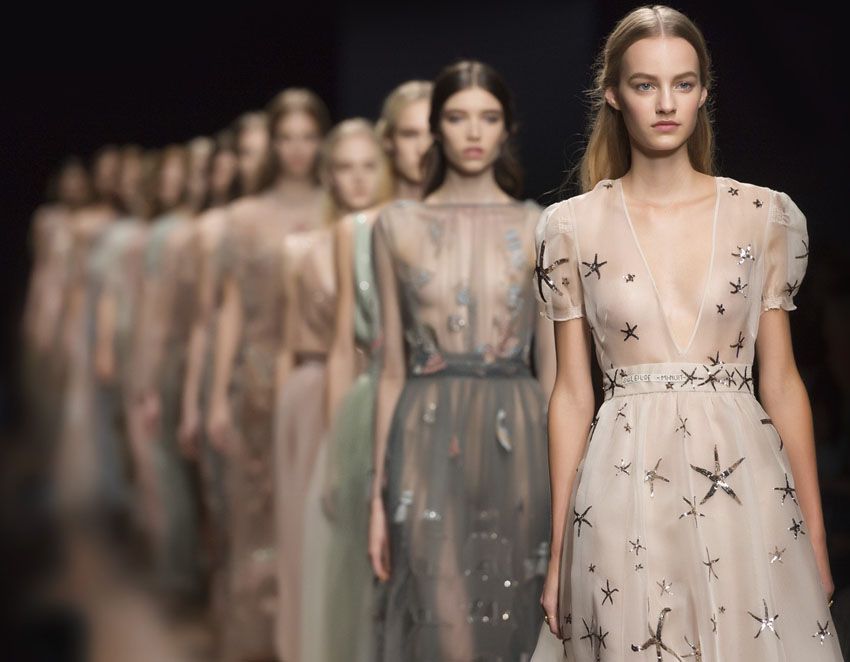 Photos Courtesy of Valentino
Capturing the beauty of Italy, from its kitschy souvenir shops to its rich Mediterranean shores, the Valentino SS15 collection uses its iconic textures, fabrics and prints to showcase the Grand Tour. Drawing from travel throughout Italy, the collection recalls a time of Roman summers and Venetian tours of the 18th century. Designers Maria Grazia Chiuri and Pierpaolo Piccioli have churned out season after season of successful collections and this lineup was no different. Mixing bohemian prints and forms with romantic silhouettes and rich spring tones, the collection was a reflection of Italy, the inspiration for many of their collections.
"In the past, the English and French came to our country to improve their culture; now all Italian people go to England or to New York," Chiuri told Style.com. As a rite of passage, a number of today's post-grads backpack through Europe making their way through the country as a way of educating themselves about different people and cultures while allowing them to connect globally. But from the 1660s to 1840s, the Grand Tour was the traditional trip undertaken by well-heeled young men that had them traversing through Italy from countryside to seaside. It is from this coming-of-age trip that the designers drew their inspiration.
The idea of traveling was seen not only in the collection's prints—which even included sailing ships—but also in the designs. Instead of a full runway of gowns and sundresses, the lineup included sweaters, drawstring pants and denim culottes (though admittedly very ornate culottes). With printed bags that looked as if they could be found in local souvenir shops, to gladiator sandals perfect for walking on both street and beach, the collection was nothing if not ready-to-wear.
The latter half of the runway gave special attention to the oceanic elements of the Grand Tour, the designers filling the collection with prints of sea creatures: kelp, starfish, seashells, coral, seahorses, blowfish and jellyfish flittered across clothing and accessories. Dresses were layered in hundreds of pieces to resemble scales, printed with a sheer overlay or embellished with thousands of tiny feathers and seed beads. The heroes of the collection were those in the final lineup, a set of floor-length gowns done in silk, tulle, beading and sequins that captured the true magic and beauty of Italian design.