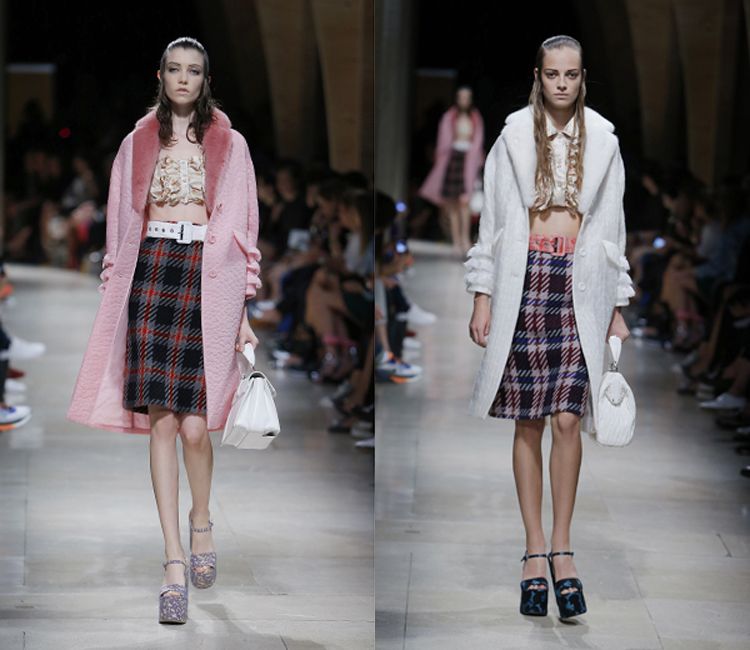 Photos Courtesy of Miu Miu
Miuccia Prada is putting a little twist on her sweet girl looks of last spring. The Miu Miu SS15 runway was filled with models that, at first glance, looked innocent and well-bred dressed in knee-length plaid skirts, ruffled shirts and bow heels—until you noticed the harsh drawn-in brows, the chopped crop tops and plunging necklines that suggested they were anything but. Inspired by the John Waters' 1974 film (which should already give away the direction of the collection) Female Trouble, the models were representations Divine's character Dawn Davenport—a spoiled good girl gone bad.
The collection, while obviously not as seedy as the Waters' cult classic, gave us glimpses of the debauchery and delinquency that Prada found so enthralling in her original inspiration. The collection moved through the film with early looks channeling Davenport's school girl uniform, before turning into separates of crop pants and tops that emulated what she wore once she ran away from home. Some shirts looked as if they had been ripped or purposely cut in half; the cliché uniform of any rebellious teenager.
Deviant persona aside, the housecoats, bags and shoes channeled that sweet-girl aesthetic we found so covetable last spring. While the vibe might be the complete opposite (there are no rainbow unicorns here people) the core of the collection is definitely on-point. Knee-length skirts? Check. Frilly bow heels? Check. Candy-colored, fur-topped coats? Check—and we'll take two. Harshly angled sunglasses gave even the sweetest models a darker look, but those cherry-colored sunnies are sure to be in street style shots by next Fashion Week.
Aside from the juxtaposition of sweet styles worn by girls with bad-ass attitudes, the collection was also awash with color, texture and fabrics that gave character to the simplest of pieces. Bold plaids were paired with silk pants, heavy leather coats hung over fluffy white skirts and red leather was seen almost everywhere. This girl is "apparently very sweet, but in the end, deep down, very nasty," Prada told WWD before the show. Well we're not quite as degenerate as Dawn Davenport, but we're completely willing to smoke in the girl's bathroom if it means we can sport some of those Miu Miu platforms.