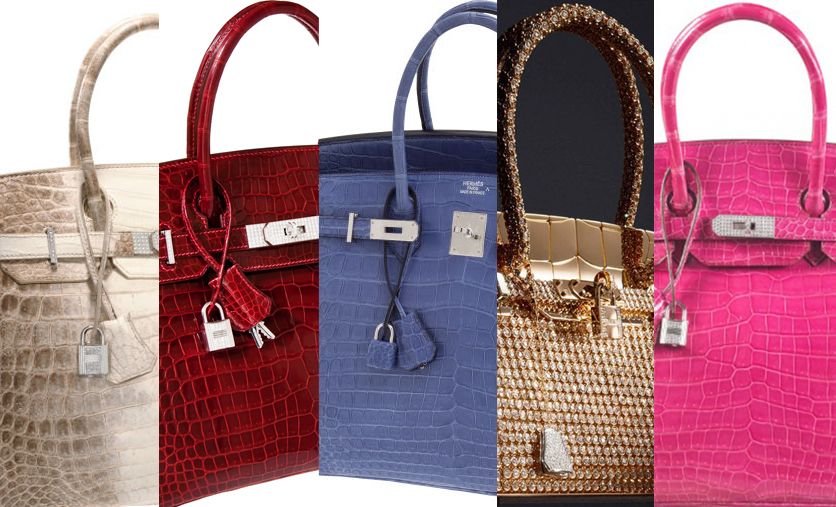 Heritage Auctions, Hermés, Christie's
There are plenty of things you could do with two million dollars. You could buy a small yacht, a little island in the South Pacific, maybe start a diamond collection to rival Elizabeth Taylor's—or you could just buy a Birkin. Known for being the most expensive hand bags in the world, Hermès Birkin bags have been known to be priced due to their rarity, accoutrements and exclusivity, but there are a few that stand out among the rest. Just in case you're in the market for one (or are looking to add another to your collection) we've rounded up the most expensive Birkin bags ever sold.
Photo Credit: Hermés
In 2012 Hermès unveiled a Birkin made entirely of rose gold and diamonds for a staggering $1.9 million. Designed by Pierre Hardy, the creative director of fine jewelry at Hermès, the miniature bag (which is really more like a wristlet) is a completely functioning purse and studded with 2,712 diamonds. Only three were made so even if you had the extra two million to spare on accessories, your chances of getting one were slim. We can only imagine the resale price on these collectables.
Photo Credit: Christie's
Earlier this month a rare pink, diamond-encrusted, crocodile Birkin bag sold at a Christie's auction house in Hong Kong for HK $1.72 million (approx. USD $221,868). The purse broke records and is currently the most expensive bag ever sold at auction. The 2014 bag was purchased by an anonymous telephone bidder, but maybe someday (if we wish really, really hard) it will go up for sale again. There's no telling how much it could fetch the second time around.
Photo Credit: Heritage Auctions
Collector's love those exotic skins. In 2011 the title for most expensive bag sold auction belonged to this little lovely—a blood red crocodile Birkin sold by Heritage Auctions in Dallas for $203,150. Designed in Porosus crocodile skin, 18 karat white gold and diamond studded hardware, it's not hard to see why someone would spend big bucks to carry this on their arm—and one anonymous bidder did.
Photo Credit: Heritage Auctions
In late 2014 a Birkin Himalayan bag was purchased for $185,000 from Heritage Auctions' Luxury Accessories Signature Auction in Beverly Hills. Designed with 242 diamonds weighing in at 9.84 carats, the bag was made from a rare "almost albino" crocodile and is considered one-of-a-kind. "The consignor, who was in attendance, stated that she was very happy with the auction and the prices her bags brought," Kathleen Guzman, a Managing Director at Heritage Auctions, told Forbes. Well we should think so.
Photo Credit: Heritage Auctions
In 2011, in the same auction as the record-setting, red crocodile Birkin, another bag sold for $113,525. It was a matte blue, Porosus crocodile Birkin with palladium hardware that, surprisingly, wasn't studded in diamonds. Other bags in the same Hermès auction (excluding the red diamond Birkin) went for less than $100,000, but still set records including a shiny red, Porosus crocodile bag with palladium hardware that sold for $95,600 and a Himalayan crocodile bag with palladium hardware for $80,663.