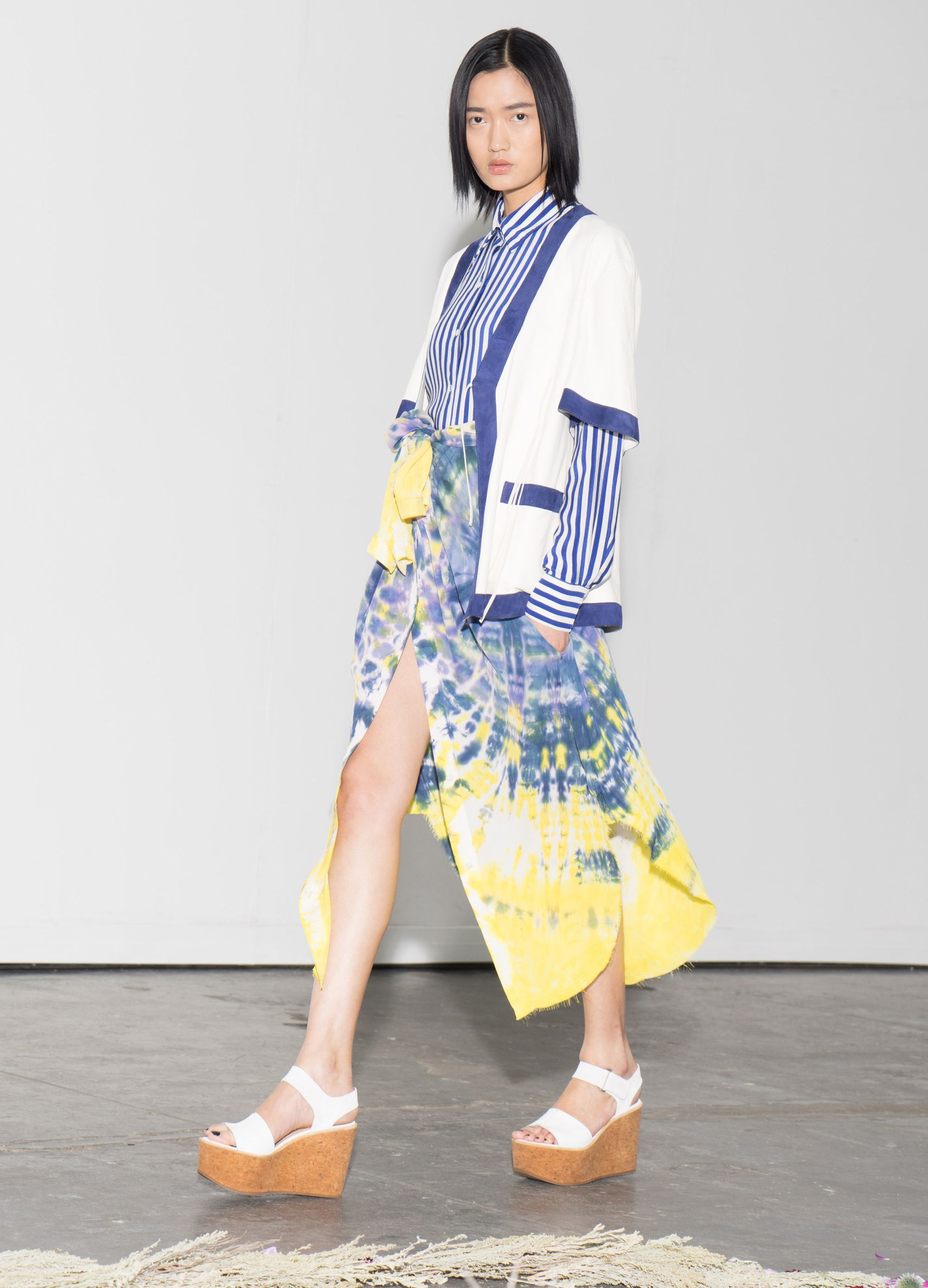 Photo Credit: Raquel Allegra
Sayonara, New York Fashion Week. It's been fun. We've seen everything from over-the-top runway stunners to a few presentation flops, but this week wasn't just about previewing what our favorite brands have in store for us next season. For some designers, these few days in September were a chance to show the fashionable public what they're made of. This season, 15 ready-to-wear designers presented their collections for the first time during NYFW. Some were up-and-comers, some had only shown at smaller venues, and others were industry vets who have been with major brands for years before leaving to start their own label. Some cases were a unanimous success and others, well, let's just hope they do better next season.
Rhié
A student of both Parsons and Central Saint Martins, Rie Tamagato has a serious fashion resume that includes working with Phillip Lim and Tsumori Chisato, and winning multiple international awards for her fashion films. Known for her attention to detail, Rhié's debut at NYFW was well received and garnered praise for her custom-created prints and interpretation of staples like denim and bra tops.
Karigam
Just because you're not a NYFW regular doesn't mean you don't have a major fan base. For her inaugural show, Karina Gamez brought celebs to the front row, and major models like Hilary Rhoda and Jessica Stam to the runway. That's amazing for a first time show—unfortunately the Karigam collection failed to live up to its expectations. In fact it was so bad that WWD stated that "at its best [it] hinted at early Helmut Lang, and at its worst was an unrefined hodgepodge." Yikes.
Brandon Maxwell
When you're Lady Gaga's stylist, your debut at Fashion Week won't be anything like all the other newbies. With the singer and a number of close friends present (which included bigwigs like designer Alexander Wang and photographers Inez and Vinoodh) Brandon Maxwell presented his first collection at NYFW. His line, dedicated to bold women, was extraordinarily well received and even made Gaga cry. If that's not a seal of approval we don't know what is.
Cadet Women's
CFDA/Vogue Fashion Fund finalists Raul Arevalo and Brad Schmidt are well known for their military influences in menswear, and already successfully operate stores in the NYC area, but this season they translated those influences for women. The Cadet's womenswear collection was well received and included softly tailored pieces with cropped silhouettes in traditional navy, olive green, white and black shades.
Max Gengos
After working at Calvin Klein as a designer for a number of years, Max Gengos started his own eponymous line, and so far has met with success. Teen Vogue even asked him to design a dress specifically for Kendall Jenner's cover shoot. Known for his take on "responsible luxury," his clothes look anything but environmentally friendly. This season's collection used rich fabrics, bright colors and well-tailored silhouettes to create a lineup that we would be happy to hang in our closets.
Area
Started in 2013 by Parsons alumni Beckett Fogg and Piotrek Panszczyk, Area has not made much of a splash in its few years, but their NYFW presentation may have changed that. This season the collection was inspired by makeup and the textures and shades used in products. The line focused on fabric texture and was met with generally positive reviews. Only time will tell if it was good enough to make any real impact.
Flagpole Swim
Barneys New York and Net-A-Porter have been selling Megan Balch and Jaime Barker's Flagpole Swim for a few years now, but this is the brand's first go at NYFW. While most swimwear brands traditionally show at Swim Fashion Week Miami, according to the designers, these bathing suits are just like ready-to-wear as they are well-constructed to be worn during sport, swim or just lounging. They also have a small selection of cover-ups, shorts and dresses.
Self-Portrait
If you haven't heard of Self-Portrait chances are you've been living under a rock—a large, unfashionable rock. This brand has been generating buzz everywhere not only for its affordable price point (dresses average around $600) but for the celebrity following it's garnered. This label is all over the red carpet. For the brand's first NYFW, designer Han Chong presented another stunning line of lace dresses and evening gowns, but also mixed in some pants and shirts to make the collection more comprehensive.
Warm
After shuttering his eponymous line in 2010, Tracy Feith is back and designing for Warm. The brand was started in 2012 by husband and wife team Winnie Beattie and Rob Magnotta. The collection shown during NYFW was reminiscent of Feith's original line, and included beachy, bohemian prints and cuts with a more sophisticated vibe. While it wasn't anything to write home about, it wasn't a flop. Here's hoping the second time is the charm.
Monse
Founded by former Oscar de la Renta designers Fernando Garcia and Laura Kim, Monse officially launched with its debut at NYFW on Saturday. Having already dressed celebrities like Amal Clooney and Sarah Jessica Parker, the fashion set had high expectations for the label, and celebs, major editors and even fellow designers attended their inaugural show. And they were not disappointed. The two presented modern takes on traditional womenswear and it was one of the more successful debuts this season.
Jonathan Cohen
With a background that includes designing at Ashleigh Verrier, Doo. Ri Chung and Oscar de la Renta, it's surprising that Jonathan Cohen has been largely unknown since his label started in 2011. No matter, because his NYFW show generated enough buzz that he's likely to land on that radar of celebs and fashion lovers. His collection received praise for its clarity, direction and attention to detail.
M. Martin
Started only nine months ago by former Prada womenswear director Jennifer Noyes and Paper Denim & Cloth founder Alex Gilbert, M. Martin took off running. The brand's aesthetic features an updated look at American sportswear and their NYFW presentation represented the feel beautifully. The collection highlighted casual, but sophisticated minimalism and was extremely well received. With their background and connections in the industry this brand will likely be a mainstay in every fashion lover's closet within the next few years.
Polite
Colombian designer Carlos Polite has the type of aesthetic that could be major street style fodder if given the chance. His designs are big, abstract and, truth be told, are a little avant-garde for everyday wear, but perfect for the peacockers during Fashion Week. This season his presentation included a line of bright blues, greens and yellows in structural pieces that would simply have to catch the attention of Tommy Ton.
Raquel Allegra
While Raquel Allegra initially got her start by designing pieces recycled from the Los Angeles County Prison System (yes, really), her collection has grown and transitioned into something much more stylish. Her looks have remained unstructured and casual throughout the years, and she's tapped into the Californian, laid-back look. While her collection this season lacked any real direction or cohesion, we're hoping she'll put out a more successful lineup in February.
The Fat Jew
With the popularity of the dad bod came the popularity of Josh Ostrovsky, aka The Fat Jew, a plus-sized-model-slash-Instagram-star-slash-comedian-turned-designer. His debut collection fell between a comedy routine and critique of the fashion industry. In fact most of his "models" were real-life dads he had hired off of Craigslist. Some dads even wore their own accessories. "I just really wanted to showcase dad fashion because dads just really, genuinely don't care, which is the ultimate mark of a fashion icon," he told Vogue. Whether the collection was seriously meant for men's closets or for a good laugh, there's no denying the insane buzz he's creating around his brand.