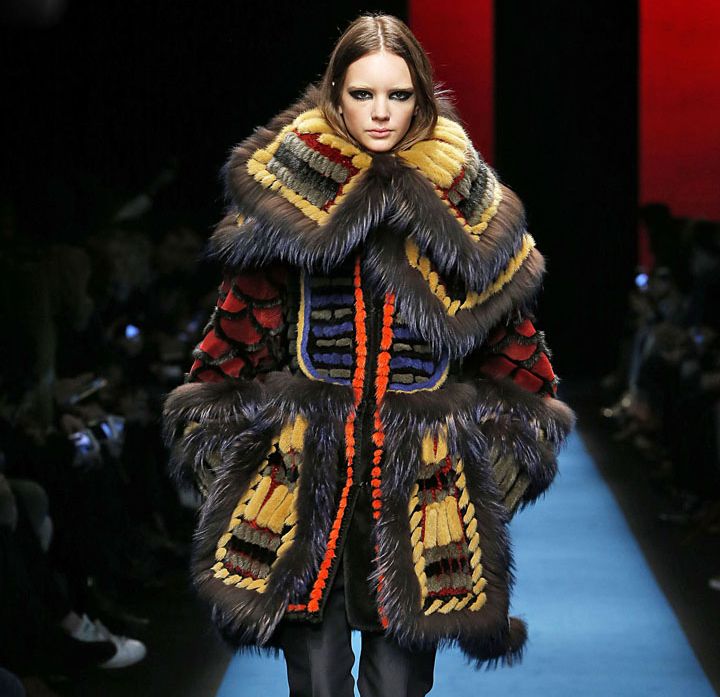 Photos Credit: Dsquared2
"It's a warrior world," Dan Caten said backstage of the Dsquared2 Fall 2016 collection. Brothers Dan and Dean Caten offered up a lineup of fashionable combat wear inspired by military, Victorian and samurai aesthetics. Drawing partially from the aristocratic designs of last year's Fall 2015 collection and the Japanese influences in their Fall 2016 menswear line, the collection was a mashup derived from their previous work that surprisingly, worked well together.
While the silhouette was intentionally slender and fitted, accessories, ornaments and embellishments gave each piece volume and movement. Lace bibs, tassels, collars, cargo pockets, buttons and zippers were all layered together for added emphasis on the runway, but individual pieces could easily be seen. Favorites included cigarette trousers with embroidery around the hipline, a chocolate caplet with mauve trim and layered collar, and a series of leather and chainmail pleated skirts.
The best part of the collection was the contrast between the more aggressive designs and feminine details. Military jackets were paired with delicate fringe skirts and armored skirts were topped with Victorian shirts with puffy sleeves and lace collars. It created a beautiful juxtaposition that could only be captured on the runway—or by some very daring street style stars.