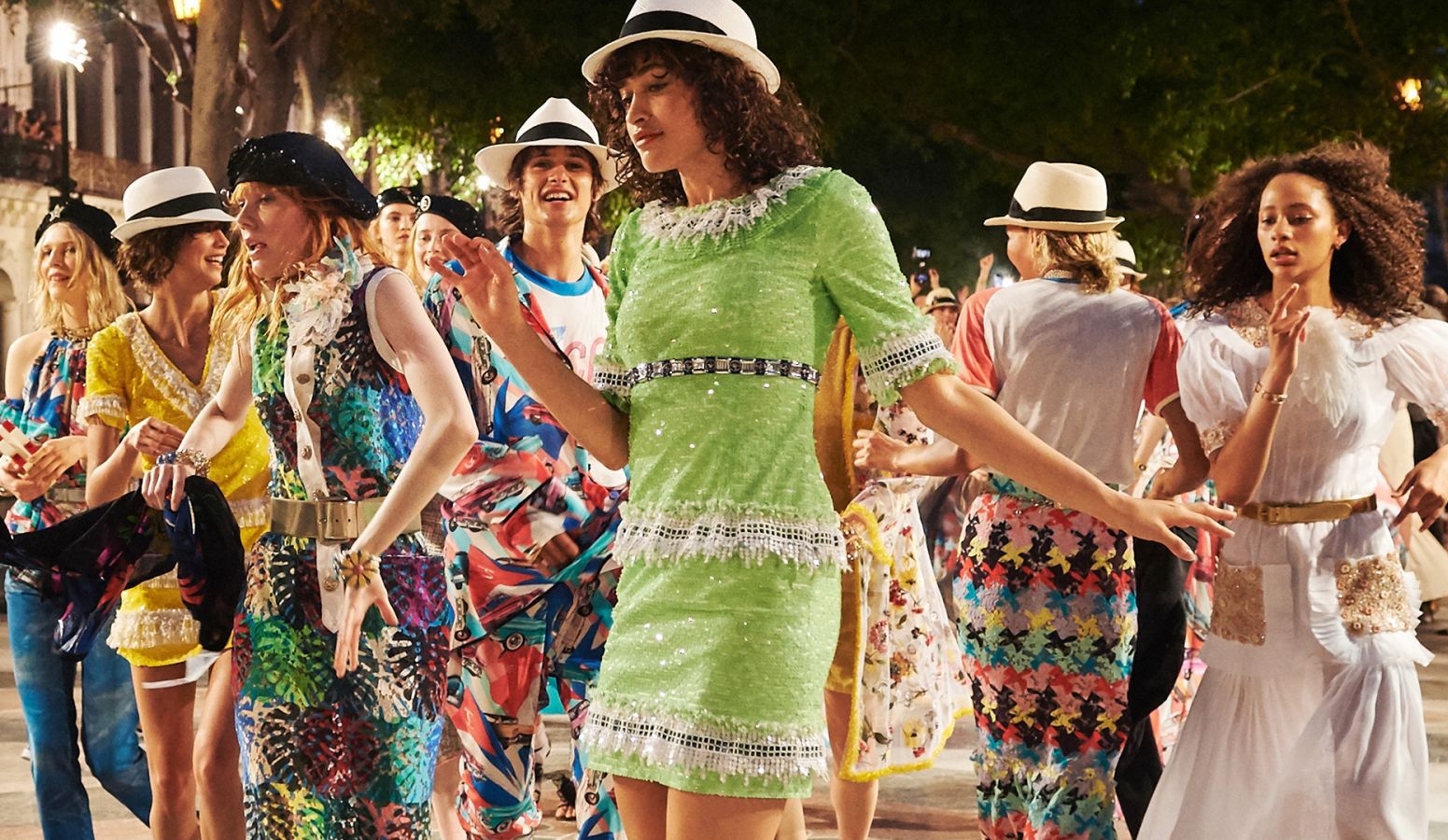 Photos Credit: Chanel
While the rest of the fashion world was obsessing over the red carpet looks at the Met Gala, Karl Lagerfeld was setting the stage for the Chanel Cruise 2017 show in Havana, Cuba. The designer, known for his seemingly unapproachable demeanor, is a great lover of Latin music, and unbeknownst to most, was a cha-cha and tango champion in his 20s. He returned to those moments of his youth on the streets of Havana, where the open-air show took place on the historic, tree-lined street of El Paseo del Prado.
Front row attendees, which included names like Vin Diesel, Vanessa Paradis, Tilda Swinton, Gisele Bündchen and Soo Joo Park, sat on park benches that lined the avenue. Brightly colored convertibles from the '50s were parked up and down the street, channeling the Cuban turn-of-the-century vibrancy that inspired the collection. In a show he titled Coco Cuba (though Gabrielle Chanel had never visited the country), models walked in brightly colored dresses, beach-ready crop pants and souvenir T-shirts to the beat of live music from local bands. The color palette seemed pulled from the eccentrically painted colonial houses surrounding the nearby streets, while stylistic nods to the culture were found in straw hats, parrot and palm prints, cigar box clutches, and ruffles.
At the end of the show, the drums began and the high-profile catwalk turned into a block party. The Kaiser showed off some of the fancy footwork he's kept hidden for decades, with the evening ending in a block-long conga line. The exorbitant affair was a stark contrast to the decaying city, but it turned a spotlight on the country in a way that perhaps no other luxury house could. "[Cuba is] beautiful in a way, even if it's a little neglected—the colors, the cars, there's something very touching about it," Lagerfeld told WWD that evening. "Cuba is like nothing else in the world. It has an identity I love, and I always wanted to go, but I need a professional reason."