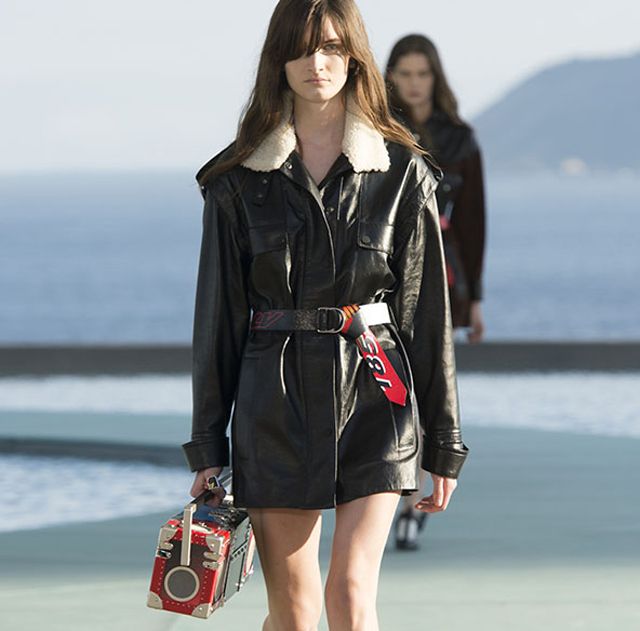 Photos Credit: Louis Vuitton
Instead of opting for a traditional Memorial Day Weekend of picnics and cookouts, the fashion set headed to Rio de Janeiro to take part in Louis Vuitton's Cruise 2017 show. Catherine Deneuve, Jaden Smith, Zendaya, Alessandra Ambrosio, Chiara Ferragni and Alicia Vikander all made front row appearances at the event, which was held at the Oscar Niemeyer-designed Niterói Contemporary Art Museum​. Set against the backdrop of the city skyline, the collection mirrored the colors, vibe and spirit of the Brazilian culture, while also echoing the futuristic feel of the building's modern architecture.
"Being able to show a fashion collection in such an architecturally powerful space is a sensorial experience. In Rio de Janeiro, what I saw most of all was movement and an explosive energy that lives somewhere between modernism and tropicality," Nicolas Ghesquière said of the collection. "I was fascinated by the constant duality between nature and urbanism and the pictorial explosion it creates. For me, the main question was how to incorporate into my collection all these elements that are part of Brazilian culture, without forgetting that I am just a visitor who brings his own Parisian and French cultural references to the moment."
What came down the runway was a bright and sporty lineup that beautifully captured the balance of the Brazilian culture. Color palettes were bold and paired together without hesitation. Bright oranges and yellows ran in striped patterns down an athletic dress; tunics were cut open at the hip to give each piece a flair of movement when the models walked. Even the handbags, depicting soccer players mid-game, alluded to the culture of the South American country. He turned the inspiration from Niemeyer's saucer-shaped construction into a sartorial futurama: bodices were given angular silhouettes, layered cutouts and just a touch of metal detailing to add to the space-age aesthetic of the collection.