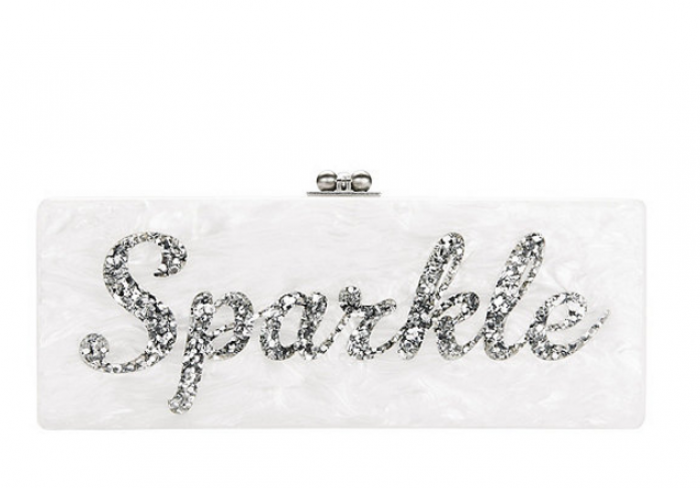 Photo Credit: Intermix
There seems to be one purse that celebs have all been clutching over the last year, and it goes by the name of Flavia. Edie Parker, a manufacturer of vintage-style acrylic bags, has taken the fashion world by storm with their unique collections. The Flavia bag, their most famous piece, has graced red carpets in the hands of superstars such as Ashley Graham, Katy Perry, Adriana Lima, Cher, and dozens more. Pairing this bag as a statement piece with a classic little black dress is sure to make you a stand out this New Year's Eve.
Available in a variety of colors, including metallic glitter, glow in the dark, and neon, the bags are made for the bold. The company's funky aesthetic likely comes from its desire to emulate the movers and shakers of the Beat generation. It shares a name with Edie Kerouac-Parker, former wife of Jack Kerouac and a staple on the New York City scene in the 1960s in her own right. The 100 percent acrylic clutch comes in a classic box shape with a kiss closure, making it ultra sleek to carry to any event. True style mavens can get the bag customized to say any word or phrase, and rap lyrics, initials, and motivational quotes have all been featured. Need a touch up? The interior features a 10-inch-wide mirror for any beauty emergencies you might have last minute.
The Flavia bag is now available for purchase online at Intermix.