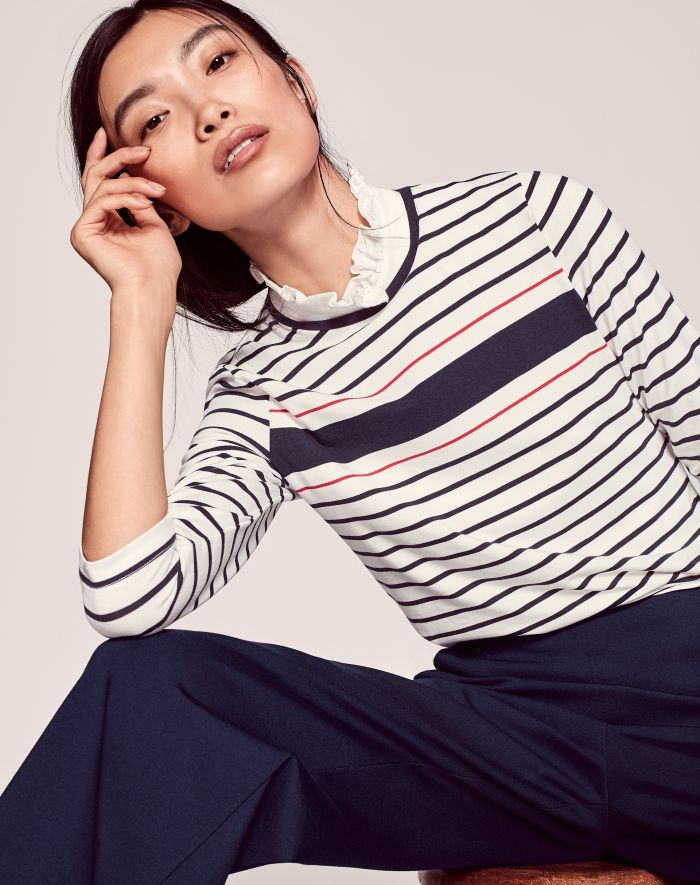 Photos Credit: ME+EM
Sir Ben Ainslie's Land Rover BAR team competed like champions at this year's 35th America's Cup, the greatest race in sailing history. By his side were his astonishing Land Rover BAR teammates, the genius Land Rover engineers, and his spirited wife, Lady Georgie Ainslie, an accomplished sporting broadcaster for Sky Sports, Fox Sports, and Radio 3 Live. Being the life-partner of the world's most-accomplished sailor has meant spending a lot of time at sea, so her wardrobe is comprised of more nautically-themed pieces than even that of the lifelong boatmen/women of Isle of Wight, England, where the Ainslies now live.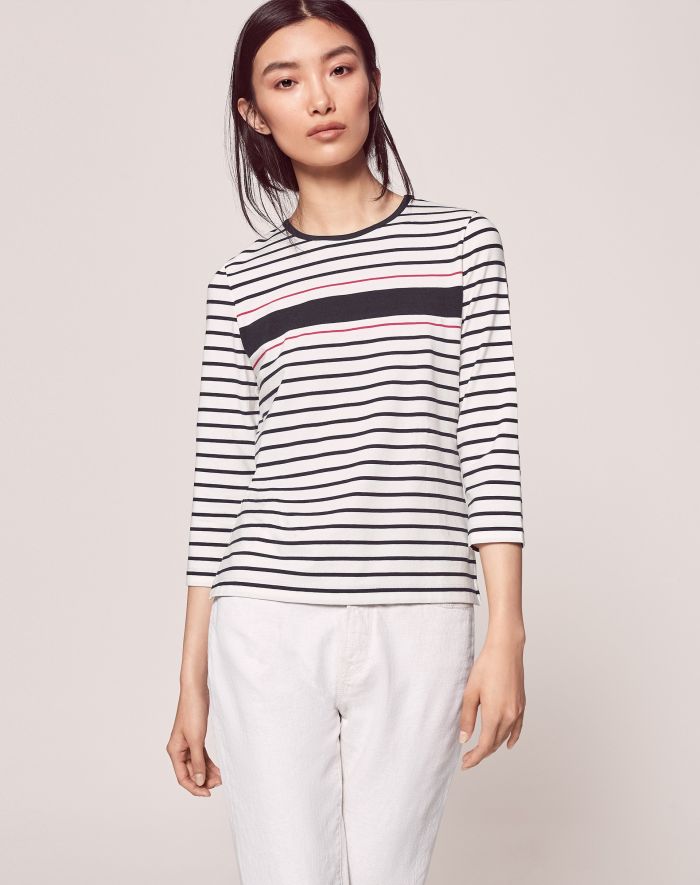 Her husband's sailing passion inspired Lady Georgie to re-imagine the classic Breton stripped shirt in a design partnership with ME+EM, the boutique British label founded by Clare Hornby in 2009. When the Duchess of Cambridge wore her cobalt blue version at the Beaufort Polo Club in 2013, it put ME+EM on the map, and put 3,000 hopeful buyers on a waiting list. Ainslie's new, flattering take on the classic Breton—with updated blue stripes and a note of red—is ME+EM's newest bestseller, having first been worn by the Land Rover BAR team in Bermuda for this year's races. "We combined various influences including a strong nautical heritage and the styling of Coco Chanel," Ainslie told JustLuxe at the Land Rover BAR Base in Bermuda, just minutes before her husband led his team into battle with Emirates Team New Zealand. The Iconic Breton Top is the pivotal piece in ME+EM's bespoke collection that not only keeps boat and yacht lovers shipshape—whether at sea or on dry land—but also donates a percentage of sales to the 1851 Trust, the official Land Rover BAR team charity.