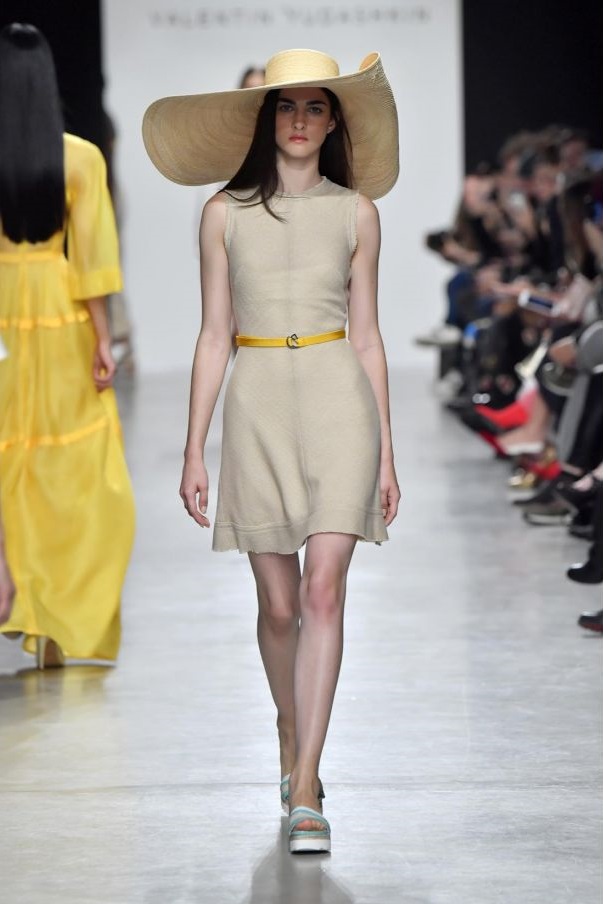 Photos Credit: Valentin Yudashkin
The world has been familiar with Russian couture designer Valentin Yudashkin since the 1990s, when Russian fashion entered the world stage. But what interested fans this season was his inspiration pulled from the Russian artist, Kazimir Malevich, the true father of the modern movement "Suprematism," which brought us the minimalist geometric shapes in colors such as black, white, yellow, orange and green, long before Kandinsky and Mondrian. In fact, Malevich's work has recently been seen in the world's most influential museums and auction houses. The time has come for this unique Russian artist to step out of the shadows, and Yudashkin has rightfully brought this artist into the light to inspire his Spring 2018 collection.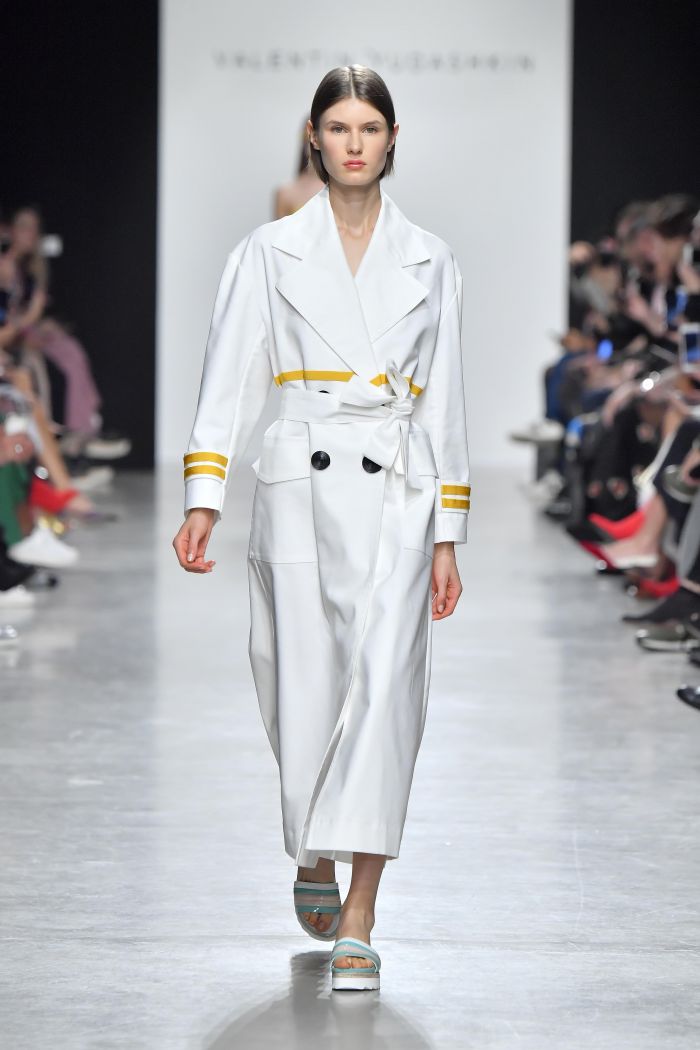 Reductionism in shape, form and color is seen throughout the collection, and one could say that the House of Yudashkin has taken this modern spirit to its most essential level. The runway saw a beautiful, well-organized collection that offered a variety of options including evening wear, outerwear, blouses, tops, dresses and playwear in a variety of fabrics. The collection ranges from red carpet gowns to generous trench coats for the private jet setter. The show demonstrated Yudashkin's reputation for luxury evening wear with his use of beaded surfaces.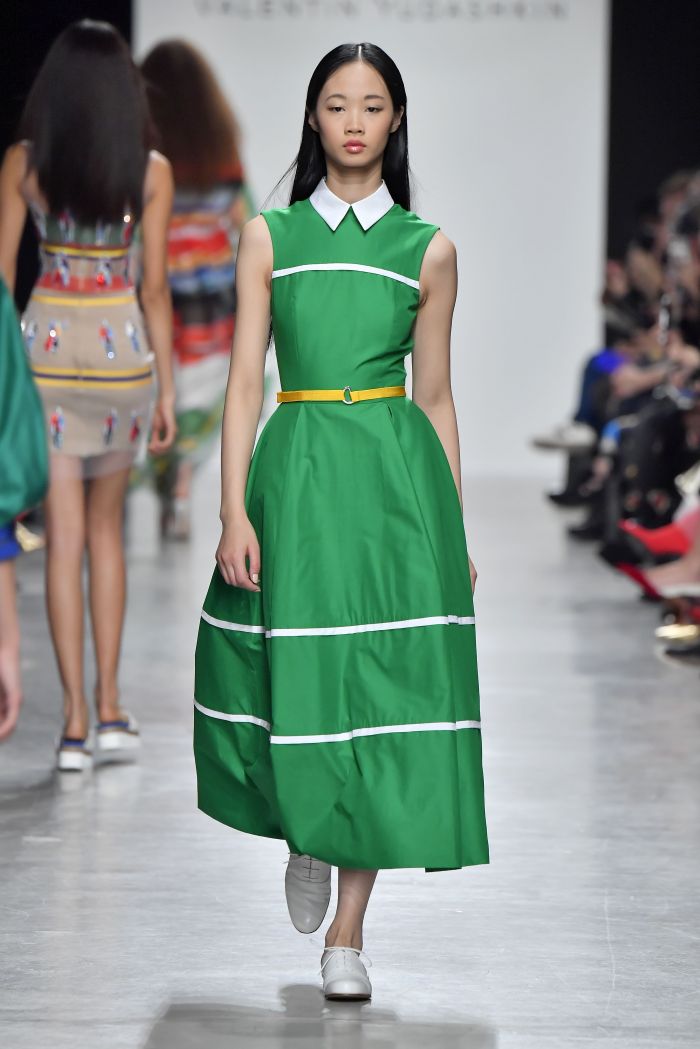 Recently, Yudashkin's daughter got married in a newsworthy wedding that set the stage for her involvement in the brand. Her fresh, new take on the spirit of the Russian artist included solid blocks of color, and bright use of stripes and patterns, with one dress using the "peasant' paintings of Malevich to create an applique print over the top of a day dress that brought a sense of humor to the collection.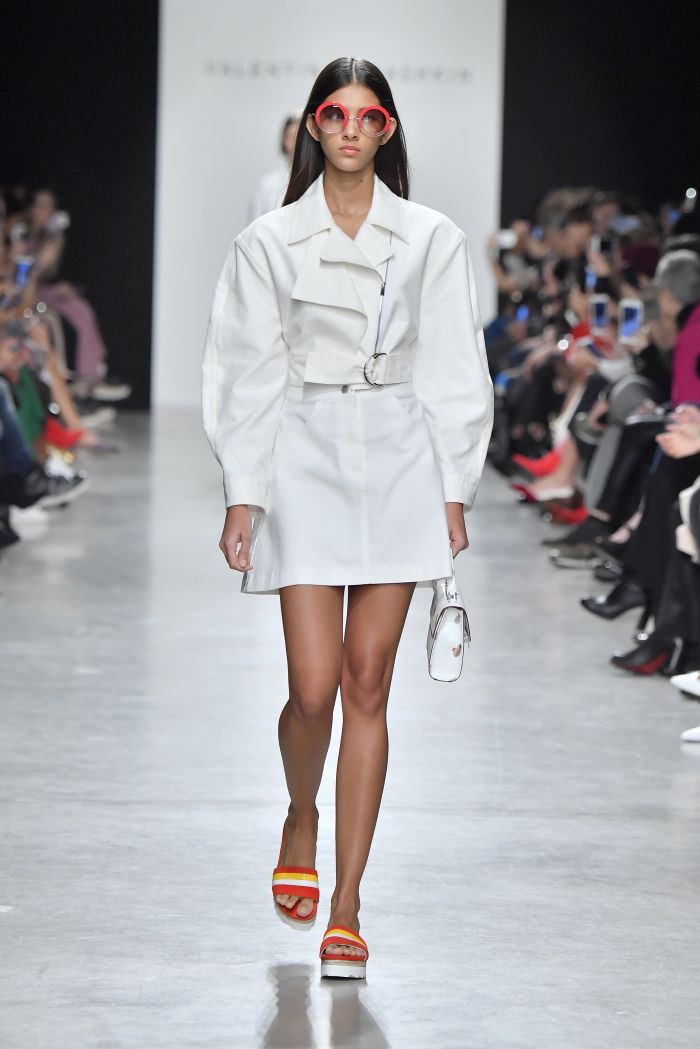 There was a fresh modernity at the Yudashkin show. Perhaps it was his daughter's influence, as the clothes were seemingly designed for a young and busy clientele; women who might be mothers, elegant business women or luxury vacationers, and undoubtedly, celebrities. Accessories such as sunglasses, shoes and bags were also a new feature of the brand, and mixed well with the luxurious sporty looks through the use of bright pops of color. Sunglasses were reminiscent of the circles used in Malevich's work, and the handbags had appliqués or color blocking that brought this concept together with the clothes. Hopefully, the House of Yudashkin will become more familiar to an audience outside the fashion world. The collection brought a sense of modernity to a well-established house that promises to deliver even more in the future.