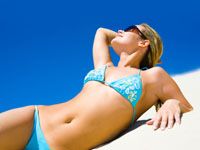 Fashion & Style:
The month of July is the anniversary of the unveiling of the first bikini! The bikini is a fashion enigma that will forever remain a mystery. How can a bikini be tasteful, subtle, simple, and classy, yet also be totally sexy and wildly provocative? It is the Eighth Wonder of the World. It is an essence worth capturing and bottling.
A bikini may be the only article of clothing that interests men as much as it interests women, if not more. Going shopping for a bikini is probably the easiest way to trick the hubby or the boyfriend to endure a shopping trip at the mall. And if you let him pick the shop, it is probably a "slam dunk" that he would go without qualm.

Launch The History of the Bikini Slideshow
July 5 marked the 63rd anniversary of the two-piece bikini being with us. It is the swimsuit that took the bellybutton public and prompted worldwide interest in navel maneuvers. It "officially" was introduced at a fashion show on July 5, 1946. Louis Reard and Jacques Heim are recognized as the creators who first introduced the shockingly revealing suit to the world of fashion. Since Reard and Heim could not find anyone willing to appear publicly in such a scant outfit, the model of the first publicly displayed bikini of the 20th century was a professional nude dancer, Micheline Bernardini.
Although the bikini was officially introduced in 1946, Parisian women were photographed while wearing bikinis by Life Magazine for an issue published nearly a year earlier. Despite the bikini catching on in international waters upon its introduction, it was not until the 1960s that bikinis took off in the U.S. However, everyone didn't readily embrace the little two-piece swimsuits. In 1951 bikinis were banned from the Miss World Contest. It was fashion martyr and French film star Brigitte Bardot who warmed up society's cold shoulder toward the ostracized bikini when she wore one in the 1957 movie And God Created Woman. It was only the beginning. In 1960 Brian Hyland's pop song Itsy Bitsy Teenie Weenie Yellow Polka Dot Bikini prompted a global warming to the bathing suit. It prompted a bikini-buying frenzy in the previously prudish USA. Raquel Welch also was a brazen pioneer who bravely exposed herself for the advancement of fashion by wearing a scruffy, Flintstone-type bikini in the classical black and white film One Million B.C. Speaking of the Flintstones, didn't Wilma and Betty's pre-historic beachwear include bikinis? Yabba-dabba-doo!
The bikini truly became USA-certified, politically correct, politically correct, or at least acceptable, in 1964 when Sports Illustrated launched its first bikini cover. Forty-two years later it is a tradition. Since Greek women wore two-piece outfits much like the first bikinis during sporting competitions dating as far back as 1400 B.C., it was a natural for a sports magazine to devote an issue to women modeling sexy swimwear. Another throwback twist for the mix is that Ancient Roman women wore two-piece suits or bikinis in 300 B.C. Once again the attire was as athletic wear. It really is not much different than what the female beach volleyball players wear today.
Today it seems that designers make every effort to remove more and more material with each rendition. We have gone from traditional to thong to string. There is even a "mono-kini" and a "micro-kini." The former is a bikini bottom only, and the latter makes an average bikini look like a blanket. Both versions were forefathers to "the less the merrier" era. Today women are spending more than $1 billion annually on two-piece bathing suits. Swimwear, overall, one and two-piece suits, are more than two percent of the total revenues of women's clothing, according to reports offered by NPD Online Research. Actually, one-piece swimsuits are quite nice too. It is a contents-over-package issue with scientific basis that stirs up advocates from both sides.
Maybe I could talk my boss into doing a worldwide photo-shoot for next year's anniversary. Where is that suggestion box hiding?
Note: This article was originally published in the summer of 2006. It has been updated to give us a second opportunity to present a photo spread of beautiful women in bikinis. Enjoy.
By James Rothaar
JustLuxe
Contributor