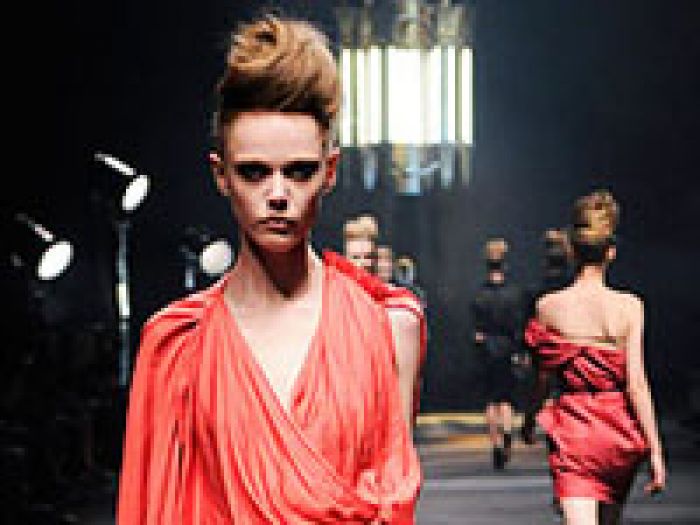 Fashion & Style:
Our top ten list of collections in Paris this season is one indicator of how diverse the showings have become in the city...especially as Paris becomes increasingly defined by its variety than by the linking of any dominant trend. Below we breakdown our favorite collections for spring/summer '10.
Givenchy
Givenchy's collection balanced the commercial and directional effortlessly. In the current world of fashion...where aggressive chic is a dominant taste of the day...Riccardo Tisci, who has heavily influenced the look, is still one of its best inventors. The spring mixes digital Moroccan prints, graphic black-and-whites with a biker theme that resulted in some of the best jackets, leggings and wedges of the season.

Balmain
Christopher Decarnin defined the strong shouldered look and sexy mini-dresses that everyone from Madonna to Rihanna wears. For s/s '10, Decarin's sexy ladies are still, well, sexy, but the options now include torn up t-shirts, metallic stage friendly frocks with ripped up chiffon hems and random holes and taut trousers with a dyed effect. Even though Balmain is wildly expensive, Decarnin's work is being lapped up by those who have endless source funds and copied by mass brands...meaning his work resonates to a wide spectrum.


Gareth Pugh
Garth Pugh is arguably the most watched and promising young talent coming out of Europe. His strategic rise has been well timed, first showing his aggressive designs with zero sales goals in London for several seasons. The clothes are still strong in Paris, but it's clear by his softened silhouette and reduced severity that he felt compelled to do something a little different. Rigid, sculptural jackets are now rendered fluid and slightly distressed, tops are deconstructed on the body and dresses are constructed from dozens of strips in an all-gray collection that showed Pugh can do soft and commercial.

AF Vandevorst
AF Vandevorst is not a follower of fashion's moods, but the label forcibly put its stamp on spring's lingerie trend. An Vandevorst and Filip Arickx's collection could have come straight out of a Guy Bourdin movie (incidentally some of which were screening during Paris fashion week) with its flesh-colored, soft structured jackets and shirtdresses, sheer leggings stuffed into stockings and accents of chocolate brown multi-strand leather belt, which defined a whole new sexy.

Viktor & Rolf
The old Viktor and Rolf and their nutty creations were in full effect for spring. This time they showed a delicious explosion of tulle. Tightly packed candy colored tulle was sculpted onto various angles of dresses and jackets forcing the model to compensate accordingly as she tethered down the runway. The gasp inducing Swiss cheese skirt that looked like a giant rat had plough its way through or the tufty tulle skirt that looked cut off and distended from the mainframe was a creative tour de force.

Balenciaga
Nicholas Ghesquière took another defining turn for spring, looking more to the future than to the cocktail past of his recent collections. The new look is not unfamiliar, however, and Ghesquière's execution of patched leather leggings and hooded space age vests is as cool as it gets. Easy t-shirts, woven jersey separates, togas and coat dresses were also thrown into the mix, all of which are sure to keep cash registers ringing and copyists taking notes.

Lanvin
Some designers are moving on, but Alber Elbaz is staying his well-received course. He is sharpening his distinctly French elegance for Lanvin and the results are top-notch. In a flutter of femininity, Elbaz turned out a colorful array of dresses: frilly to pleated, long to short, with necklines from sweetheart to tuxedo and a lot of cascading fabric off the shoulders. Elbaz's tailoring of the understated and unstructured satin and linen in jumpsuits and with multi-hued reds, peach and pale pinks proved to be a collection after many womens' hearts.


Alexander Mcqueen
Alexander McQueen's most recent collection was a dramatic affair that titilated the senses...not that anyone's ever accused him of being shy before. Fashion's bad boy paraded models with sanity-defying, futuristic hair in a mixture of reptilian prints on dresses that ran a range of awesome proportions and silhouettes to resemble the slimy creatures. Many women won't be convinced to wear such outfits, but it's hard not to admire the brevity and technical skills necessary to construct them. Mcqueen's outing was also live streamed on Showstudio, suggesting that he's not only a showman to industry insiders but also to the masses.

Manish Arora
Like Gareth Pugh, Manish Arora is slowly peeling back the fruit of all his creativity one season at a time. This collection showed that Arora can do a variety of inventive and sexy cocktail dresses, slowing down his usual space age creations to bring his printed drama to sellable sportswear pieces. All the Arora signatures were there: the serious slatter of Swarovski crystals, rich appliqués so expertly executed that they look like prints and a bit of play with exoskeleton.

Celine
While many designers this season treaded a minimalist vein in their collections, Phoebe Philo for Celine defined the contemporary movement. Philo's return to the scene was a loud one as she showed a collection that were not only a beautiful aesthetic exercise, but, more importantly, captured how women want to dress. There was a tunic top worn underneath a stiff skirt that gave a slight flirty air, utilitarian elements that also appeared in beige, assymetric blouses, along with high-waisted palazzo pants reminiscent of her Chloe days. Many may balk at the lack of sizzle that comes with a Paris fashion show, but this kind of frippery-free, straight forward design thinking just feels comfortably right in fashion.

Jason Campbell
Editor-in-Chief JC Report
JustLuxe Contributor

Gareth Pugh Spring 2010

Alexander Mcqueen S/S 2010

AF Vandevorst S/S 2010

Balenciaga S/S 2010

Givenchy s/s 2010

Balmain s/s 2010

Lanvin S/S 2010

Viktor & Rolf S/S 2010

Manish Arora Spring/Summer 2010

Celine s/s '10