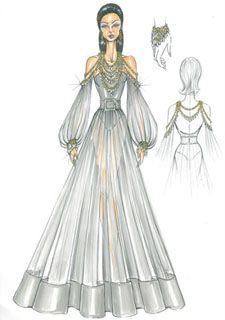 Fashion & Style:
Look like a million bucks — literally! Well, 1.5 million, but once you surpass $750,000 for a dress is anyone really keeping score? Lebanese couture designer Jad Ghandour has partnered with Danasha Luxury to create the ultimate red carpet dress. Adorned with some of the world's finest diamonds handset in 18 carat gold, the Danasha Luxury Gown will be worn by a yet-to-be-named celebrity at its Miami Fashion Week debut on March 20th.
Careful to keep the gown tasteful and not costume-y, Ghandour says, "Our aim wasn't to just throw diamonds and gold together and call it a diamond gown. We wanted to create a masterpiece — a gown that would highlight the finest materials without looking overwrought. The resulting gown looks nothing short of dazzling — each detail complements one another perfectly".


Okay fashionistas, you now have 1.5 million reasons to check out Miami Fashion Week.