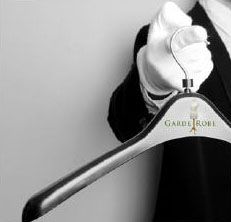 Fashion & Style:
For any trendsetter, who is in constant pursuit of the
latest fashions
, having somewhere to store all their fab finds is crucial. With Garde Robe, a luxury wardrobe storage, organization and valet company, you can now have endless closet space and a personal wardrobe valet at your disposal.
The New York-based company, which was founded back in 2001, has recently expanded its reach by offering services throughout Southern California and Las Vegas. Members can take advantage of the company's wide range of benifits, including first-class storage for off-season garments; archiving and preservation of evening wear, couture and vintage collections; luggage-packing and shipping worldwide; and much more.
Members also receive around-the-clock visual access to the company's Internet-based Cyber Closet, worldwide access to all items in Garde Robe's care, as well as the convenience of traveling without having to pack or carry a suitcase.

"Imagine traveling without packing or unpacking, lugging heavy suitcases or waiting in overcrowded baggage claim and Customs areas," says Adam Gilvar, president of Garde Robe. "Imagine arriving at your destination with the clothes, shoes and travel accessories you selected already in the closet, ready to wear. That's Garde Robe's Luggage-Free Valet."

The process begins when Garde Robe sends one of its highly-trained wardrobe consultants to a members' home or hotel room. After the consultant inspects the clothing, it is photographed and cataloged, and then carefully transported to one of the company's climate-controlled storage lofts. When a member decides they want to wear a cataloged item, they simply login to their secure Cyber Closet, and Garde Robe delivers the garment in ready-to-wear condition.

This unique and convenient luggage-free valet system is the first service of its kind to hit the market and has been endorsed by celebrities such as Ivanka Trump, and utilized by fashion designers such as Oscar De La Renta.

"I store my favorite couture gowns with Garde Robe without hesitation, knowing that they are in safe hands," says Ivanka Trump.

While Garde Robe was designed with the jetsetter in mind, this unique service is also ideal for those fashion-forward individuals who not only value their clothes, but also value the luxury lifestyle.