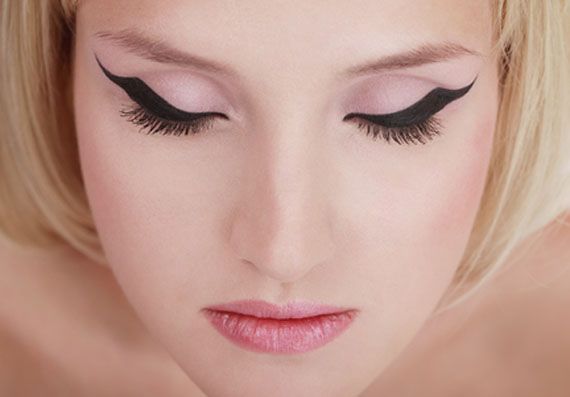 Liquid eyeliner is modern and sophisticated, ladylike and edgy. Applying it flawlessly isn't exactly rocket science, but it is an art form. So, learn the steps, practice and let your inner Basquiat dramatically play up your eyes.
Step 1:
Wash and moisturize face – perfectly lined eyes begin with a clean workspace!
Step 2:
Apply face powder or neutral eyeshadow (slightly lighter than your skin tone) to your entire lid.
Step 3:
Apply your highlight color just beneath the brow, starting beneath the part of the brow closest to your nose.
Step 4:
Add a slightly darker color of your choice to the crease, starting in the center point of the crease and working outward. Make sure to blend so that there are no sharp edges.
Step 5:
Blot the applicator of your liquid liner lightly to ensure that you are not applying too much liner (this causes clumps.) Apply a thin line along the entirety of your lash-line, keeping as close to your lashes as possible without getting liner in your eye.
For Cat-Eyes:
Sweep liner beyond where your upper and lower lid meet, drawing in the direction of the curve of your lower lid.
Additional Advice:
Use cotton swabs and
eye makeup
remover for clean up.