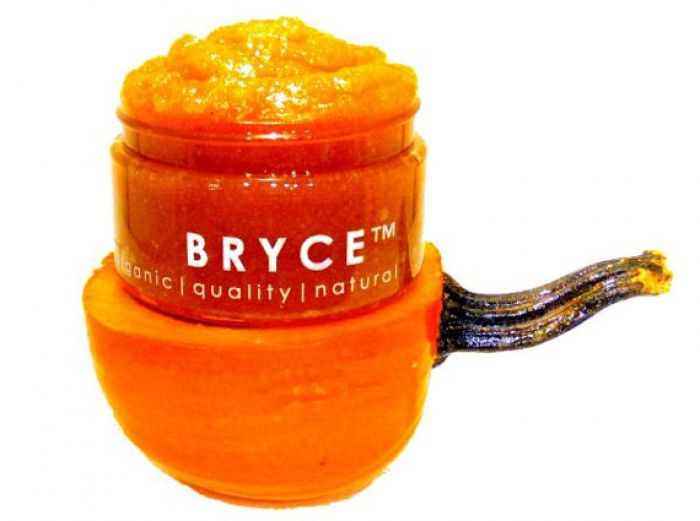 Photo Courtesy of Bryce Organics
Pumpkins may always be abundant this time of year—from holiday floral and fruit arrangements to tempting dishes and desserts—but the ubiquitous squash is also used in a multitude of year-round
beauty and skincare products
.
Extremely rich in natural anti-oxidants, beta-carotene, enzymes and fatty acids, pumpkin is a beneficial and highly sought-after ingredient for maintaining beautiful skin from head-to-toe. Just in time for the holidays, we're turning our focus to the powers of pumpkin and spotlighting some of the most exciting and effective products containing this wonder ingredient.
Arcona
A favorite among Hollywood A-listers and insiders, the Arcona Studio in Santa Monica, California, offers some of the most thoroughly effective facial and body treatments available anywhere. The center's signature line of highly active, holistic products are remarkable, and our highest marks go to the Night Worker reparative cream-gel and
Pumpkin Body Lotion
, both of which are infused with pumpkin extract to revitalize and restore damaged and dehydrated skin. For more great products and information about the services provided at the Arcona Studio, log onto the brand website.
Bryce Organics
One of our favorite discoveries at Beauty Guru is Bryce Organics. Each of the brand's signature products are made fresh to order and contain only the finest natural and organic, hand-selected ingredients. The Rhode Island Facial Peel, made from organic
Rhode Island pumpkin puree
, looks good enough to eat, but it also removes dead skin cells and doubles as a face mask that ultimately reveals a radiant complexion. We love Bryce Organics for its unique, experiential approach to beauty and for creating effective products that are appealing to all the senses. Check out the brand website for more amazing products.
Kate Somerville
Recognized as the industry's leading authority on maintaining a beautiful complexion, the radiant Kate Somerville is a living testament to the efficacy of her highly sought-after products. A-list celebrities flock to Somerville's flagship salon in West Hollywood, seeking the signature and extremely effective facial treatments her brand has become known for. The ExfoliKate series includes some of the best exfoliating products available for the face and body, each containing pumpkin extract. Our absolute favorites are the
ExfoliKate Gentle Exfoliating
treatment and Body Intensive Exfoliating Treatment—truly must-have products for the season and throughout the year! Check out the website for more product information as well as for great holiday gift ideas.
MyChelle Dermaceuticals
Guided by the most stringent principles of purity and efficacy, MyChelle Dermaceuticals is a pioneer in utilizing and combining clinically proven, natural bioactive ingredients with cutting-edge science. Addressing virtually every aspect of beauty, MyChelle offers a full range of skin, sun and body care products as well as mineral cosmetics. To top it off, the company also has a unique online system for selecting exactly the right products. Some of MyChelle's most nurturing and restorative creations contain pumpkin extract, including the Creamy Pumpkin Cleanser, Hydrating Mist and, our favorite,
Pumpkin Renew Cream
. MyChelle receives our highest ratings for diversity and innovation. For more product information, check out the brand's website.
Ole Henrikson
A pioneer in the beauty industry, Ole Henriksen opened his first facial spa in Beverly Hills in 1975 and has since expanded his empire into a full range of face and body care products as well as a highly experiential day spa on the famous Sunset Blvd in West Hollywood. Truly one of the best spa experiences one can have, Henriksen's signature treatments and products are exactly what one would expect from this esteemed expert. One of our favorite products happens to be the
Sugar Glow Face Scrub
, which of course includes pumpkin. For more product information as well as a listing of Henriksen's amazing treatments, log onto the brand website.