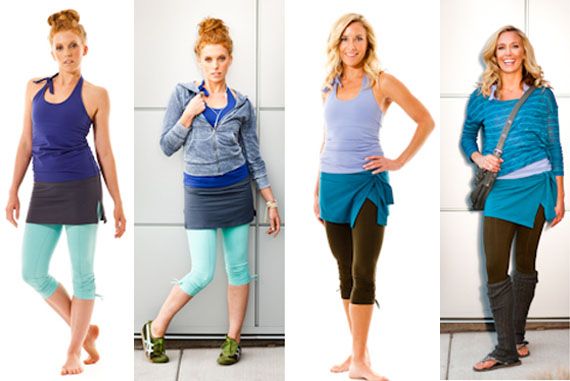 Photo Courtesy of meSheeky
Manduka and meSheeky create the most popular and widely-used
yoga props, accessories, and apparel
on the market. And with good reason — they know what practitioners of yoga
really
love, and they deliver. I can assure you that all devout yogi's have used, or want (even if they don't know it yet) the chic and high-quality creations made by these powerhouse companies. And now, there are now some fantastic new lines to shop from!
APPAREL
Our first stop: meSheeky. Renowned yogi and creator of Flowmotion, Sarah Tomson Beyer, wanted to rock flirty and fashionable wear that would transition well from street to studio. So she created a line, recently launching three new versatile styles for the fashion-forward yogini:
Elle Poncho:
The 100% cashmere Elle Poncho is super lightweight and fabulously soft. With two go-with-anything colors, Jet Black and Heathered Oat, any yogi can throw on this post-workout cover up on look amazing. $148. 
Odette Capri:
The perfect length that flatters all body shapes, falling right below the knees. A comforting higher rise in the back keeps everything in place when doing headstands and down-dog alike and there are seven colors to choose from.
Stevie Cami:
The Stevie Tank is designed with a deep V in the back to accentuate your toned "sheeky" shoulders. With a built-in camisole, this cami provides full coverage that will stand up to even the most grueling exercise regimens, power yoga included, and there are eight colors to choose from.
PROPS FOR CLASS OR HOME PRACTICE
John Friend Collection eKO SuperLite® Travel Mat: This is, in my opinion, the best yoga mat on the market. It is sturdy and durable, making slipping off your yoga mat virtually impossible. Manduka's latest endeavor is a partnership with Anusara Yoga founder, John Friend, in creating the "John Friend Collection By Manduka." Designed to provide more room for your practice, the partnership has kicked off with two extra wide mats — the John Friend PROlite and the John Friend eKO Superlite — breaking industry standards with six additional inches of premium space. $46.
MatWare® Mat Sleeve: Made of water-resistant recycled fabric, the MatWare Mat Sleeve is sleek and surprisingly spacious with a ventilated, structured mat compartment and accessory pockets. $70 on sale!
Lyrics eQua Hand Towel: Don't want to drop a c-note on a yoga mat? The Lyrics hand towel is a great alternative — absorbent and slip resistant, yogi's can become one with mat without losing rhythm (or falling!). Three colors to choose from. $21
Cork Block: Made of sustainable cork, this block has a firmness not found in foam blocks, and allows you to feel secure in the support it generously provides. $19
inSight Eye Pillow: Whether you're restoring your body in savasana or resting your eyes after a long day, the inSight Eye Pillow will soothe you into a deeper level of relaxation. $29
Happy shopping. Namaste! Visit
meSheeky.com
and
Manduka.com/us
to learn more.
Manduka
The Classic Cork Block Assists Hard to Reach Poses
Manduka
Manduka Lyric Towel
Manduka
MatWare® Mat Sleeve