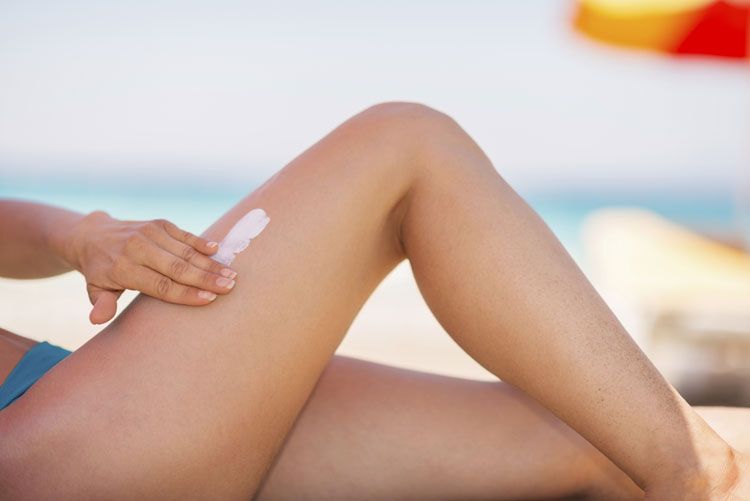 As the weather warms up and your exposure to the sun undoubtedly increases, consider stepping up your skin care regimen with increased diligence and a few new
luxury skin care products.
Wondering what the secret is to enjoying the joys of sunny weather without wrecking havoc on your precious skin? Read on!
According to Dr. Melanie D. Palm, Director of Art of Skin in Solana Beach, CA, "Great summer skin starts with three foundations: a strong sunscreen, a good anti-oxidant serum or cream for morning, and a rejuvenative product for evening. Summer skin usually only requires a light moisturizer, and be sure to select one with at least SPF 30."
Photo Courtesy of Susan Posnick
To ensure you're well protected, we love Susan Posnick's Brush on Block for every day. This revolutionary dry, brush-on mineral-based powder sunscreen is free of unwanted harmful chemicals and can be worn alone or over makeup. An easily portable product, it's perfect for the girl on the go who wants to keep herself protected at all times. Simply stash in your purse and re-apply throughout the day. Best of all—we're giving away five Brush on Blocks (valued at $25 each) to JustLuxe readers!
Simply comment below with your favorite summer skin care tip and you'll be entered to win.
(See below for Terms & Conditions)
Photo Couresy of Murad
During the summer months it's advisable to switch out your facial cleanser to one that's clarifying and refreshing.
Murad's Energizing Pomegranate Cleanser
instantly awakens skin, leaving it revitalized, radiant and smelling delicious. This foam cleanser is gentle, non-irritating and gets the job done—ridding sweaty summer skin of makeup and impurities in one fell swoop.
Photo Courtesy of Cecilia Wong
Once your skin is cleansed, pay special attention to anti-aging efforts. According to Cecilia Wong of Cecilia Wong Skincare, most aging occurs during the summer months, so stay hydrated and always tote sunglasses for added protection while outdoors. Smooth on an ultra-hydrating eye cream, like her own Firming Black Currant Eye Cream, to combat fine lines, wrinkles and hyperpigmentation. Bursting with natural ingredients like raspberry seed oil, (a natural SPF and antioxidant), black currant seed oil, and elderberry, the cream will hydrate and soothe the under-eye area while promoting circulation.
Photo Courtesy of Perricone MD
At night, give your skin an added boost of TLC with
Perricone MD Vitamin C Ester 15.
This miracle worker is scientifically proven to boost collagen products, smooth skin texture and dramatically brighten the skin—in as few as seven days. Apply in the evening following cleansing and before moisturizing for awe-inspiring results including firmer, tighter, more supple skin, reversed signs of aging and a glowing, radiant more even-toned complexion.
Photo Courtesy of Jane Iredale
Searching for a summer foundation that provides coverage, protection and staying power no matter the weather? Jane Iredale PowderMe SPF Dry Sunscreen functions as a genius mineral foundation, sunscreen and concealer in one! It wonderfully evens out the skin tone, provides sheer flawless coverage and is perfect for travel thanks to its compact design. Best of all? It won't melt off your face like liquid foundations.
Photo Courtesy of eos
Lastly, don't overlook your lips!
eos lip balm
is our go-to product for long-lasting moisture—no matter the season! The adorable colorful packaging is as fun as the flavors (honeysuckle honeydew, sweet mint, summer fruit and lemon drop SPF 15 are just a few of our faves!) and are packed with shea butter, jojoba oil and vitamin E.
Brush on Block Giveaway
Terms & Conditions
Simply comment below with your favorite summer skin care tip and you'll be entered to win. Comments must be received by August 2, 2012 11:59pm EST, winner will be notified by August 5, 2012.