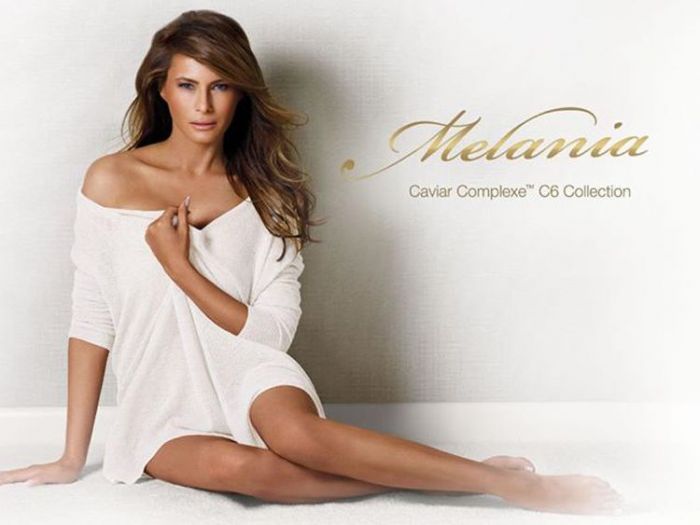 Photos Courtesy of Melania Trump
When it comes to defining what makes a product top-of-the-line, leave it to a Trump to tell us exactly what ingredients are essential in a luxury skincare collection. A beauty insider from an early age, Melania Trump, the former model and wife of The Donald, swears that the key to anti-aging lies in caviar— the catalyst behind her debut skin line, the
Caviar Complexe C6 Collection.
Defining the trifecta of skin problems as a combination of "loss of nutrients, lack of receptivity and extrinsic stress," Trump's new line combines collagen builders, oxygen boosters, and antioxidants to nourish the skin.
The 5-product collection has been in the works for over a decade and draws from Trump's experience with testing tons of skincare products while modeling and traveling the world. With her team of chemists, Trump chose cultured caviar from the South of France as the best defense to repair, hydrate and renew skin and combat what she defines as the "aging pyramid." A science that theorizes that the aging of skin may be attributed to a loss and lack of receptivity to nutrients because of stress, the formulas used throughout the collection derive from natural ingredients.
Advising that a diet rich in antioxidants, full of fruits, vegetables and hydration are essential to healthy skincare, Trump chose caviar for its rich concentration of fatty acids, like Omega-3 and Omega-6. According to the
University of Maryland Medical Center
, due to it's high concentration of hydration and acids caviar assists with regenerating skin tissue, collagen and treating cellular inflammation. The products also include Vitamins A and E and potassium and selenium. Thought to provide intense hydration, the combination may ultimately improve elasticity and prevent premature wrinkles.
A day serum, Luxe Moisturizer, night cream, cleansing balm for removing makeup and excess dirt and an exfoliating peel are included in the collection.
"I have always believed in taking care of yourself both inside and out," says the 42-year old Slovenian beauty. Even after the birth of her son Barron, Trump still manages to barely look a day over 24, which could be attributed to her skincare philosophy. That son, by the way, gets slathered in the collection's moisturizer nightly, so if the formula really works then seven-year-old Barron should stay freakishly youthful&emdash; just like his mom. Containing collagen boosters, antioxidants and proteins, Trump notes the line is unisex, hinting that even the other man in her life, The Donald himself may use the collection.
Available nationwide at Lord & Taylor, the products range from $50-$150.