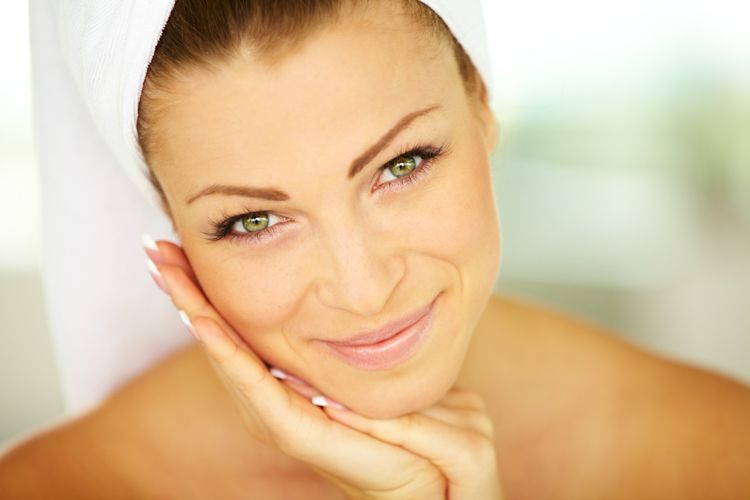 Photos Courtesy of Shutterstock
When summer ends, it's time for comprehensive skincare repair to undo damage caused by excessive exposure to UV rays, chlorinated pools and dehydration. Parched skin and new wrinkles don't have to be vacation souvenirs, however, thanks to new, off-the-shelf products designed to expedite skin fixes without undergoing costly dermatological treatments. We put some of the most promising new products to the test in extreme conditions under the sunny skies of Greater Palm Springs, California—land of a million pools and year-round sun—during a bone-dry summer heat wave with temperatures peaking at 110 degrees F.
Mission number one: to find a new product to
eradicate existing wrinkles and launch a preventative attack against new ones
. A seriously sensible innovation is No Needle Fix from
Nip + Fab
, a clinically-tested serum formulated by the creator Maria Hatzisterfanis to give women a safe, affordable alternative to Botox injections. Massaged onto the face and neck twice daily,
it plumps wrinkles and expression lines to visibly reduce the appearance of imperfections
for younger-looking skin. Three secret ingredients—osilift, indinyl and cellactive-form—hydrate and condition facial skin, and even help
keep makeup in place by improving the foundational surface
. Making No Needle Fix an even more brilliant argument against injections is its $20 price point and easy accessibility at
Target
stores nationwide and online.
Road-test grade: A. Though it's not possible to judge long-term effects with a short-term trial, our week-long No Needle Fix test in Desert Hot Springs, California, got off to a good start. Natural mineral pool rejuvenation got underway at
The Spring Resort and Spa
, regularly voted the best boutique spa in the area. While my body benefited from the "taking of the waters," my face
benefited from twice-daily use of No Needle Fix
, applied by simply massaging a small amount onto my face and neck. After repeating the process another three days at the truly special, ultra-private Miracle Hill mineral springs oasis,
The Hacienda
,
I absolutely noticed a smoother feel and look
.
Mission number two: to find
manscaping products that help level the beauty-regimen playing field for the hairier sex
. Women have typically benefited from 99.99% of skincare product development and treatments, but modern men are now receiving much needed attention from the new Nip + Man line of grooming products. After three years of research and development, Nip + Man now includes Manotox: a
plumping, firming moisturizer to reduce lines and smooth the surface appearance
. And a trio of body-toning gels—Ab Fix, Pecs Fix and Bicep Fix—retexture and tighten male skin to reveal more toned muscle areas.
Road-test grade: B. We were a little skeptical, but packed the Ab Fix along for a long-fitness weekend to the
JW Marriott Desert Springs Resort and Spa
. After two-days use—plus some quality time in the megaresort's beautiful spa, gym, and, especially, six amazing pools—my husband
appeared to have subtly more abdominal definition
(and we both enjoyed his smoother skin texture). It was enough to make me wonder if I'll mistake him for Channing Tatum if he uses it long-term.
Mission number three: to find a
repair product that's more of a pleasure to use than a chore
. Lip, lip hooray for Glamsticks! Summertime UV rays wreak havoc on tender, overexposed lips—the most overlooked area for even the most vigilant sun-protection devotees. So Rodial came up with an ingeniously simple—and glamorous—solution with Glamsticks. These ultra-moisturizing lip glosses are
enriched with Vitamin E and Cocoa Butter to hydrate naturally
without artificial lip-plumpers or fillers. Antioxidants sooth and protect lips, while a hint of color beautifies in three natural shades—Bite, Lust and Thrill—making lipstick unnecessary.
Road-test grade: A+. Glamsticks are a
genuine wonder-worker that had my parched, cracked lips feeling soft
again after just one day's use in the 105-degree heat of Indian Wells, California, during my luxury spa getaway to the
Miramonte Hotel and The Well Spa
. Housed in a chic Lucite case, it looks and applies like regular lipstick but is free of waxy ingredients so it has a distinctively creamier feel. The icing on the cake is its
delicate scent of coconut without flavoring
, plus it didn't even melt when I left it poolside at The Wells during my stress-relieving Equilibrio Ayurvedic massage treatment. I love all three neutral shades, which sealed the deal, making Glamsticks my new go-to lip color for daily wear and year-round moisture care.