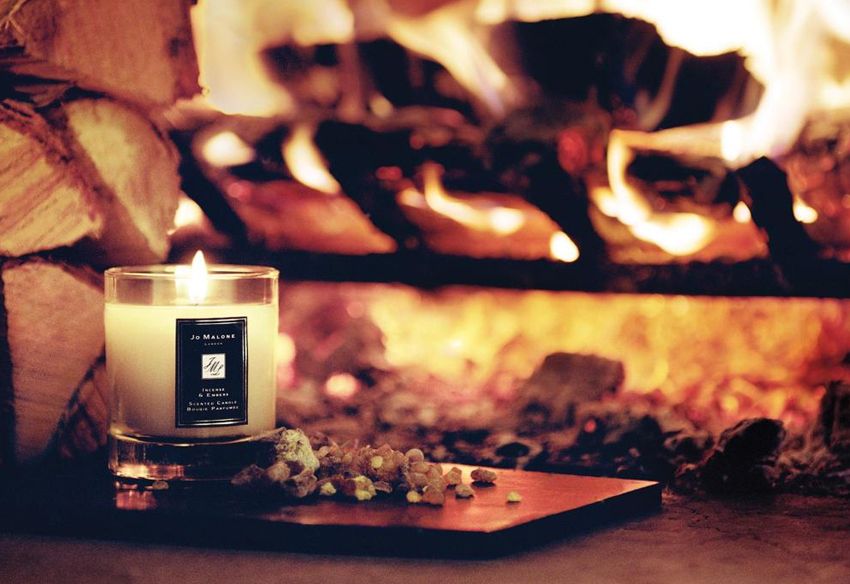 Photo Courtesy of Jo Malone London
Sometimes there is a fragrance just so amazing you want to smell it everywhere—your lotions, soaps, shampoos, linens—so it's understandable that you want it permeating your home as well. Luckily some of our favorite perfumers also make luxury candles that are perfect for giving (and keeping) during the holiday season. We've compiled a curated selection of our favorite scented candles to keep your home well-fragranced and perfumed all the way through the holidays and into the new year.
Photo Courtesy of Jo Malone London
Jo Malone London
With a wide array of fragrances, Jo Malone is a favorite to those who love spices, florals, woods, citrus and even soothing spa scents. And while we've been tempted to spritz a little of their perfume around our house, the brand is excellent at providing their fragrances in a number of home products including body cream, room spray, diffusers, lotion, soap and bath oil. Their beautiful candle collection ranges from travel tea lights to giant, limited-edition, four-wick luxury candles. For the holidays try richer fragrances like their frosted cherry and clove, pine and eucalyptus, or incense and ember scents. Available at Jo Malone London and priced from $35-$455.
Photo Courtesy of Acqua Di Parma
Acqua Di Parma
Known for making some of our favorite fragrances, Acqua di Parma has a beautiful collection of glass and cube wax candles that come in a wide array of the Italian brand's signature perfumes. For the holiday season, they have also released a limited-edition collection of original scented candles inspired by the history and atmosphere of Venice. The Collezione Murano set is hand made through traditional glass-making techniques from the island of Murano and Venetian glass-blowing artistry. The three fragrances are inspired by the floral notes of the Linden tree, the deep notes of mahogany and the oriental spice of tonka beans. Available at Acqua Di Parma and priced at £100 (approx. $149).
Photo Courtesy of Neiman Marcus
Maison Francis Kurkdjian
As one of the biggest perfumers in the world, Francis Kurkdjian is known for some of most popular fragrances on the market from brands like Narciso Rodriguez and Jean Paul Gaultier. From his own line of classic perfumes, Kurkdjian has released a special-edition candle set with iconic landmarks from his hometown of Paris. With a blend of iris and gingerbread, this collection is perfect for giving or receiving during the holidays. The best part? Even when unlit, these white votives emit a light fragrance so your home will always smell dreamy. Available at Neiman Marcus and priced at $85.
Photo Courtesy of Bond No 9
Bond No 9
We love the Bond No 9 fragrances almost as much as we love the funky bottles they're housed in. With special-edition perfumes and more bottle variations than your vanity has room for, the NYC brand has their signature flacons down pat. For those who don't want to use their $7,000 Bond No 9 fantasy fragrance as air freshener, the company has a collection of candles that channel some of their most popular scents—in adorably decorated containers, of course. While you're welcome to choose your favorite, we're partial to the designs on the Wall Street and New York Amber votives. Available at Bond No 9 and priced from $105-$120.
Photo Courtesy of Creed via Facebook
Creed
Fragrances from Creed have been a favorite of royals, celebrities and the elite since its humble beginnings back in 1760. With a rich collection that has graced the vanities of women like Jackie O., Creed is among the most luxurious perfumeries in the world with a beautifully scented candle collection that lives up to the brand's legacy. Set in glass with a golden-topped lid, the candle collection is a special selection of Creed's most memorable fragrances. Available at Creed and priced at $120.
Photo Courtesy of Atelier Cologne
Atelier Cologne
One of our personal favorites, the fragrances at Atelier Colongne smell less like a bottled perfume and more like you've spent the day in a sun-kissed orchard. With a candle for each of the brand's 17 fragrances, the scents range from light vanilla to deep patchouli. Depending on the collection the fragrance is from, candles come in brown glass, precious metals like gold and silver, or clear glass. Try the Santal Carmin, Vanille Insensee or Gold Leather for the best holiday fragrances. Available at Atelier Cologne and priced from $55-$95+.
Photo Courtesy of Roja via Facebook
Roja
As one of Britain's greatest perfumers (arguably the best in the U.K.), Roja Dove's eponymous line has won awards and is known as one of the most luxurious brands in Britain. Gardenia, jasmine and amber are some of the brand's most popular fragrances and have been replicated in candle form for the most discerning of noses. Featuring a finely-curated selection of his best fragrances, the candle collection is made with fine oils and ingredients to maintain the luxurious experience and offer the same sleek, no-fuss packaging as the perfumes. Available at Harrods and priced from £75- £125 (approx. USD $112-$185).