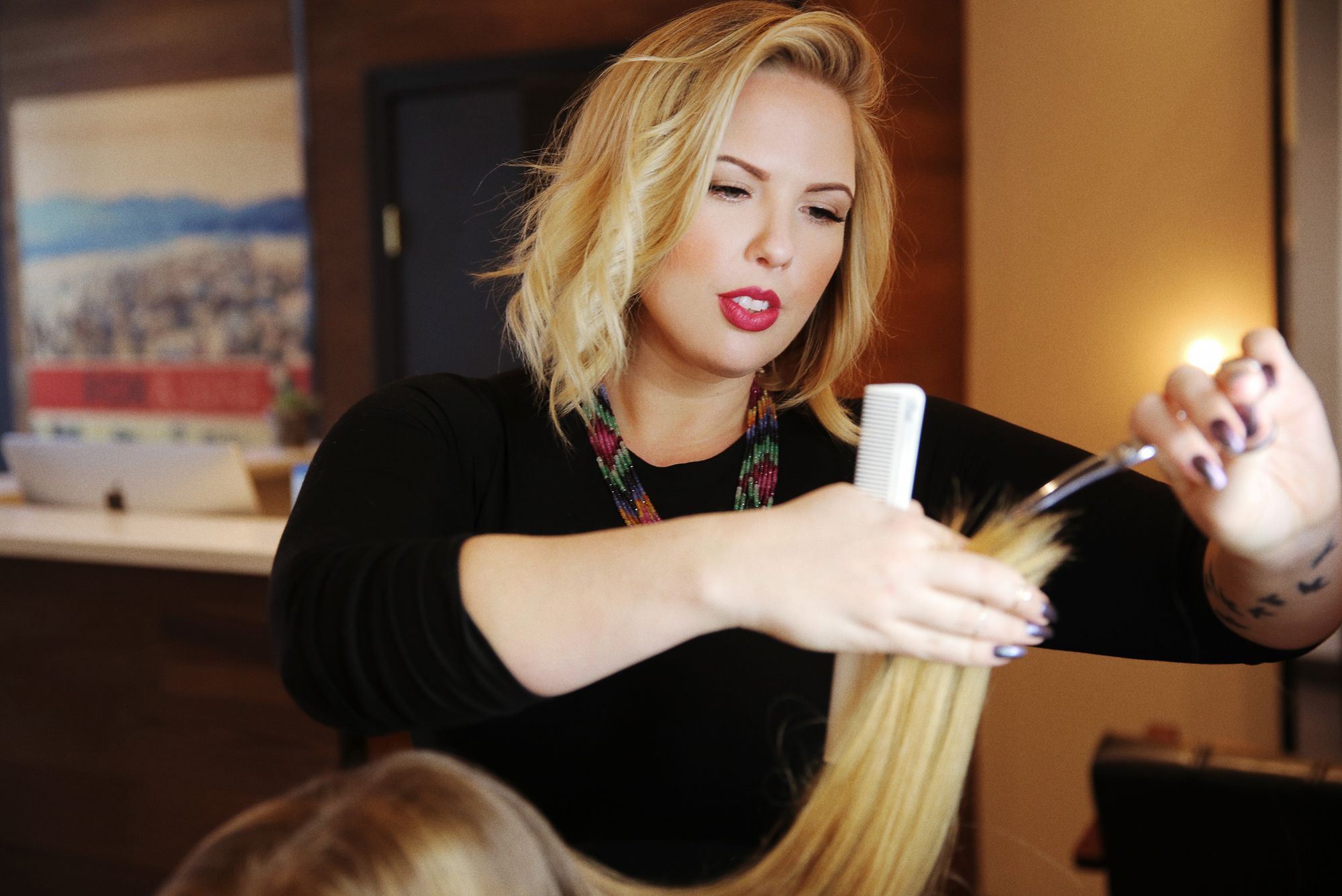 Photos Credit: Fox & Jane
Now that we're a month into 2016, we've all (hopefully!) dropped a few pounds and are feeling like a new person. To take our "New Year, New You" transformation to the next level, we spoke with Lorean Cairns, co-founder and creative director of Fox & Jane salons. Named the "colorist to go to in New York City" by Allure magazine, she's one of the most sought-after creatives in the industry. She has styled for national magazines, fashion shows, commercials and even counts Jennifer Lopez, Jessica Simpson, and a number of famous trendsetters among her clientele.
In the last four years, she's opened up four salons in the New York City area and one salon in San Diego. Fox & Jane is among the top rated salons in the city and her appointment book reads like a who's who of NYC's fashion insiders. "I have a list," she laughed. "I guess I could give you some names, as I've had the privilege of working on some really big A-listers and have definitely done a lot of fashion shows during Fashion Week. But I would say [….] my favorite clients are really just my fabulous business women." She believes that each woman really should be treated to the celebrity experience, whether she's working on JLo or not.
And part of that incredible experience is making sure a client is well informed on upcoming trends and what's going on in fashion. During NYFW she works with major brands like Narciso Rodriguez and sees firsthand what's popular on the runways. "A lot of times you won't be able to predict what's going to be the next big thing," she explained to us, but educating her customers and team on upcoming trends helps her stay ahead of the curve. "I would really say fashion magazines, and now Instagram and social media, drive the trends more than I've ever seen before," she said. "I think that there's an evolution happening. Unless I have one of my fashion girls or one of my bloggers [that are] really paying attention, […] they're probably coming in with a People magazine or Pinterest photo."
Cairns suggests that the current trend of subtle coloring and balayage won't be going anywhere in 2016, but dramatic haircuts will be all the rage this year. "Cutting is finally having a moment," she explained. "You can see so many women are cutting off their long hair. Shaggy, deconstructed, textural haircuts, which I love, are really fresh and really fun." She adds that razor cutting is on its way back and that it was unpopular in the past because so many stylists were misusing the technique. "So many people think their hair cannot be razor cut," she adds. "That's actually a myth, it's just that they were cut improperly."
If you're looking to start off 2016 with a bold new pixie cut, or some pastel locks like your favorite Instagram star, there are a few things Cairns wants women to take to heart. "The most important thing is to be realistic about yourself," she said. "Is this the most beautiful thing for you? Is this the thing that's going to make you feel gorgeous, or do you not care, do you want to look cool and edgy and that's your goal?" She notes that talking to your stylist about the overall vibe you're going for can help them narrow down what your hair needs, or doesn't need. "I think a really great colorist and stylist in general will be able to have those conversations with you, but sometimes I think a stylist's job is to talk people out of things." Those looking to go red, cover up blonde or chop off all their hair should be very sure of their decision, as these are some of the hardest changes to undo.
After you've decided on a new look, bring in photos, Pinterest boards, Instagram feeds, anything you need to covey the look and feel you're going for. "Even if you bring in 10 [photos] and you don't use any of them they're a conversation point. I really believe a photo is worth 1,000 words," she explained. They allow your stylist to get a better understanding of your perception of beauty and from there, they can tailor the look to your hair texture, grooming habits and desired style. If you're not sure what you're looking for, but know you need a change for the new year, she suggests sticking with natural coloring like baby lights or balayage to complement your features. "I think at the end of the day modern styling is just really beauty based and so we've latched onto things that make us feel beautiful and I think balayage is one of those things," she explained. "And the low maintenance isn't bad either."