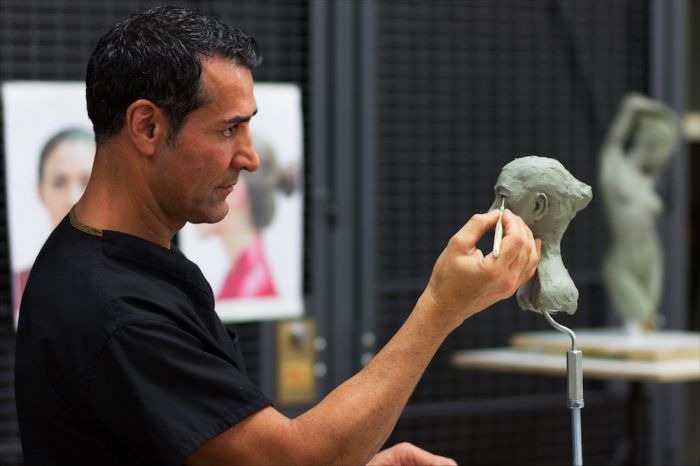 Dr. Kevin Sadati
In our interviews with surgeons and doctors, the philosophical subject of aesthetics is not usually discussed. Aesthetics is a branch of philosophy concerned with the appreciation of art, beauty, and their relation to culture and nature -- complex subjects that have been discussed and argued for centuries, and not usually with physicians.
But recently, Dr. Kevin Sadati, aesthetic facial plastic surgeon, changed all that. It is due, by his own admission, that before he was a facial rejuvenation specialist with a significant practice in Newport Beach, California, he was a well-known, experienced artist and sculptor, whose art envisioned essential aesthetic principles, as first defined by classic Greek philosophers, as integrity, proportion, and clarity.
Dr. Sadati also believes these essential elements are formulated and embedded in his practice. As he explained, "My area of specialization is an art form. I know, as an artist and painter, I have acquired a trained eye for aesthetic harmony and an understanding of the hidden beauty in each individual. I believe facial rejuvenation surgery is a unique art form that can make one's wellness more enhanced. I also believe that the goal of this surgery should be a look that defines proportion and clarity -- a look that feels and appears natural, and is in harmony with the rest of the body without having an "operated on" look. The face is something you can't hide, so it is my responsibility to allow our clients to look like they have been refreshed like they have been on a restful vacation, not profoundly different from before."
Associated with the goal for his clients to appear revived and well, rather than operated on, he began conceptualizing an original rejuvenation technique that would allow his patients to have the best of all options: a natural and long-lasting facelift, without the need of general anesthesia. He worked on this technique for some years, and now, he uses it in his office. It is called the Double C Plication technique and is now considered the next generation of high definition facial rejuvenation procedures. This technique has been published in the American Journal of Cosmetic Surgery, and he has given numerous presentations at several national Plastic Surgery conferences and panels regarding this technique. SEE BEFORE & AFTER PHOTOS
Dr. Kevin Sadati
Dr. Sadati explained further, "I have performed this technique on over 3500 lower face and neck lifts using local anesthesia and twilight sedation, without the need for general anesthesia. Because my technique is minimally invasive, there is no chance of cutting the deep tissue resulting in facial nerve damage. I fold (plicate) the SMAS, or the superficial muscular aponeurotic system, the fibrous tissue that connects facial skin, to its underlying musculature -- in 3 layers and apply gradual facial muscle tightening from top to the bottom. The jawline and neck become firm and sharp with high definition. My technique has ensured long-lasting and natural-looking results with a minimal downtime and recovery period."
In creating and implementing this technique, Dr. Sadati used his aesthetic as well as his medical expertise. Such a combination relies on this physician's rare ability to discriminate at a sensory, as well as a cognitive level, using both artistic and professional expertise. As he says, "Facial cosmetic surgery is one of the most challenging and complex subspecialties in the field of plastic surgery. Since the result can not be hidden, it requires artistic eyes and precise surgical skills to deliver beautiful results."
And yet, he sees this type of surgery, and indeed the identity of his practice, evolving quickly from when he first started nearly 15 years ago. He thinks this is due in part, to advances in media and telecommunications.
"In recent years," he explains, "social media, reality shows, and "selfies," have created a major shift in the aesthetic field, which was once – not too long ago!-- was almost exclusively focused on Baby Boomers. Now, the Millennial-selfie generation is coming to our office to stop the effects of aging before they become noticeable. Fillers, Botox, and micro-needling with PRP (Platelet Rich Plasma) injections are all popular procedures among this generation. And in the near future, there are non-invasive radio frequency devices and stem cell applications that have the ability to reduce aging without the need for surgery at all.
"In addition, in regards to this evolution, it's not just women who rely on a positive image in order to maintain a sense of well-being. Men also are increasingly becoming interested in their own appearance, whether for personal or professional reasons. It's a common misconception that only women are interested in having facial rejuvenation. Early in my practice, less than 5% of my patients were male. Last year 25% of my facial rejuvenation patients were male. And there seem to be more as the months go by in 2018." SEE BEFORE & AFTER PHOTOS
A frequent story he hears from both men and women is how facial rejuvenation has elevated self-esteem and confidence, always leading to better social and professional relationships.
"They feel and actually look 10-15 years younger," he says." This brings a sense of renewal, of hope and confidence, a feeling that combines goodness and wellness together. Feeling younger and better is the soul and goal of my profession. It is my art, also."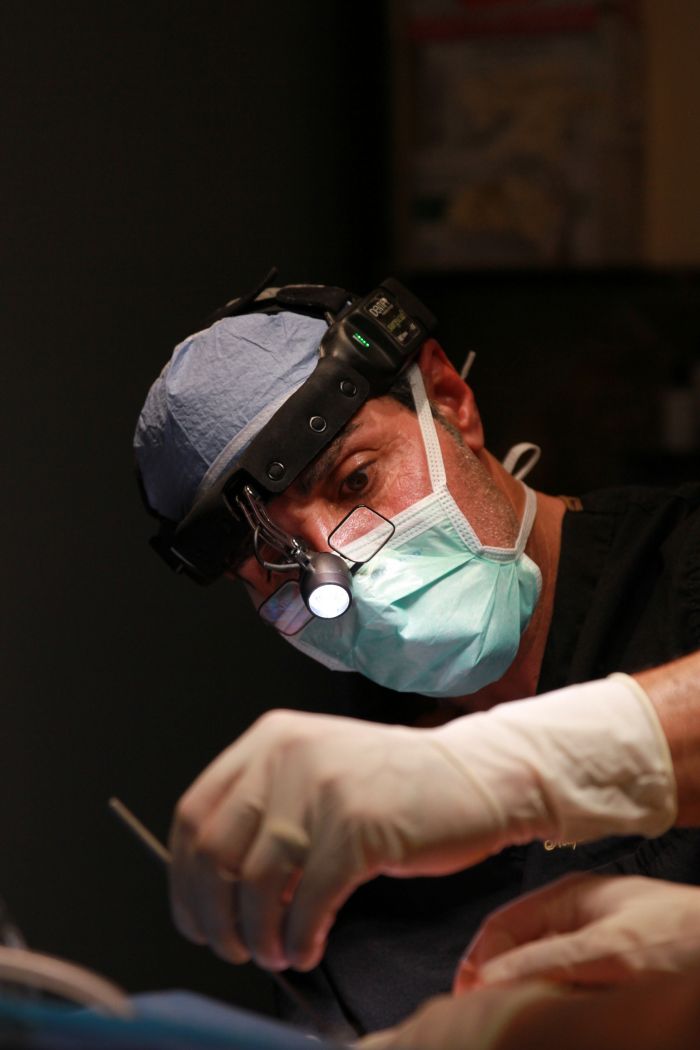 Gallery Of Cosmetic Surgery
Dr. Sadati in the Operating Room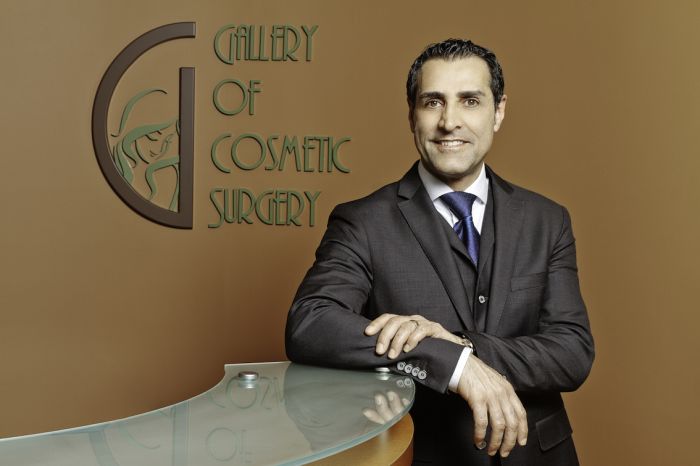 Gallery Of Cosmetic Surgery
Dr. Sadati In Office