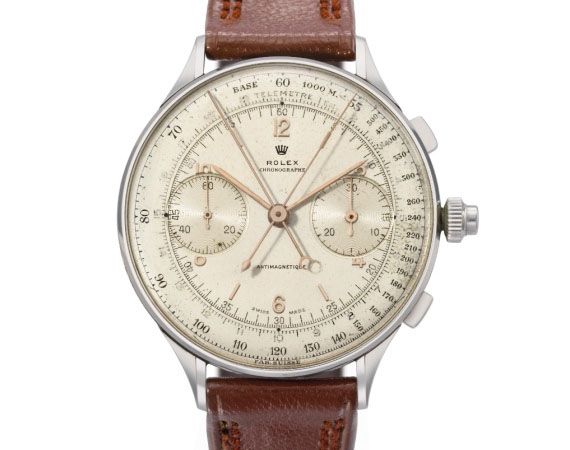 Photo Courtesy of Christie's
An ultra-rare, oversized stainless steel
Rolex
chronograph made in 1942 just set a new world record for the most expensive Rolex ever to be sold at auction when it fetched $1.16 million at Christie's
Important Watches
sale in Geneva today.
As the only split seconds chronograph wristwatch ever made by Rolex, it was never available to the public. Only 12 examples were ever produced, of which only eight are known to have survived. This is the first Rolex ever to crack the million-dollar mark.
According to Christie's research, the rare chronographs were produced exclusively as gifts to famous gentleman racing drivers in Italy and the U.K. in the early 1940s, such as Stefano La Motta, Barone di Salinella, who raced
legendary cars
like the Ferrari 166S Spyder and needed to keep track of their lap times.
Rolex had at the time been closely associated with motorsports since the 1930s, a tradition carried on today by the iconic Daytona made famous by Paul Newman; the famed firm sponsored the dashing Sir Malcolm Campbell, who became the first person to drive an automobile over 300 miles per hour in 1935 while wearing a Rolex on his wrist.