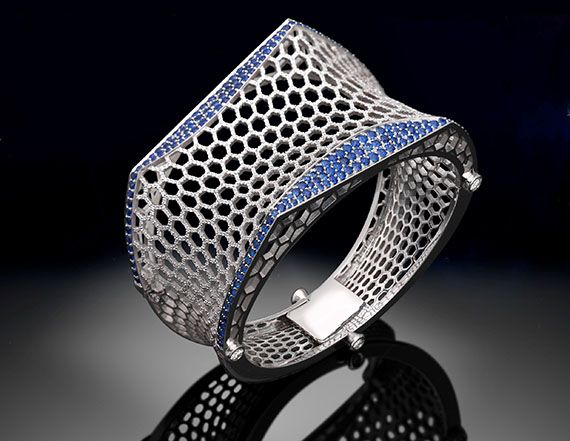 Only a select group of new designers are admitted to Couture each year to present their jewelry showcase to the world. While Couture 2012 had its fair share of standouts, it was the inspired creativity of one new-to-the-scene designer that truly left us wanting more.
Costis Chamamtzis, an imaginative and incredibly talented jewelry designer from Valenza, Greece, made his US debut at the premier jewelry show held at the Wynn Las Vegas.
Prior to his US debut in June, his collection of moveable, wearable art, had already achieved widespread success throughout Greece and Italy.
Inspired by the life and movement around him, Costis creates dynamic handmade pieces that he describes as being as "alive as the person wearing it."
Among the most unique designs is his collection of motion rings. As natural light enters these bold yet delicate pieces, each precious stone beautifully illuminates.
Costis uses twisted metal to reflect light in a new, playful way.
Bracelet inspired by the basic elements of Baroque architecture.