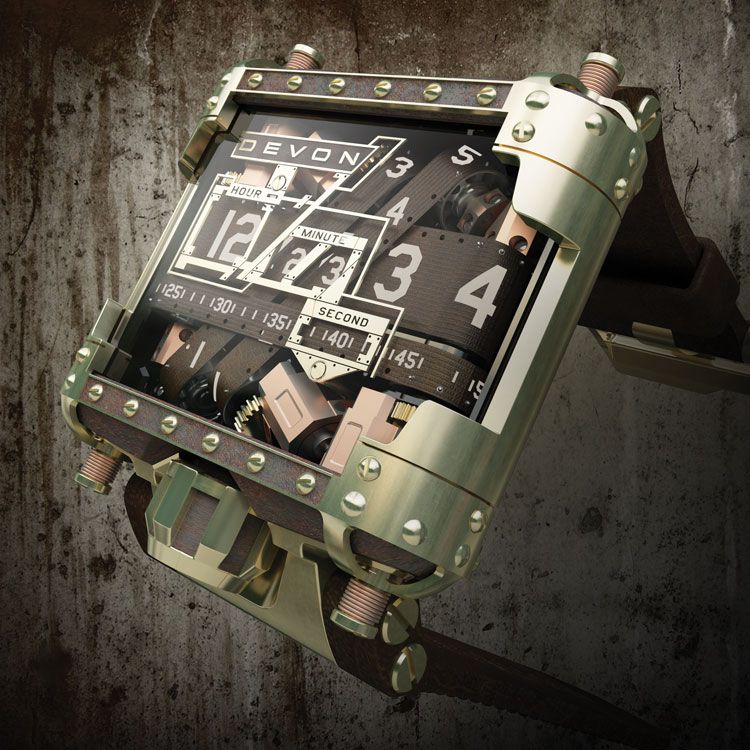 Photo Courtesy of Devon Works LLC
Yesterday we presented you with a list of
luxury watches
that consisted of mostly classic styles, but today we bring you a piece that we're sure you?ve never seen before. Devon Works LLC, a newcomer to the luxury timepiece community, established itself when it released its iconic Tread 1 a couple years ago. The Los Angeles-based company calls itself an advanced engineering and design laboratory, and for good reason ? the brand?s products combine engineering aspects and attractive aesthetics to give you innovative and functional timepieces, and its latest, the Tread 1 Steampunk, is no different.
Relying upon information taken from engineering talent from within our country?s aerospace industry, Devon has again accomplished the seemingly impossible with the Tread 1 Steampunk, a new luxury timepiece motivated by the Industrial Revolution and the invention of conveyor belts, of all things. We can definitely see the inspiration in the watch?s appearance, which allows for its inner movements to be in plain view to its wearer ? and all others. All the wheels, cogs, and gears are visibly hard at work, simultaneously giving the timepiece both a modern and Victorian look. The idea of the watch was a mere concept for only a brief period of time, as it was turned into a reality soon after the design study was shown to a group of the world?s most prolific watch collectors.
You Might Like: Best Luxury Watches Over $10,000 for Menlltitle= Conveyor Belt-Inspired Timepiece ### llcontent= While most luxury watches take inspiration from time periods, automobiles, or aircraft, the newest timepiece by Devon Works, LLC was created with something a little more modern in mind. The Tread 1 Steampunk was motivated by the conveyor belt. Its inner movements are in plain view to its wearer, with wheels cogs, and gears visibly hard at work.

The Steampunk is very similar in size and configuration to the original Tread 1, with bronze exterior case parts accented with extensive riveting as well as brass and bronze screws and fittings. A vintage feel is achieved through brass motor housings and the newly designed etched indicator plate. For the finishing touch, the dark brown fiberglass-reinforced nylon time belts are complemented by off-white numerals. With only 150 of these limited edition pieces available, the Devon Tread 1 Steampunk is priced at $25,000, with deliveries beginning this November.
For more information, visit DevonWorks.com.