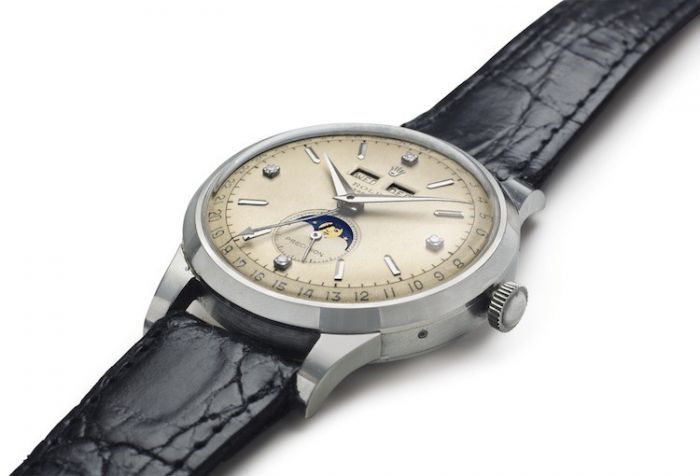 Photo Courtesy of Christie's Images Ltd.
Aficionados of luxury timepieces got a shock the other day when a rare Rolex made in 1950, sold for more than four times its estimate and set a new world record. The remarkable result was achieved at Christie's New York sale of Important Watches on Dec. 17, when a stainless steel Ref. 8171 Rolex sold for $1.145 million against a pre-sale estimate of $250,000-$350,000 after a fierce bidding war that spanned across four countries.
The Rolex, previously nicknamed the "Padellone" ("Big Frying Pan" in Italian), immediately earned a new nickname—"Sleeping Beauty"—on account of the surprise result. One of the most complicated Rolexes ever made, its main feature is a triple date and moonphase display. Only about 1000 examples were ever made, but until the Christie's sale the model wasn't in the same league as the Ref. 4113, an oversized stainless steel split seconds chronograph made in 1942 that became the world's most expensive Rolex ever when it sold at auction for $1.16 million in Geneva last May.
The auction was "a most memorable grand finale to the most successful year of watch auctions ever orchestrated by any auction house in history," notes Aurel Bacs, Christie's' International Head of Watches. "Savvy bidders from around the world gathered to compete fiercely for a beautifully curated, intelligently estimated, and well researched selection of high-quality collectors watches." The sale brought in a total of $12,926,175, selling 91 percent by lot and 95 percent by value.