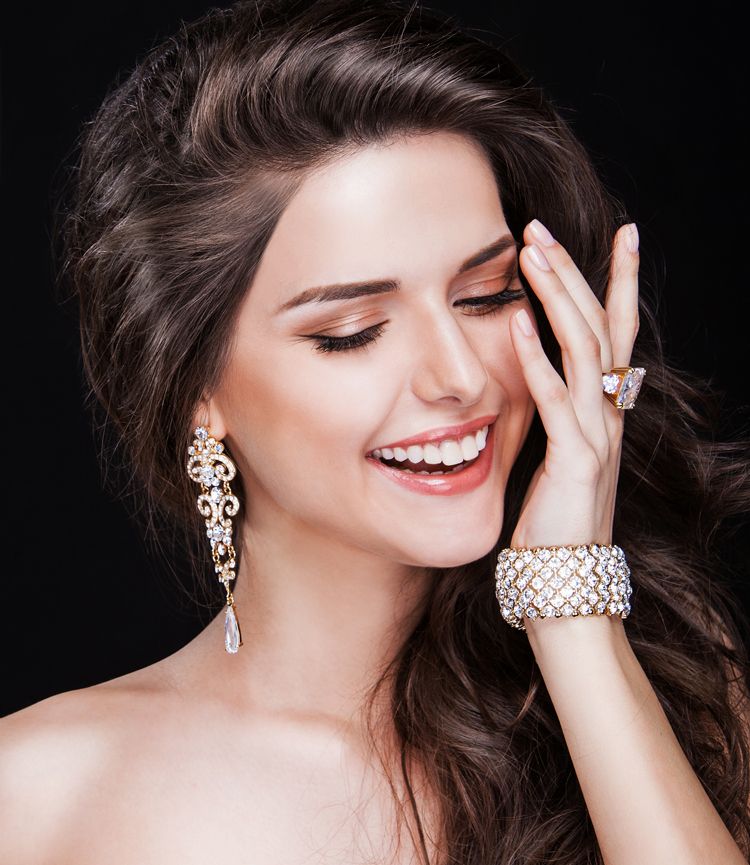 Photo Courtesy of Shutterstock
Now that it's almost Valentine's Day, men are running around left and right trying to find the perfect gift. Is it too soon in the relationship for jewelry? Are candles too platonic? If we've been dating less than a year can I get away with scented bath products? No. Yes. And probably not. We understand that not every man is in relationship that automatically dictates he go out and buy something from one of the best jewelry designers, so we've got you covered every step of the way—from one-sided crushes to the long espoused. And ladies, feel free to ever so casually leave this page up on your web browser for your significant other to see—we won't tell.
Photo Courtesy of Swarovski
The Crush
Okay, hearts will probably be a little bit of an overload. To let her know she's special and someone you'd like to spend more time with in a totally non-plutonic way, go for more than a box of chocolate. Something sparkly and fun, but casual, will let her know you're interested without professing your undying love. Try to stay away from rings as those can be taken a little too seriously. We're loving Swarovski's Slake bracelet, a pink leather piece studded in crystals is festive and speaks volumes. The Slake bracelet is available at Swarovski and priced at $80.
Photo Courtesy of Designs by Milo
The Cool Couple
Your girlfriend is young, she's hip and she was totally on board when Audrey Hepburn explained diamonds were divine on older woman in Breakfast at Tiffany's. But that doesn't mean she doesn't want jewelry—she just needs something that will suit her—not her grandmother. There are a ton of luxurious options out there for fun and funky jewelry, but we adore Alison Lou's Love U cuff for Valentine's Day. Plus, it expresses your feelings without any of those terribly sappy greeting cards. The Alison Lou Love U cuff is available online at Designs by Milo and priced at $2,500
Photo Courtesy of Cartier
The Classic Romance
After sweeping her off her feet you've reached a point in your relationship where you know you've found the one. Short of marrying her (though it is on your to-do list), the two of you are inseparable, best friends, and ridiculously head over heels for each other. We love the thought of getting her the Cartier Love bracelet in pink gold and diamonds—a piece that's as classic as your romance. The Cartier Love Bracelet is available at Cartier and priced at $10,200.
Photo Courtesy of Tiffany & Co.
The Newlyweds
While you might be tempted to make a big splash for one of your first Valentine's as a newly married couple, simple is best. Choose a piece that you know she'll love and keep for years to come. As she's currently sporting her new wedding ring, try for a pair of earrings, a necklace or bracelet—and feel free to go crazy with the hearts. Tiffany Hearts Pendant necklace is simple and timeless, making for a piece she'll want to wear from now until your 60th wedding anniversary. The Tiffany Heart Pendant necklace is available at Tiffany's and priced at $8,900.
Photo Courtesy of Harry Winston
The Dream Team
Ah, young love. You remember it fondly. While you've likely given your significant other many different gifts over the years, you still want to dote on her like you did on the day you said "I do." There are probably not enough diamonds in the world to convey the love that you have for her, but you can certainly try. We love the Mrs. Winston diamond earrings; with princess and pear cut diamonds, this is the perfect piece to let your Mrs. know how much she's meant throughout the years. Mrs. Winston diamond earrings are available by appointment at Harry Winston and price is available upon request.