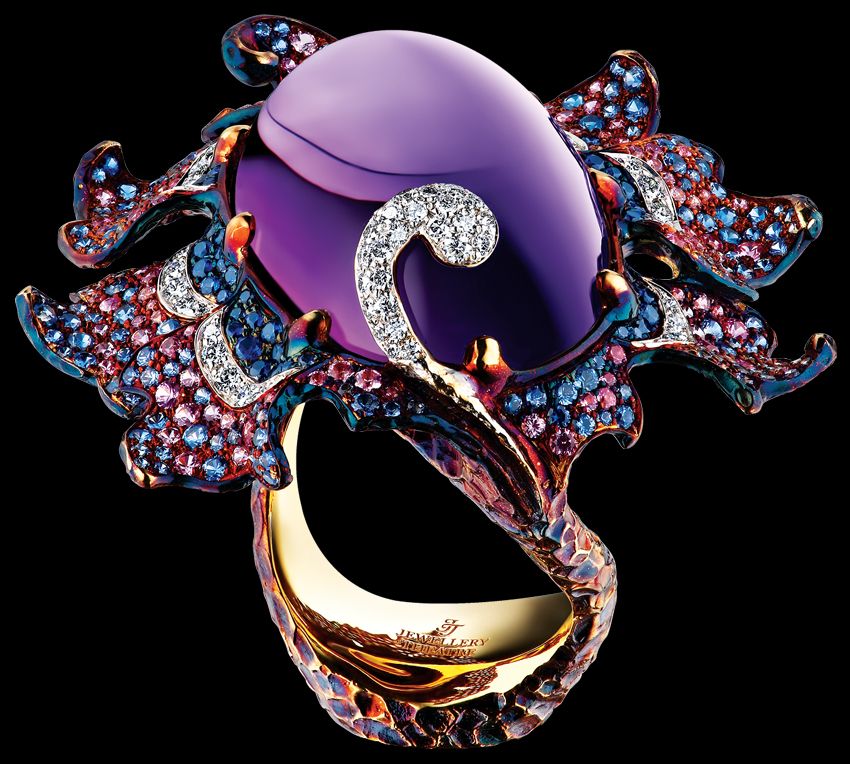 Photos Courtesy of Jewellery Theatre
We all love something sparkly on our fingers. Some adore small and dainty chains while others want to go big or go home—personally, we prefer the latter. A thin ring or small pendant is great for every day wear, but when we need to dazzle we want to enter with a bang. All the world's a stage, right? And to cater to our thespian tendencies Russian brand Jewellery Theatre has a line of jewelry that is made for the most dramatic of entrances. With designs that range from demure to over-the-top resplendent, there's basically nothing in this collection that says understudy—and that's just the way we like it.
Founded in 1998 in Moscow, the Jewellery Theatre began producing almost immediately, making their designs available for the luxury market and taking place in international jewelry exhibitions. A year later they won their first award, the Diploma for Constructive Design, for innovating "the heel," a design which allows rings to be displayed upright. Only a year after their first recognition they were awarded Best Piece of Jewelry Featuring a Large Diamond from Russia's largest diamond producer. By 2001 they had added a new collection and had their own exhibit in the Kremlin museum. The next year was their first at Baselworld and they took home a prize in the Tahitian Pearl Trophy Design Competition. In 2004 their status skyrocketed when they were commissioned by Prince Felipe of Spain to create a pendant for his bride Letizia Ortiz and by 2010 they were one of the most prestigious brands at Baselworld with a space on First Avenue and one of the most respected names in Russian design, producing a new crown for the Miss Russia competition.
And while all of that is well and good, a brand with all the accolades in the world can only do so much if their designs don't give meaning to the people wearing them. With a philosophy that favors beauty and fantasy over the ordinary, Jewellery Theatre is well on its way to becoming one of the most recognized names in design. Unsurpassed craftsmanship, breathtaking stones and a creative imagination that brings all these elements to life in the most fantastical of ways is what makes their brand unlike any other. They akin their pieces to the actors in their play, each collection a different drama and their brand the dynamic theater in which the audience can see their creativity and artistry come to life.
Those who wish to participate in the fantasy can do so by selecting their own jewels, metals and motifs for their own personalized piece. Their collections include everything from hatching dragon eggs to weather patterns or even their newly announced Flower Collection. Because really, nothing says drama like a bejeweled dragon lying across your fingers.