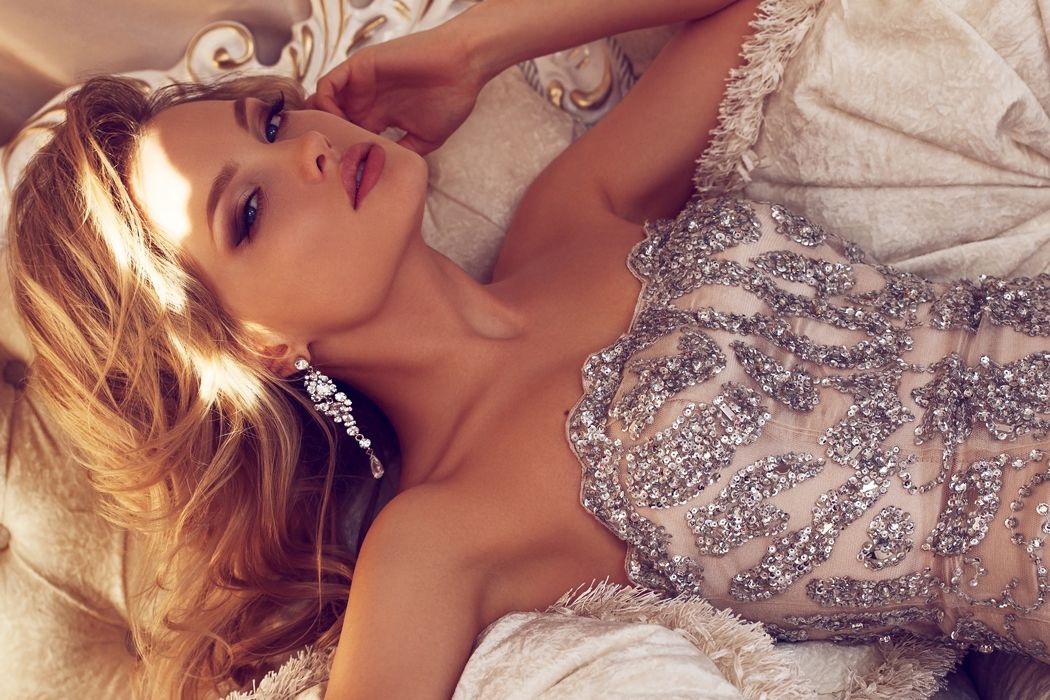 Photo Courtesy of Shutterstock
Valentine's Day is just around the corner and if you don't have anything planned for the big day, no worries—having the right gift can be an event in itself. Most ladies are expecting flowers, chocolate and a little bling, but we're going to bet they're willing to forgo the boxed candies when they see what we have in store. Rather than opting for a heat-shaped (and rather generic) necklace this holiday, it might be time to get your lover something to really make her hot—and we're not talking about any Fifty Shades of Grey nonsense either. This Valentine's Day we searched for the most opulent, over-the-top, luxury jewelry that would leave almost anyone breathless. Glittering diamonds, blood-red garnets, faceted emeralds and the brightest sapphires will remind her of you every time she slips these jewels on.
Photo Credit: Crest and Co.
Collars are making a resurgence this year, and this one-of-a-kind masterpiece is one of the most opulent pieces we've ever seen. Designed around 1991 by Marina B (that's Marina Bulgari, granddaughter to company founder Sottiro Bulgari), the Selma necklace is outfitted in over 120 carats of diamonds and emeralds of varying calibers. Set in 18 karat white and yellow gold, this necklace boasts 62.02 carats of emeralds and 61 carats of pavé-set baguette diamonds. Available at Crest and Co. and priced at $3.5 million.
Photo Credit: Margot McKinney
Australian designer Margot McKinney is known for her expertise in color and non-traditional form, and her creativity comes through in these baroque tourmaline earrings. Set with pave diamonds and multicolored sapphires, the set boasts 170.51 carats of sapphires and is spotted with shades of the pink, green, turquoise, blue, red and citron stones. Available exclusively in Neiman Marcus stores and priced at $155,000.
Photo Credit: Michael John
Some women prefer design over landmark stones and Michael John's Pavé line may be the perfect addition to her collection. Winner of the 2011 Jewelers' Choice Award, the orchid necklace is an unmistakable statement piece with 987 round, brilliant-cut diamonds weighing in at 14.56 carats. Set in a unique, 18 karat green gold, this design was created to capture the attention of those around it. Available at Michael John and priced at $86,550.
Photo Credit: Crest and Co.
For those looking for something non-traditional, Prince Dimitri's Paisley Brooch is a distinct blend of art deco aesthetics and Indian culture. Mimicking the designs of traditional turban ornaments, the tear-drop pendant dangles freely allowing for movement to catch the light. A Zoroastrian symbol of life and eternity, the silhouette is the couture piece in the Prince Dimitri's Paisley Collection. The brooch is set with 18.55 carats of white diamonds, 0.88 carats of peridot, 0.23 carats of pink diamonds, .19 carats of garnets, 0.11 carats of green sapphires, 20.06 carats of rubies and 2.35 carats of pink sapphires. Available at Crest and Co. and priced at $325,000.
Photo Credit: Mummu The Gem Palace
Munnu The Gem Palace's Diamond and Rubellite Drop Earrings are subtle but brilliant enough to make any jaw drop. With 2.95 carats of rose-cut diamonds, 2.43 carats of pave diamonds and 89.42 carats of rubellite, these delicate sparklers are soft enough for daily wear, but easy enough to dress up for a night out. Available at Munnu The Gem Palace and priced at $155,000.
Photo Credit: Parade
Red and pink might be the colors of Valentine's Day, but they're romantic any day of the year. Set in rose gold, a 11.53 carat rubellite tourmaline sits front and center, surrounded by pink sapphire flowers and pave diamond leaves. A part of the Parade in Color collection, the warm hues meld well together and the crawling vines let in breaks of light to bring more brilliance to each stone. Available at Parade and priced at $25,750.
Photo Credit: Van Cleef & Arpels
To celebrate not only your blooming love but the coming of spring, the Van Cleef & Arpels Folie des Prés bracelet captures the beauty of love and rebirth with a golden chain of wildflowers and budding blossoms. Yellow and green sapphires and a myriad of diamonds glitter around the bracelet in an abstract string of asymmetrical designs. Available at Van Cleef & Arpels and priced at $97,000.