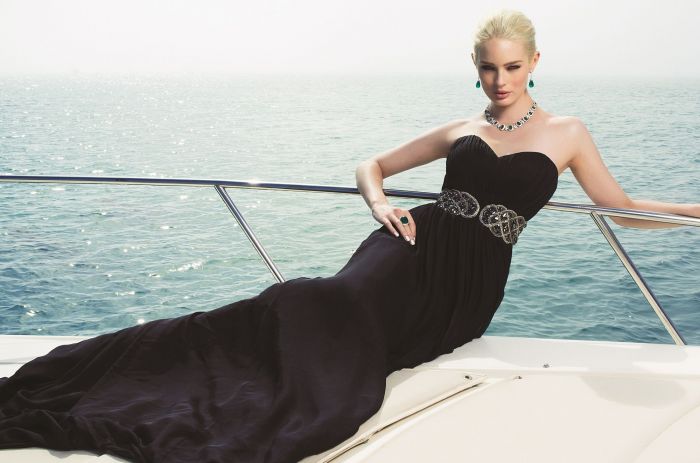 Photos Courtesy of Black, Starr & Frost
Diamonds come in all shapes and sizes and while some ladies prefer a small, subtle sparkle, others prefer to stand out with a stone that radiates throughout any room, which is why Black, Starr & Frost just got our attention. Not only are they releasing a new signature collection for everyday staples, but they're also debuting the new $4.5 million Empress necklace. This is the stuff glittering dreams are made of.
The brand is actually the oldest continuously operating jeweler in America, with a 200-year history of designing one-of-a-kind creations for some of the most influential families in the world, including the Rockefellers, Vanderbilts, Carnegies, Guggenheims and the Prince of Windsor. They were one of the first stores on New York's Fifth Avenue and have sold and traded some of the largest stones in the world to celebrities and royalty. They even got a shout out from Marilyn Monroe in her popular song Diamonds Are a Girl's Best Friend.
But despite a history filled with extraordinary jewels and socialite clients, their latest collection is intended to capture the basics that are essential to a women's closet—staples like stackable rings, bangles, studs and strand necklaces. "As with clothing, the key to a good jewelry wardrobe is to purchase quality pieces that will withstand the test of time," explains Black, Starr & Frost's chairman and CEO Alfredo Molina. Crafted from platinum, 18-karat gold and diamonds, the line is intended to complement a women's everyday style and can range in opulence with pieces varying from 0.33 carats to 53.58 carats.
Of course not everyone wants something so basic, some are only looking for the truly exceptional—like The Empress. Valued at $4.5 million, the necklace was commissioned by Molina to be the latest piece in their High Jewelry collection. Using 438 diamonds weighing 93.17 carats and 30 rare Burmese sapphires weighing 111.9 carats, it took five master craftsman over 1,500 hours to complete the piece. It also uses some of the most beautiful stones in the world—every diamond on the piece is either a D or E in color with VVS and VS clarity. We can certainly agree with Marilyn—these diamonds really are a girl's best friend.
Black, Starr & Frost Signature Collection is priced from $1,598- $161,150 and up.