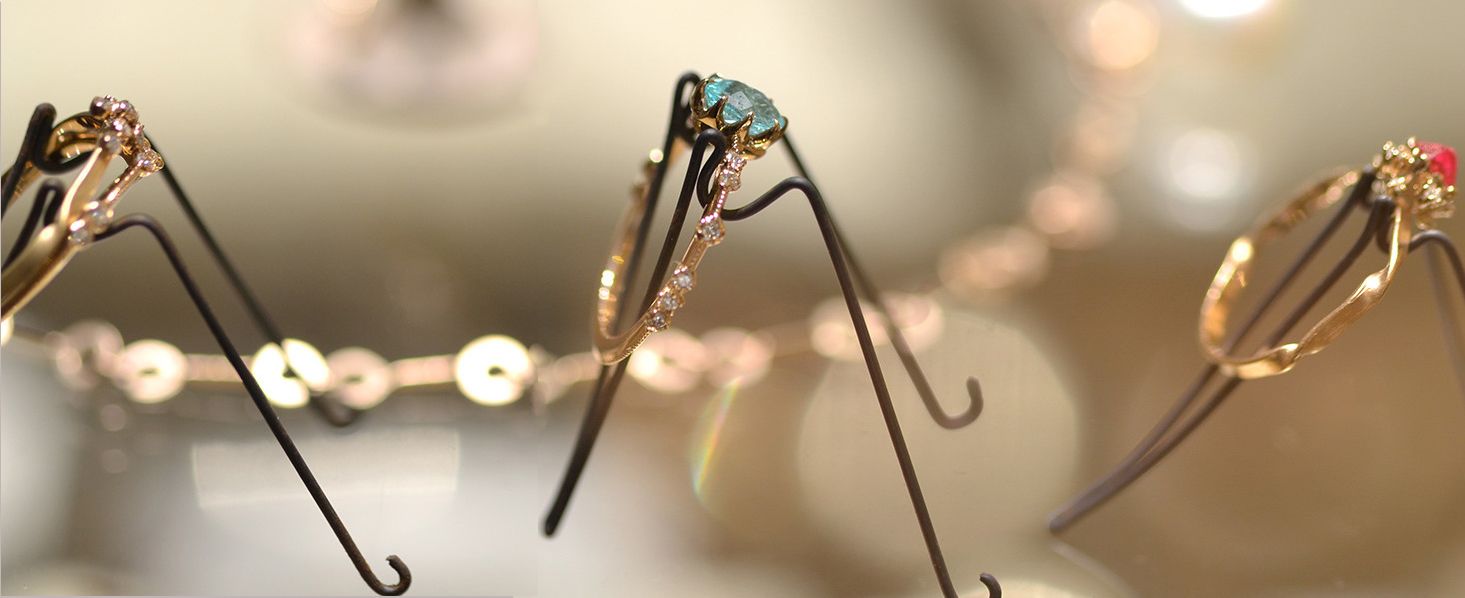 When deciding on an engagement ring or wedding band, we always look for something environmentally safe and conflict free, but we also need pieces that are unique and one-of-a-kind, which is why we did a double take when we came across the designs at Kataoka. A fine jewelry brand based in Tokyo, Japan, Kataoka focuses on hand-crafted pieces and custom-made wedding bands, engagement rings, necklaces, earrings and bracelets. Specializing in delicate, heirloom-quality jewelry, the artisans at Kataoka make feminine and intricate pieces that are timeless, but modern enough for the contemporary bride.
After 25 years in the jewelry industry, designer and goldsmith Yoshinobu Kataoka founded his eponymous house in 2011 in the Toritsu-Daigaku, Meguro suburb of Tokyo. Since then, he's built a team of gemologists and goldsmiths to bring his passion of creating "wearable art" to life. Their pieces blend innovation in metalwork and traditional design, shown most distinctly in their signature handmade milgrain edge that's been worked into settings and bands throughout the collection. In addition to conflict-free diamonds, they also use opals, rubies, tourmalines, sapphires, emeralds and amethysts in their rings for brides that are looking for something unique and unexpected. The gold used in each piece is a custom blend designed by Kataoka himself and exclusive to the brand.
In an effort to create each woman's dream wedding or engagement ring, Kataoka invites shoppers from all over the world to work with him to design their own bespoke piece. If you'd prefer something pre-designed, their permanent collection includes fashion rings, engagement rings and wedding rings—all of which can be customized with more diamonds, larger stones or extra gems—and a series of earrings, necklaces and bracelets. They also have a limited-edition collection with one-off exclusive pieces, and a specialized collection that focuses on specific aesthetics like rough-cut stones or minimalistic lines. One of our favorite pieces is the Diamond Snowflake Ring, a delicate little rose gold engagement ring from their permanent collection.
Because each piece is made to order and hand-crafted, it can take up to four weeks to receive your design. So if you're planning on popping the question, or need wedding rings for the ceremony, plan ahead. Kataoka is available online and priced from $1,180 to $12,280 and up.