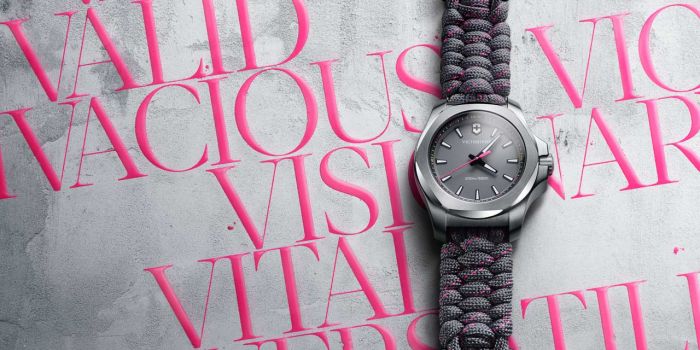 Photo Credit: Victorinox
Why should men have all the fun? Victorinox's rugged-but-sexy I.N.O.X. men's watch collection stylishly handles everyday adventures, and is virtually indestructible having withstood more than 130 stringent durability tests including being run over by a steamroller. It's shock-, temperature- and water-resistant, keeping time in extreme environments, and paired with a Naimakka military-grade paracord strap, it's a potentially life-saving combination.
With the introduction of the tough-but-beautiful I.N.O.X. V, it's now in touch with its feminine side, and is just the sort of thing Wonder Woman wishes she had instead of that clunky pocket watch she inherited. Made for self-empowered, multi-tasking wonder women everywhere, the sculptural ladies' timepiece has a 37mm stainless steel case with a scratch-resistant, anti-reflective sapphire crystal, Super-LumiNova hands and indexes and a Ronda 715 Swiss-made quartz movement. Four models make up the I.N.O.X. V range, including a crisp white dial with rose-gold details, and a black dial/black rubber strap version that acts as the Little Black Dress of the collection. Two sporty pieces – in dark blue and soft grey -- have a paracord strap that can spring into action… sort of like Wonder Woman's rope of truth. It even passes the "handbag challenge," surviving clashes with metal keys, loose change, oily hand lotion, and corrosive insect repellent. And like the wondrous Princess of Themyscira, I.N.O.X. V watches can also be cleverly accessorized with a matching shield, supplied with each watch.