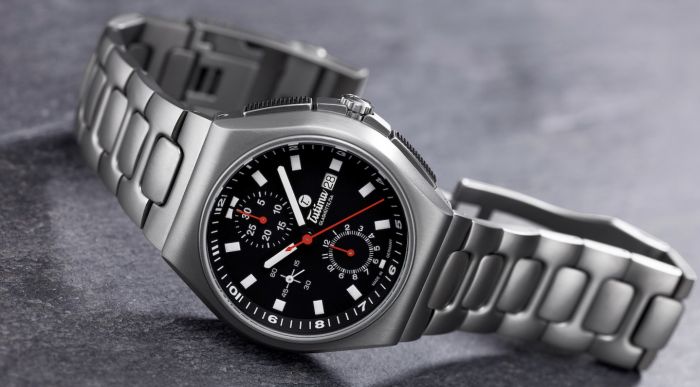 From JustLuxe content partner iW Magazine
The Glashütte-based maker of acclaimed pilot watches spreads its wings with new models that update its vintage-inspired Grand Flieger and M2 collections.
The town of Glashütte is renowned for its history as the center of German watchmaking. While that history was interrupted for decades between and following two world wars, when the village's deep horological knowledge base dispersed to points West – or to extinction – Glashütte has again become the focus of the region's watchmaking activity.
After being founded in Glashütte in 1927, Tutima re-joined the former East German town in 2011, fully sixty-five years after it was forced to move away. During those years away, Tutima intensely developed a focus on pilot's watches, starting with the now-famed 1941 pilot's chronographs known for their fluted steel case, large crown, red reference marker and, most critically, their flyback function, an unusual feature at the time.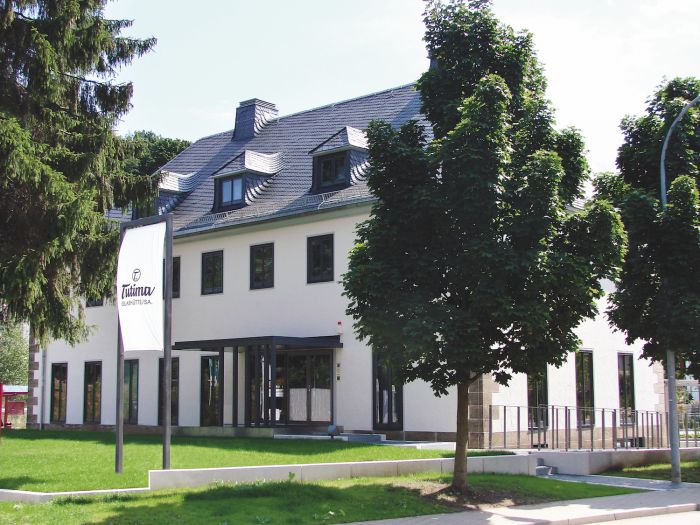 Tutima returned to Glashütte in 2011 after 65 years away. The company was founded here in 1927.
It was that wartime aviation design that propelled Tutima to fame among aviators and, eventually, pilot watch enthusiasts. Tutima's Grand Flieger collection today directly references that 1941 design.
Much later, in 1985, Tutima received a contract from the German army to build a new military watch with particularly stringent specifications for accuracy, shock resistance, pressure resistance and legibility. Answering that request, Tutima developed the Military Chronograph 798, known as the NATO Chronograph, which in its modern guise within the current Tutima M2 collection remains standard equipment for German military pilots.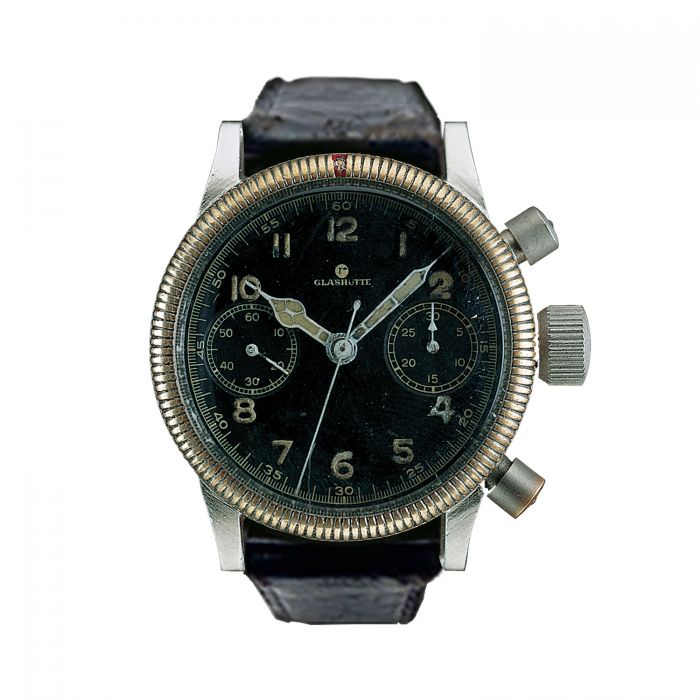 This original Tutima 1941 pilot watch inspires the current Grand Flieger collection.
GRAND FLIEGER AIRPORT
Today, Tutima references the milestone pilot watch from 1941 within its Grand Flieger collection. The line now includes three-hand models as well as more traditional chronographs. The Tutima Grand Flieger Classic, for example, sports its vintage look with military inspired styling, including the historical fluted bezel. Tutima has modernized the pilot watches to perform according to current, more stringent, technical standards. These models at 43mm in diameter are larger than the original Flieger designs from the 1940s, and their updated automatic movements are now fully visible through the transparent caseback.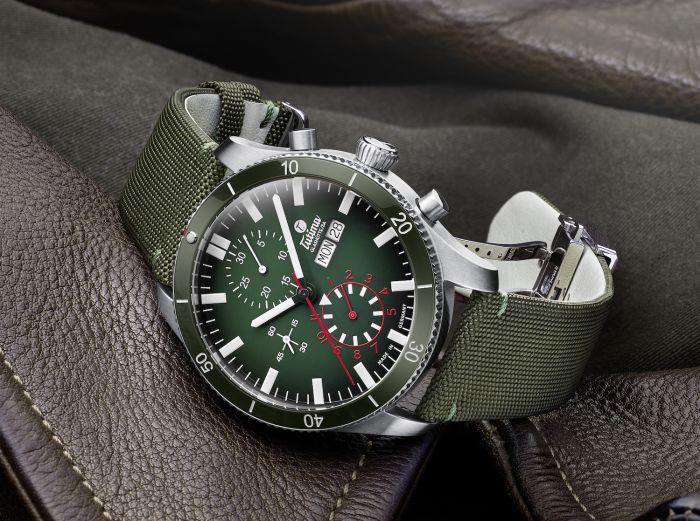 The Tutima Grand Flieger Airport Chronograph.
Within its Grand Flieger collection, the Tutima Grand Flieger Airport is a dressier option that maintains the line's overall aviation feel, but with a smooth rotating bezel with 60-minute markers rather than a fluted bezel. The crown remains of the screw-in variety, and all timepieces in the Grand Flieger line are water-resistant to 200 meters.
Just a few months ago, Tutima expanded the Grand Flieger Airport collection with a new chronograph and a new three-handed model, both sporting an eye-catching new ceramic bezel. Tutima has now added a contemporary touch to the collection by incorporating an ultra-hard scratch-resistant ceramic bezel that is colored to match the dial.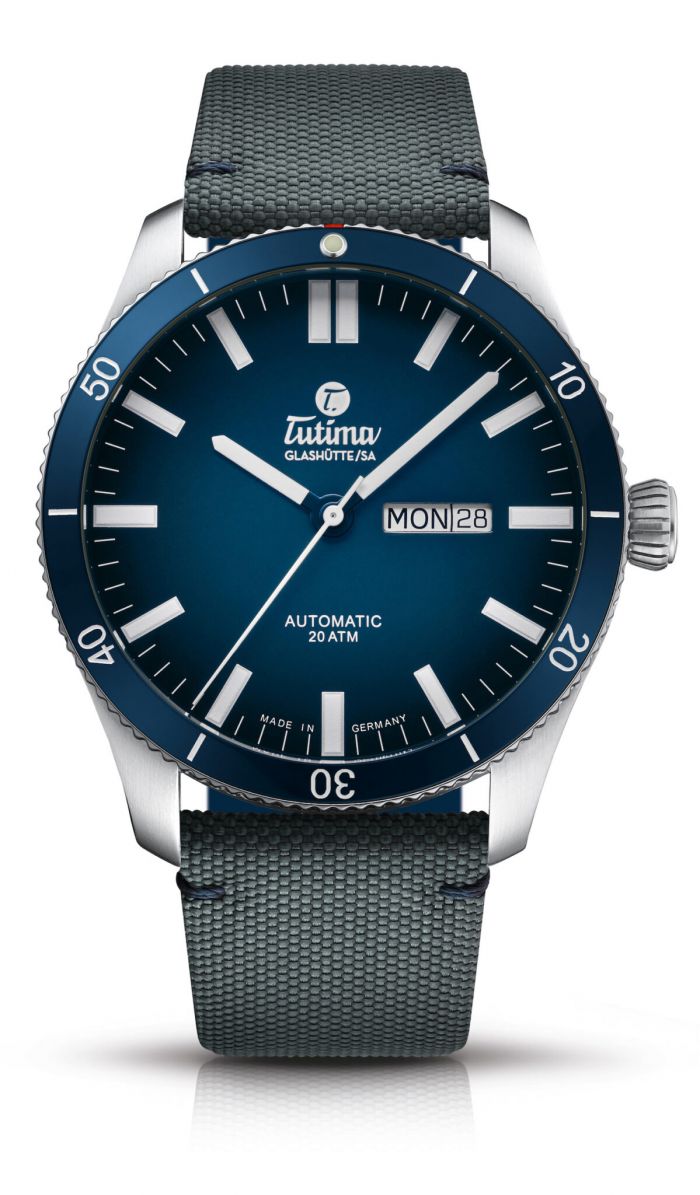 The Tutima Grand Flieger Airport with ceramic bezel in Classic Blue with grey Cordura strap.
To launch the newer look, Tutima offers a dégradé 'military' green dial and a classic blue hue, both color-coordinated with the dial and strap. While black dials are traditional for pilot watch purists, these newer Grand Flieger Airport debuts offer a contemporary option for pilot watch enthusiasts.
"Tutima, a brand with a strong historic background creating true pilots' watches, is a purist in regard to the design of these watches. Our goal is to deliver some of the most beautiful yet highly legible dials in this segment of the market," explains Tutima USA President Gustavo Calzadilla. "The use of green and blue dials in the new Grand Flieger Airport Chronograph and Automatic models challenged us to introduce color options that are fun and contemporary but still respect the legibility needs and aesthetics traditions of a true pilot's watch."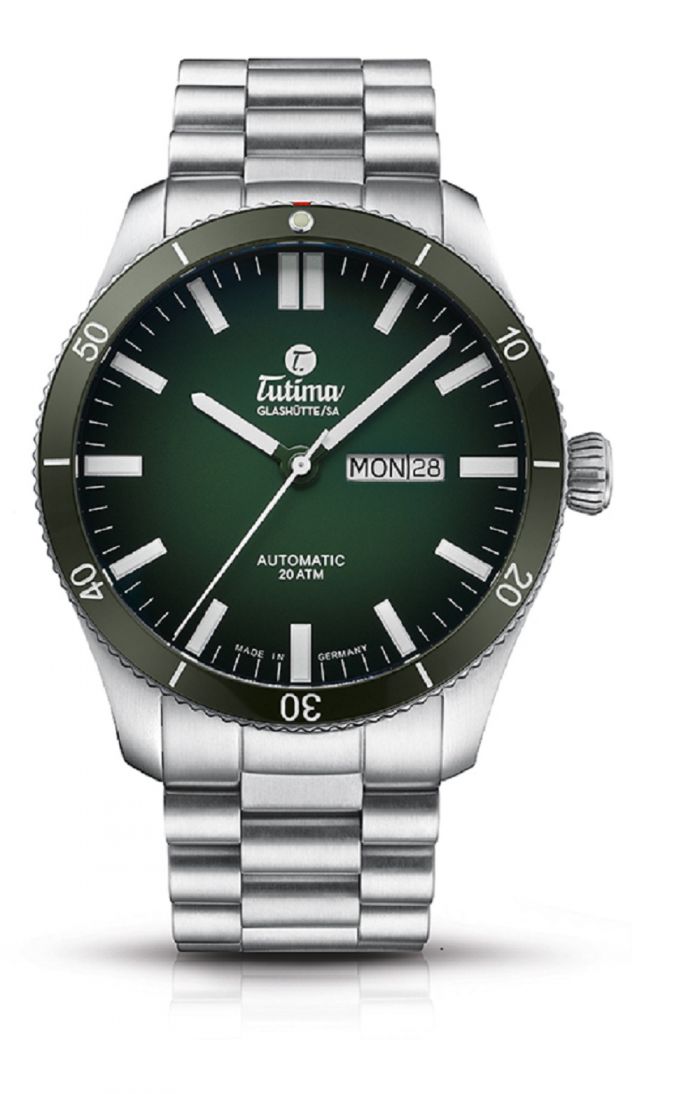 The Tutima Grand Flieger Airport, with day-date automatic movement.
The strap's design extends those options. It's made from grey Cordura textile and secured by a stainless steel deployant clasp. Both models, cased in 43mm steel, are also ?available with a steel bracelet.
Inside each three-hand watch Tutima fits its reliable ETA-based automatic Caliber 330, with a gold seal on its rotor. Within the Tutima Grand Flieger Airport chronograph, the ETA-Valjoux-based Caliber 310 powers the counters? (12 elapsed hours, 60 elapsed seconds and 30 elapsed minutes) plus the day/date display. The chronograph's hour display is particularly easy to read with red numerals circling the subdial. Prices: Chronograph: $3,900 (on a strap) and $4,300 (on steel bracelet). Three-hand: $2,500 (on strap) and $2,900 (on steel bracelet.)
M2 COASTLINE
As the heir to the NATO Chronograph favored by German military pilots since its debut in 1984, the Tutima M2 collection emphasizes strong legibility, reliability, enhanced water resistance, pressure-resistance for use to 15,000 meters above sea level, and shock resistance rated to protect its movement from acceleration up to 7G in all directions.
The Tutima NATO Military Chronograph, circa 1984, is the inspiration for the current Tutima M2 collection.
The M2 Coastline Chronograph, the newest watch within Tutima's M2 collection, echoes the curved case of the famed 1980s NATO models. Its large push buttons are integrated into the rounded case, which Tutima pressure tests to 200 meters of water resistance. In line with the entire M2 collection, the M2 Coastline Chronograph case is made of satin- brushed, ultra-light titanium with a screwed back, which is decorated with a wind rose. The titanium push buttons are additionally black PVD coated and finished with a non-slip surface.
The Tutima M2 Coastline Chronograph.
"The Tutima M2 is the new generation of our original NATO Chronograph, and is considered the most rugged, utilitarian professional chronograph in the market," adds Calzadilla. "The new M2 Coastline Chronograph introduces a new alternative within this collection, a smaller case diameter with a new movement at a price point not available before in the M2 lineup. All without sacrificing the Tutima's high-quality standards."
Inside this newest member of the M2 family Tutima places the ETA-based automatic Tutima Caliber 310 with 48-hour power reserve, date display, hour-, minute- and small seconds hand. The chronograph tallies up to sixty elapsed seconds, thirty elapsed minutes and twelve elapsed hours.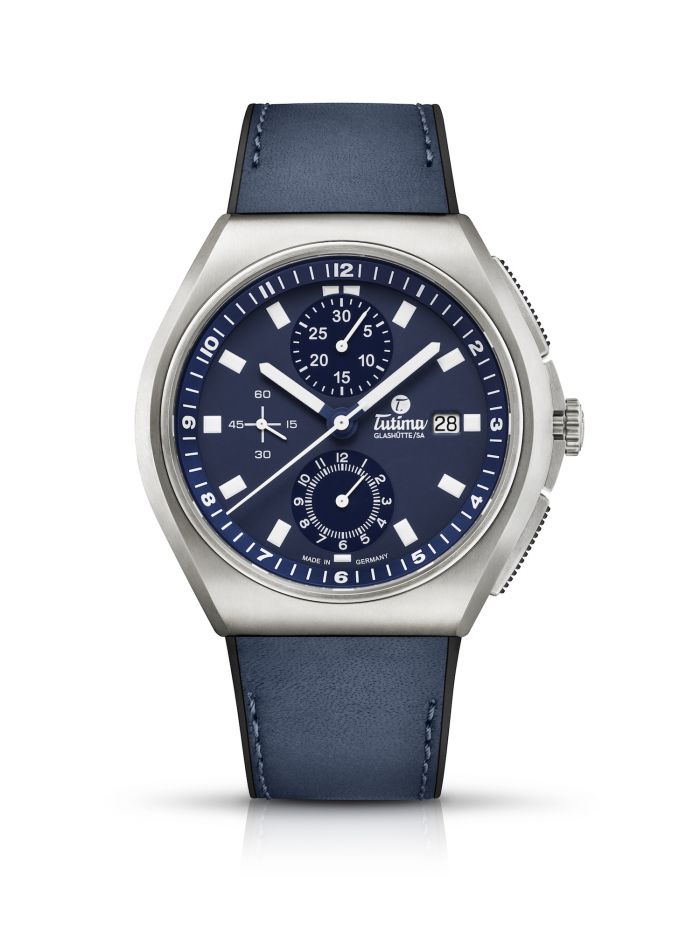 The Tutima M2 Coastline Chronograph with blue dial and rubber/leather strap with titanium folding clasp
The M2 Coastal Chronograph is available with titanium bracelet or, optionally with a strap of leather, rubber/leather or rubber/Cordura.
Tutima also makes a three-hand, day-date version of the M2 Coastal Chronograph.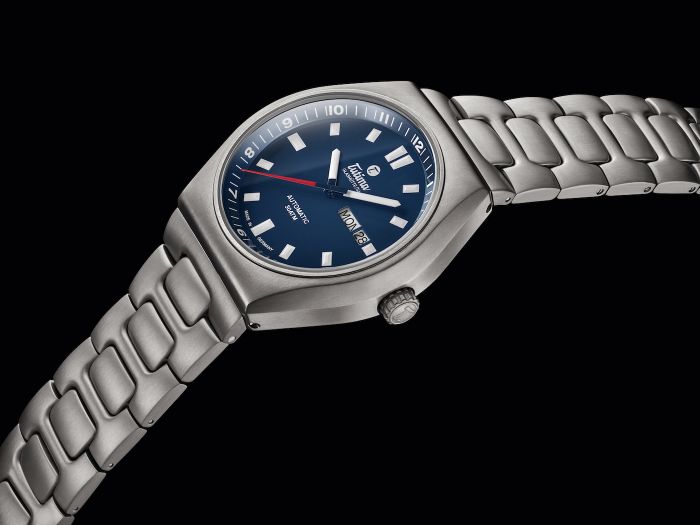 The Tutima M2 Coastline, with blue dial and steel bracelet.
Like the chronograph, this watch also measures 43mm in diameter and is cased in brushed titanium. Inside Tutima places automatic caliber T330, an ETA-based automatic movement upgraded by Tutima.
Because the bracelet version is also fitted with the same handsome titanium linked bracelet, the all-titanium option for this watch wears lighter than the chronograph, but offers a similar easy-to-read dial and clear link to its historical predecessors. As Tutima professes: "Nothing detracts from this watch's operational readiness. Protruding parts have been deliberately avoided – another time-honored trait of the high-performance M2 line."
Prices for the Tutima M2 Coastline Chronograph collection start at $3,300 for the blue-dialed model with a leather strap. The three-hand Tutima M2 Coastline with day-date indicator is priced at $1,950 for the titanium-bracelet model and $1,850 for the leather-strapped editions.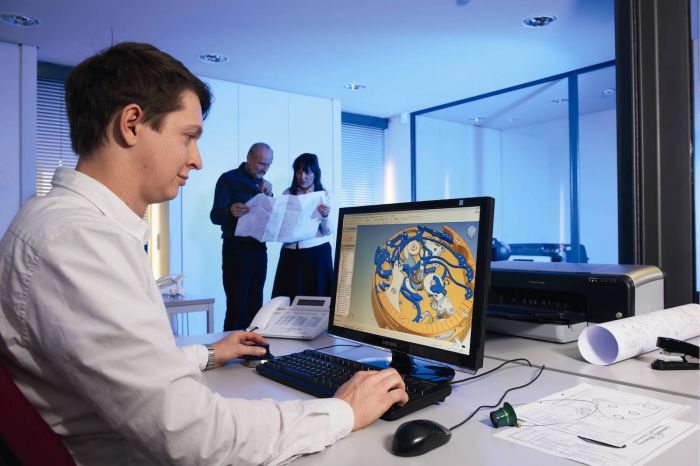 Tutima designs and produces several of its own calibers in house.
Calzadilla notes that since its origins in 1927, Tutima's philosophy has been to produce high quality timepieces of great value.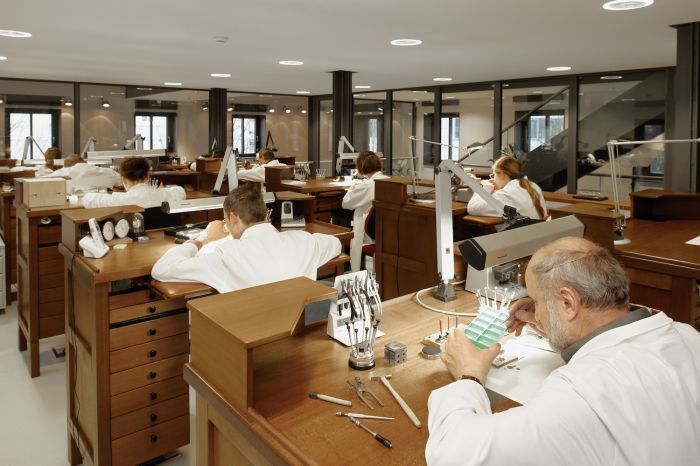 Inside Tutima headquarters in Glashütte.
"While in recent years the brand has embarked on manufacturing in-house movements, we have kept our promise and commitment to always providing options with a strong value-driven proposition. With timepieces starting at $1,600 today, newcomers to the brand can access a beautiful timepiece with German engineering from a company with tradition, expertise and an outstanding track record for designing and manufacturing trusted professional watches."
This article also appears in the Winter 2021 issue of About Time.
RECEIVE UPDATES FROM iW MAGAZINE
SEE MORE FROM iW MAGAZINE