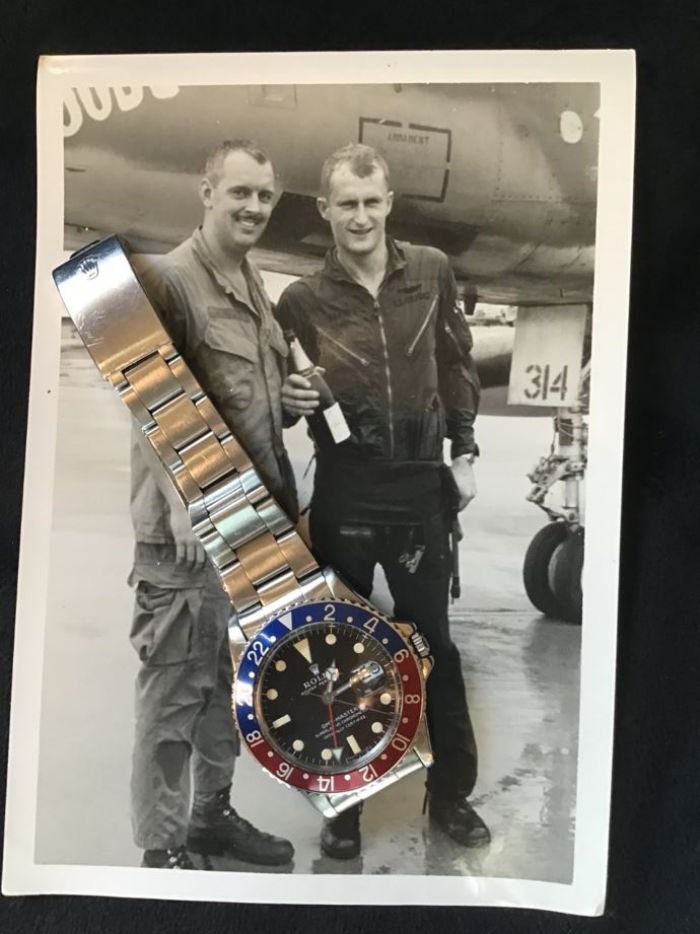 Bob's Watches, the leading pre-owned Rolex dealer has some incredible watch stories as part of their "Honoring You" campaign. Below is one of the stories we at JustLuxe found fascinating and perfect timing as we just celebrated Memorial Day.
I was an F-100 fighter pilot in Vietnam. In May of '69 I got a chance to go to Hong Kong. The first stop was the China Fleet Club, the Royal Navy's expansive (and wonderful) Base Exchange. I had done some research – asked another pilot – and he said that the ideal pilot's watch was the Rolex GMT-Master "Pepsi bezel" – that's what I bought (for $146.00)!
I've had it ever since and love it now as much as I did then. In 2016, I had it serviced and it remains one of my most treasured possessions – one that I'll pass on to my son in the future.
Here I am at Tuy Hoa AB, Viet Nam, just after flying my last F-100 combat mission in Dec '69. I am on the right and the watch is just visible. My Crew Chief, SSgt Tom Kempster is on my left. My old reliable GMT-Master is lying on the photo. (Purchased for $146.00 in May of 1969 at the "China Fleet Club," the Royal Navy's BX in Hong Kong.)