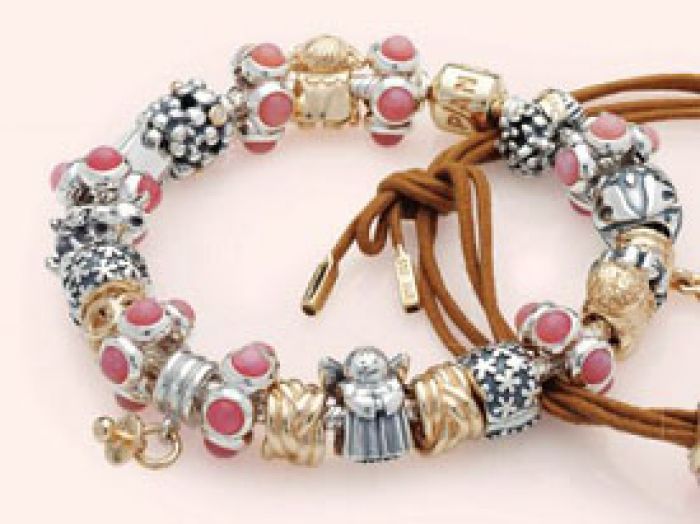 Fine Jewelry: Imagine that you have the freedom to design your own jewelry: one of the few forms of apparel that escape the strict dress codes of our workplaces and society. You would be able to express your personality and your sense of pride with whatever symbols you desire. The Danish designer Pandora strives to offer this freedom of expression through their products. By way of extensive collections of beautifully crafted charms and beads one can create her own, completely unique, bracelets.
When creating your Pandora masterpiece, the canvas is the basic bracelet or chain. These are available in various sizes and using materials ranging from leather to 14 karat gold. Combinations of the different materials are also available. Rhodium plated sterling silver with a 14 karat gold clasp is an example that is priced at approximately Canadian $320. There are prices to suit any budget and colour combinations to suit any personality. Although the basic bracelet is beautifully crafted and designed to be wearable on its own, it is also a canvas. Once your canvas has been chosen you can move to the palette. The palette, in Pandora's case, comes in the form of charms, beads, spacers, and clips.

The collection of Pandora charms is expansive. Each piece is unique. The possible combinations are virtually endless. As with the bracelets, the materials used to manufacture these tiny jewels vary greatly. Wood and Murano glass figure in the mix with the main players, solid gold and silver. By using just a few or a lot of items on the bracelet you can create your unique style, or mimic the professionally selected combinations on Pandora's adverts. An animal lover, for instance, may elect to collect only charms that are shaped like animals. As the company points out, life is full of unforgettable moments. These moments can be immortalized by a symbolic bead on the bracelet.

While the charm bracelets are probably the most well known items in Pandora's collection, the company, who started as an independent jewelry store in Copenhagen in the 1980s, also manufactures the full gamut of traditional jewelry. Rings, necklaces, and earrings are an important part of the Pandora Jewelry line. Their designs capture the same luxurious, fun, and unique design philosophy of the bracelets and charms. The 18 karat gold LovePods collection, with its simple, warm shapes and colourful gems, is the most popular in the brand.

Life is full of unforgettable moments, and Pandora Jewelry created a perfectly beautiful and democratically priced mechanism to pay tribute to these wonderful instances. A Pandora bracelet is a creation of its owner, who chooses from hundreds of finely crafted charms and beads to create a personal and unique design.


By Marco Gagliano
JustLuxe Contributor
Marco is a sales associate at Matt Baily in Montreal, Canada.