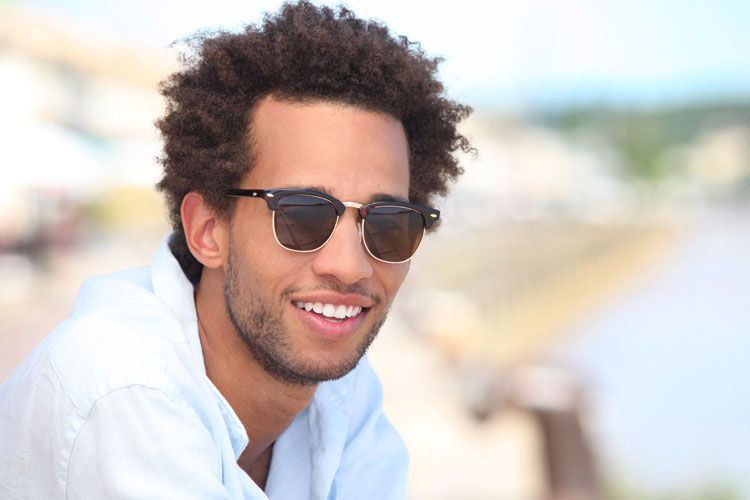 Photo Courtesy of auremar/Shutterstock
When it comes to guys' sunglasses, the standard old athletic style is no longer the only option. Men's sunglasses have evolved as a trendy accessory and are an important part of the outfit. Unlike women, who accessorize with jewelry, handbags, and shoes, sunglasses are the one everyday item through which men get the opportunity to reflect their personal style. That said, it's no wonder the size, shape and color of men's frames have become varied and unique to befit a wide range of consumers with different tastes, styles, and personalities. Take a look at this summer's hottest trends below, and don't forget that you don't need to settle on just one pair— build a collection so you can pick and choose a style depending on how you feel on any given day!
Photo Courtesy of Ray Ban
Retro
If it were up to me, I would never let the retro trend fade away. Luckily, it still hasn't! It seems the classic All-American style of the 1950s, '70s and '80s will always be in vogue. The retro look embodies a timeless, classic feel— think James Dean in those classic black and white films of the '50s.
Ray Ban
is one brand that can be thanked for keeping the retro trend around— their classic
Wayfarer
model has been a brand staple for the past half-century, and the iconic shape is mimicked by several other labels.
Photo Courtesy of Paul Smith
Oversized
The oversized trend has grown in popularity over the last few years thanks to pop culture. Musicians, celebrities, and reality TV stars are constantly photographed wearing huge, thick frames that cover a large part of their face. If you're a fan of this style, channel your inner celebrity and shield your eyes from the "paparazzi" — or you know, harmful UV rays— with models like the
Kingsmill Oversized Sunglasses
by
Paul Smith
.
Photo Courtesy of Dolce & Gabbana
Thick Frames
In a move away from the fine wired frames of the '90s and early 2000s, men are embracing the sturdier qualities of thick-framed sunglasses. The durability of the plastic makes them less susceptible to everyday wear and tear and ideal for outdoor activities. Sometimes referred to as "geek chic," the chunky shape of this style is actually quite popular these days, so you can wear them with confidence. Better yet, the sharp, geometric angles of the frames is a surprisingly flattering look on many face shapes. The
Acetate Polarized Sunglasses
by
Dolce & Gabbana
are a great example of this style.
Photo Courtesy of Ray Ban
Printed
While black, tortoise shell, and metal frames are all safe options for year-round looks, spring and summer are a great time to take the plunge and add a little funk to your ensemble. Colored and printed accessories have become extremely popular recently, and we think that sporting the style on your sunglasses is a great way to incorporate a little pizazz into your look without going over the top. And if you're gonna go for a flash of color, we say go all out. Ray Ban can always be counted on for a range of colored and printed models, like this
Rare Print Original Wayfarer
.
Photo Courtesy of Carrera
Aviator
Let's face it: the Aviator style will always be on-trend. Developed in the 1930s to protect the eyes of pilots while flying, the Aviator has a classic look that is reminiscent of the World War II era. Traditional models have thin, wire frames with a teardrop shape and mirrored lenses, but you can always update the look with a few modernizations. Try a double-bridged frame, rounded or squared off lenses, or a thicker frame in a bright color for summer. We think this model, called
Champion
by
Carrera
, is a great example of an up-to-date version of the classic style.