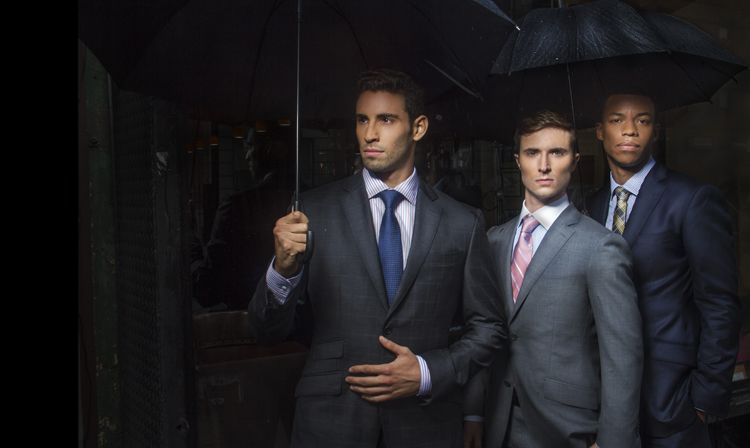 Photos Courtesy of Martin De Tours
We know you have suits. Your closet is most likely littered with pinstripes and solids in navy, grey and black in a collection that you've built over the years. But how many are made-to-measure? Forget that they would be more comfortable and fit like a dream, they would just
look
better. Men's clothier
Martin De Tours
is all about making you look good. Designing made-to-measure suits for every occasion, they're reinventing the way men shop online while still offering the same kind of quality garment people expect you to have hanging in your closet.
Hoping to change industry standards, Martin De Tours is finding new ways to tailor made-to-measure suits online by connecting you with your own personal valet. A virtual consultation (with a real person) is available to offer suggestions on customization and help you with your measurements. If you prefer to take them without the meeting and online appointment, there is also a video to instruct you and a friend on how to do it correctly. And you thought there was no benefit to the buddy system. Just in case you and your accomplice didn't get it right the first time they offer credit for suit alterations and/or local tailoring if you need it. But with step-by-step tutorials and a very specific customization processes, we're pretty sure you'll master the technique.
Offering an interesting assortment of designs and patterns, including double breasted jackets, sharkskin fabrics and triple pocket suits, they pretty much have you covered for any event—even if you're going to be clubbing with Kanye West (that sharkskin is
shiny
). For the more demure businessman, their delicate herringbone and houndstooth give traditional looks a modern touch in very wearable cuts. For a fun twist on everyday suits some of the grey and purple or brown and green windowpane plaids would do the trick. Their shirts, not as varied as their suits, include some pretty good staples and modern patterns like tattersall and gingham in light colors.
Working directly with textile mills, Martin De Tours is able to have greater control on the production of the fabrics and textures they use in their garments. In an attempt to revolutionize the way men purchase suits online they use these options of customizations and a measuring system to give men great suits from a one-of-a-kind virtual experience. And while online made-to-measure services may never truly replace the personal touch of a tailor, they're hoping to get pretty darn close.
Martin De Tours is available online and is priced from $99-$525.